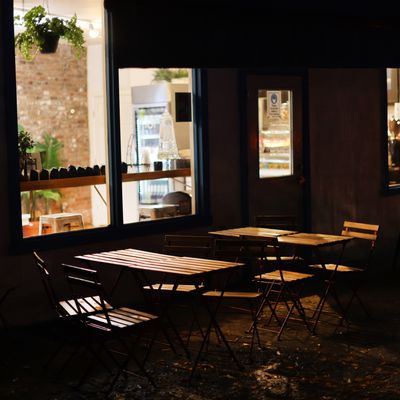 Photo: Spencer Platt/Getty Images
COVID-19 numbers are surging, and beginning tomorrow, Los Angeles County will shut down outdoor dining for at least three weeks. Indoor dining was already closed, and outdoor dining was only allowed at 50 percent capacity, but officials were clear about what would end in-person dining in California's most populous county: if the average number of daily new cases hit 4,000 over a five-day period, or if hospitalizations reach 1,750 in a given day. Now, that's happened.
With a 6.1 percent testing positivity rate, cases in L.A. are still higher than in New York City — which is either 3.09 percent or 2.5 percent overall, depending on whom you ask — but here, too, numbers are going up: Yesterday, Governor Cuomo predicted that New York State is on pace to hit 6,000 daily hospitalizations in three weeks. (He has also forecast a "tremendous spike" in positive tests after Thanksgiving.) In the city, specifically, Mayor de Blasio seems to be bracing: "The restrictions that are coming," he said "By our own projections, based on the state data, that will happen soon after Thanksgiving, probably the first week of December."
For now, outdoor dining and reduced-capacity indoor dining continue in New York City, although calls to close restaurants have grown louder since schools closed last week. If the city's seven-day rolling average hits 4 percent, we'll be a "Red Zone," and restaurants will be limited to takeout and delivery only, and we'll be back to where we were in the spring. And if that happens, where will we … go?
Since it started in July, outdoor dining has become ingrained in New York City's street life. There are so few places to be that are not your home, and even fewer where you can linger, albeit briefly, now that it is cold. All summer we had parks and stoops. In theory, all we have to do is bundle up and we still do. In practice, it's hard to imagine spending a day lounging outdoors in lightly polluted snow.
Outdoor restaurants are a place to be, with other people, in comparative comfort and relative safety, under a rotisserie-style heat lamp. Outdoor dining isn't fail-safe, and it only gets riskier as the numbers climb, and employee safety must remain a top priority. But it is almost certainly better than hanging out inside someone's apartment. We know by now, as much as we know anything, that "outside is safer than inside." We know, for example, that "the odds of catching the coronavirus are about 20 times higher indoors than outdoors," Olga Khazan wrote in The Atlantic.
The hope in Los Angeles is that by shutting down outdoor restaurants and giving people one fewer place to gather, Los Angeles will reduce the number of potentially contagious interactions, which should in turn help stop the spread. But if you take away the gathering places, will that stop the gatherings? Or will people simply gather somewhere else? In L.A., the weather is nice. In New York, the temptation to go inside is real.
We have been warned and warned and warned about the risks of gathering inside for Thanksgiving, which is advice that also applies to cozy gatherings taking place on days that aren't national holidays. Epidemiologists don't actually know how much small gatherings contribute to transmission, Apoorva Mandavilli points out in the New York Times — it's hard to "pinpoint the source of any outbreak, now that the virus is so widespread" — but based on everything we do know, the safest way to see anyone is to do so outside.
In New York, where it is increasingly cold and often wet, there are few options to gather in a reasonably safe manner. Pandemic fatigue is real; there is only so long you can ask people to "abstain from nearly all in-person human contact," argues epidemiologist Julia Marcus, before some people start to crack. "Local governments could also provide safer gathering spaces for people, with open-air tents, firepits, and heat lamps as temperatures drop, Marcus told the Times. "Then the message becomes a more realistic one. Instead of 'don't gather,' it's 'gather here instead.'"
So much of the discussion around how to make outdoor dining work this winter has centered around restaurant survival. And that's true: The city needs to help restaurants get through the winter, including winterizing efforts, so that restaurants can continue to exist. But outdoor dining, for as long as it's remotely responsible to do it, is also a matter of public health. People need a comparatively safe outlet for human interactions, and outdoor streeteries may become the only option in the city that comes with (limited) climate control. People are going to gather, as we have seen. I'm not sure we want to see what happens if the spaces to do so go away.