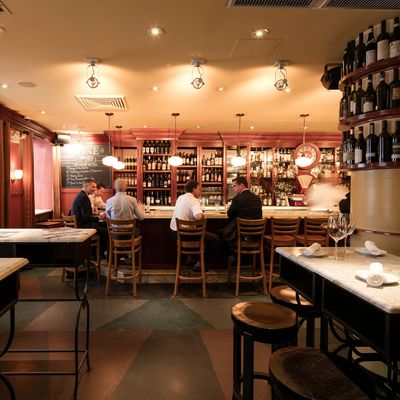 The restaurant opened in 2003.
Photo: Melissa Hom
A "For Rent" sign now hangs in the barred window of the space that once housed the Greenwich Village restaurant Otto. While nobody from the restaurant or owner Joe Bastinaich's company responded to our messages, a rep for the building, 1 Fifth Avenue, has confirmed the closing. ("We would love to use the news as an opportunity to let people know it's available.")
Mario Batali and Bastianich opened the restaurant — part wine bar, part high-end pizzeria — in 2003, quickly establishing it as an anchor of the then-growing Batali & Bastianich hospitality empire. Of course, that empire began to crumble in 2017 after allegations of Batali's sexual misconduct; by the time Eater published its investigation, the celebrity chef had agreed to step away from the operations of his Rolodex of Italian restaurants — Babbo, Del Posto, and Lupa among them in New York — though he didn't actually surrender his stake in the company (or its profits) until March 2019. In the aftermath, Bastianich reported that business across the restaurants had fallen as much as 30 percent.
Since Bastianich has remained at the helm of the revamped, renamed operation, he has tried to distance himself from his former partner. But New York State attorney general Letitia James announced in January that her office was "looking into" claims against him as part of a larger investigation into the restaurant group.
Still, the lardo pizzas continued until March, when the restaurant, like all restaurants, was temporarily shuttered. It quickly reopened for takeout with a pared-down (and cheaper) menu but has now ceased operations entirely.