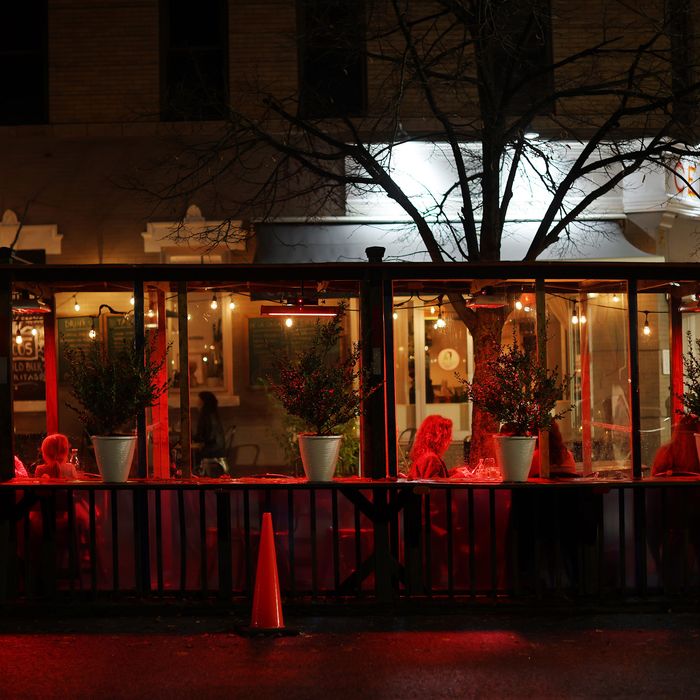 Outdoor dining in mid-November.
Photo: Spencer Platt/Getty Images
"How great is this?!" one of my hardy guests exclaimed a couple of weeks back, as we sipped our whiskey in 43-degree weather and waited in the gathering winter gloom for our dinner to arrive. Where were we? Who knows? Like a weary hiker who's been out in the wilderness for too long, the mind begins to play tricks after a while, especially if you're a trained glutton whose job it is to dine around New York City night after night.
We could have been huddled under the stuttering, not very warming glow of a giant heat lamp somewhere in the West Village, or crouched in some dark corner of Brooklyn under a tattered, wind-blown tent. Maybe it was drizzling, or maybe, as happened just the other evening, a giant striped steam pipe was blowing that familiar eau de subway out over the little rows of tables assembled in the street.
Snug in my wool hat and at least three layers of padded nylon, I raised my glass of whiskey in the air and muttered, "Yeah, but imagine if you had to do this three or four times a week."
Don't get me wrong. I love outdoor dining as much as the next rabidly hopeful big-city gastronome. I love the romance and the neighborly camaraderie of it; I love the spectacle of lights hung in the trees, and the sense of collective energy and can-do spirit you get dining al fresco around town, especially on an unexpectedly warm, early-autumn evening. But as temperatures continue to drop, and COVID levels continue their inexorable rise, your humble critic has found himself fantasizing less about the perfectly sizzled New York strip steak, say, than about heat lamps, lap blankets, and finding a pair of gloves that will allow taking notes and utilizing a dinner fork while in the midst of a minor snow squall.
Restaurants are doing their best for those of us who don't want to risk dining inside, of course, and some are doing even better than that. During the course of my increasingly chilly rounds, I've seen heated TV pavilions set up on sidewalks, complete with couches and ice buckets for beer. I've seen clear plastic igloos for four, with zipper doors through which your server hands you dinner. I've seen red-painted wooden sheds that look like the kind of ice-fishing cabin you'd see out on the frozen wastes of Lake Ontario, and large, ambitious alternative dining rooms that one owner told me can cost upward of $50,000 to build.
Winter is just beginning, however, and with this latest pre-Thanksgiving cold snap, those of us who've spent time wandering the streets dressed for dinner in our ski outfits can already feel the grim reality of the situation setting in. Just this week, the city slapped onerous new regulations on the outdoor-dining shanty community, and many of the members of my old reliable tasting community are beginning to hunker down around their TVs and virtual fire pits, just like the old lockdown days, possibly to ponder their bean recipes and sourdough starters once more.
With schools shut down this week, and indoor dining likely to follow, has your hygge-loving critic begun pondering his old lockdown bean recipes yet? Of course not. Although for charter members of the city's Outdoor Polar Bear Dining Club, it's shaping up to be a long winter.
Recently, when I attempted to rally the troops to visit a small new downtown establishment — which like lots of smaller, newer restaurants around town, doesn't yet have faithful neighborhood regulars to rely on, or the resources to purchase heated sidewalk igloos, or to construct ice-fishing huts or $50,000 dining pavilions on the the side of the street — I got a string of regretful replies. Friends were suddenly preoccupied with their Zoom-addled children, or hadn't yet unpacked their sub-zero winter clothes. Mrs. Platt suggested we order some food to-go, and when I asked my daughters if they wanted to have a quick outdoor meal, followed by popcorn around the warming fire, they looked at me like I was insane. Even my hardy friend the Whiskey Guzzler said he had other plans when I finally tracked him down, sipping a drink in his toasty living room. "Sorry, Platty," he replied with a slightly sheepish tone in his voice. "Try me next week, when this weather warms up."