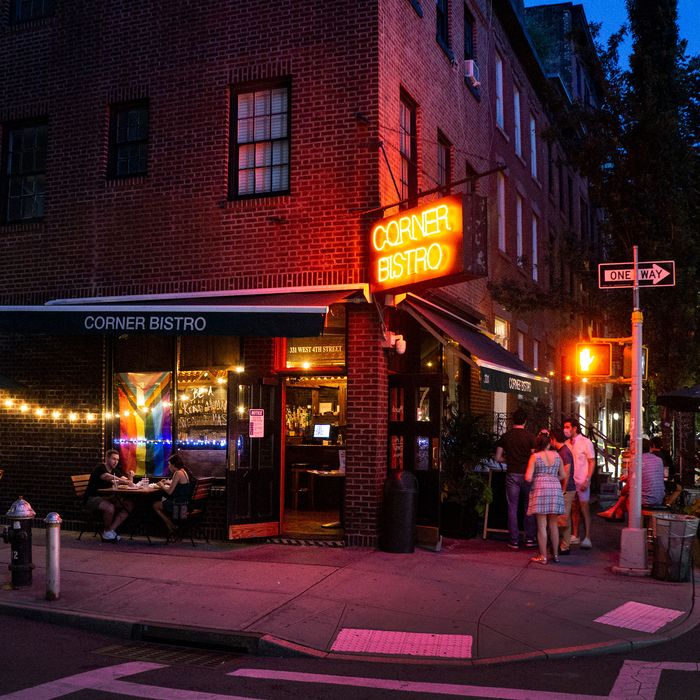 Coronavirus cases have been rising in New York.
Photo: GHI/Education Images/Universal Images Group via Getty Images
Starting on Friday, New York bars and restaurants that are licensed by the State Liquor Authority will have a new 10 p.m. curfew, Governor Andrew Cuomo announced today. Later, Melissa DeRosa, the secretary to Governor Cuomo, clarified that takeout (except for alcohol) can continue past 10 p.m. but that all restaurant guests will have to be out at that time. (Following the announcement, New York City Hospitality Alliance executive director Andrew Rigie tweeted that operators have not been filled in on all the necessary information.)
Additionally, the governor says, the state will limit private indoor gatherings to ten or fewer people, in an attempt to curb parties. (Speaking with the outlet Stat, Amesh Adalja of the John Hopkins Center for Health Security says, "We've seen in the epidemiology that now it's not restaurants or even large gatherings that are driving spread but small gatherings" in people's homes.)
The decision stops well short of rolling back indoor dining entirely, which Mayor Bill de Blasio recently said should be "reevaluated." (On Tuesday, San Francisco mayor London Breed announced her city was shutting down indoor dining.) The mandates have been announced as New York's coronavirus cases have risen sharply, causing alarm. On Monday, 4,000 new cases were reported across the state, and the daily positivity rate rose to 3.09 percent for the first time since May. Nationwide, at least 139,855 new cases and 1,448 deaths were reported on Monday, according to the New York Times, and the pandemic continues to go unchecked in states like Iowa, where, on November 4, two-thirds of counties reported 14-day positivity rates of 15 percent or higher. Cuomo attributed the recent spread of cases in New York to businesses that sell alcohol, gyms (which will also have to close at 10 p.m.), and indoor gatherings in people's homes.
The earlier closing time will mean less business for bars and restaurants, which had been operating under a midnight curfew indoors and an 11 p.m. curfew outdoors. In response to the news, Ashwin Deshmukh, who owns Short Stories and Williamsburg Pizza, tweeted that the new curfew "will cost us $10,000 of weekly revenue immediately" at Short Stories.
Restaurateurs who are agitated about Cuomo's decisions have sued the governor over a variety of his mandates, including the midnight curfew, the ban on ticketed music events, the reduced indoor-dining capacity in NYC, and the SLA fines levied against their businesses.
This post has been updated with more information.