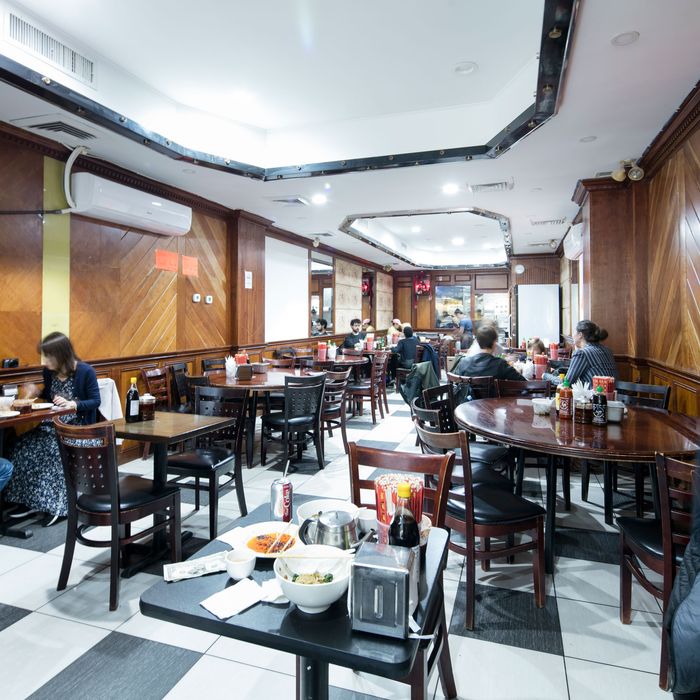 88 Lan Zhou, which moved from East Broadway to Bowery in 2017, closed on October 31.
Photo: Melissa Hom
By now, everyone has a favorite restaurant that's closed for good. On Friday, the great Chinatown dumpling shop 88 Lan Zhou became the latest great place to shutter. Lan Zhou's closing didn't go unnoticed. It isn't a neighborhood institution like Wo Hop or Noodle Town, but it has its fans, and when the owners initially announced they were closing in August, public support encouraged them to stay open into the fall.
I am one of those fans: Back when Lan Zhou was in its original East Broadway location, I went through a phase with its plump dumplings, which are so juicy, as my friend would note, you don't even need to dip them. Still, I dipped them in soy sauce and black vinegar, because eating out was a splurge. I'd eat them at one of the few tables, while listening to a cook thwack the hand-pulled noodles I never ordered, or bring them up to my friend's nearby apartment. I was making very little money at the time, and those dumplings seemed like the most delicious things I could buy — they felt like a luxury, wolfed down on the couch.
In September, the owners, Mandy Zhang and her father, announced they would raise prices on 50-piece bags of frozen dumplings: to just $16, up from an even-more-astounding $12. The adjustment still wasn't enough to save the restaurant, and it's evidence that prices will need to rise even higher for Chinatown's restaurants to thrive once more. The question now facing this particular ecosystem: How?
I only heard about Lan Zhou's closing because of the public response. I could've easily missed it, given how many places have shut down. In fact, I didn't even realize that another Chinatown favorite of mine had closed earlier during the pandemic. Hua Ji Pork Chop Fast Food was a cubby hole of a place on Allen Street, with a few tables jammed in a way that would never allow for social distancing. The menu was a long list of dishes that mostly follow the basic premise of the rice bowl, with protein and pickled mustard greens, but I only ever ordered the namesake pork chop. Pounded and fried until golden, it was too satisfying to cheat on.
Hua Ji was a great, little place, somewhere I would have eaten every week if I'd lived nearby. It was never going to become a destination, and it wasn't meant to be. It was just another takeout spot in a neighborhood flush with really good, really inexpensive places to eat.
Therein lies the problem: As Grace Young wrote for Food & Wine, the Chinatown economy is "dependent on volume," drawing customers in with low prices that are unsustainable if the crowds aren't there. What happens when business drops 50 percent, as some restaurateurs told me it had back in February? The neighborhood, and Chinatowns around the country, were hit earliest and hardest as fears about the coronavirus built up, and restaurateurs told me rumors spread in the community while Sinophobia swelled.
Much has been written about the perception of Chinese cuisine as "cheap." It's a racist expectation, of course, that affects the whole of Chinatown, and places like Hua Ji Pork Chop — compare the price of that restaurant's rice bowls, about $6.50 last time I was there, to the $12 green-washed grain bowls that are the featured attraction at the city's yuppie salad chains. Could they charge anywhere near as much for their hand-pulled noodles as an "American" spot can charge for dried pasta?
I often think about Anelise Chen's excellent 2012 story about the precarious economics of a Sunset Park dumpling shop, where for all its popularity the owner could barely break even. Generally speaking, Manhattan's Chinatown businesses won't increase prices, for fear of alienating customers who expect low prices. Even when local legislation is passed that explicitly allows owners to easily and transparently raise prices — as the City Council has done with its "COVID surcharge" — it is ineffective. According to a survey by the Chinatown Business Improvement District, nearly every single Chinatown restaurant has opted not to apply that surcharge, betting instead on low prices. The BID's executive director Wellington Chen tells City Limits that the organization surveyed 300 businesses, with only one owner saying they'd consider adding the surcharge, and only if shuttering were imminent.
Business closings and job losses were inevitable this year. But what chance do lesser-known businesses stand, let alone the people who staff them, when the risk of raising prices is too much?