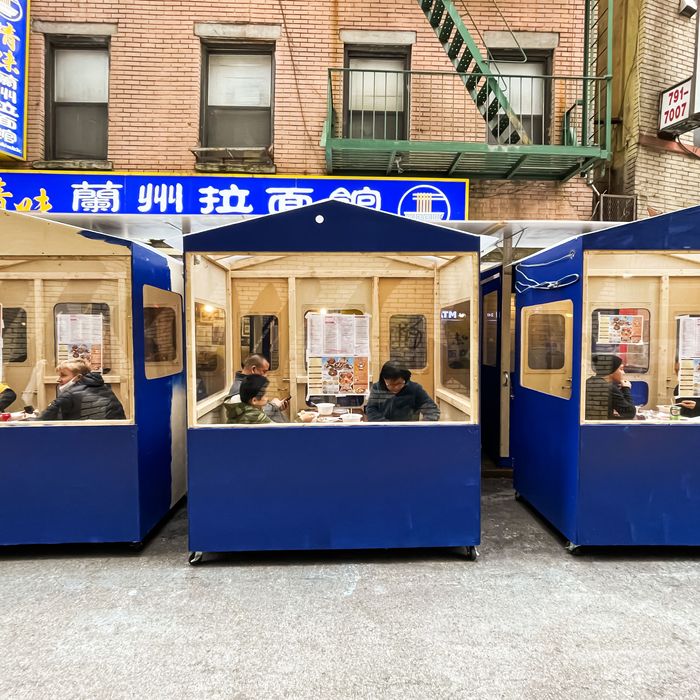 An outdoor dining setup in Chinatown.
Photo: Noam Galai/Getty Images
Last Wednesday, as coronavirus cases continued to rise, New York governor Andrew Cuomo announced that the state government would impose a new 10 p.m. curfew on bars and restaurants. (In response, some asked, "Does the coronavirus come out at night?") The curfew, he explained, would take effect on Friday, which meant owners had to cancel any previously booked reservations that would be in violation. Some operators told the Post their revenue dropped 30 percent over the weekend.
This isn't the first sudden rule change that's cost owners more than a few dollars: Over the summer, New York Times critic Pete Wells wrote about restaurant owners who built outdoor setups in compliance with the city's rules, only to have to shell out thousands more to meet new requirements that were posted roughly a week after outdoor dining returned. Still, more changes will need to be made by December, including mandatory "safety enhancements" to roadway barriers. Specifically, the city will require a "majority" of restaurants to install "plastic water-filled barriers" facing traffic lanes. (The requirement will be determined by crash rates and traffic volume on the streets, and high-priority restaurants will be contacted directly.)
The city says it will offer sandbags and barriers to owners free of charge, which is the only bright spot here. Even if the rollout goes smoothly, these latest changes are just a few more things for both restaurant workers and owners alike, who have had to deal with a steady drip of small, incremental changes that tend to cost money no one in the industry has right now. At the same time, the specter of a second indoor-dining shutdown looms: The seven-day positivity rate continues to creep closer to the 3 percent threshold that would likely force the government's hand. (In New Jersey, the single-day positivity rate rose to 8.73 percent on Friday.)
We are living through a pandemic, and the government is not going to pay people to stay home — even after 10 p.m. Those people who work in restaurants need to be protected. Different rules and regulations are necessary. But there has also been poor guidance, opacity on the part of regulators, and alarm around activities like going to the beach or park that we eventually learned were quite low risk. Is requiring restaurants to shut down dining an hour or two earlier actually going to make the difference? The city government has also been slow to do some things that would help the industry, like a cap on fees for third-party delivery platforms, and nine months in, people are still pleading for rent relief. Again, the government is not going to pay people to stay home.
It's true, sure, that outdoor dining like this hasn't been done in New York before. You would think, though, that the city government could still figure out how thick barriers should be the first go-around, rather than have people spend a bunch of money building barriers — one owner tells Curbed his setup cost $25,000 — only to have to install new ones supplied by the city.
The winter will certainly be brutal, and keeping our residents safe is, of course, the most important part of any decision. But safety also includes job security, and closed restaurants can't hire people to work: Almost half of the city's restaurant workforce was still unemployed as of August, and a state audit estimates as many as half of the city's restaurants could close, and 159,000 jobs could be lost over the next year.