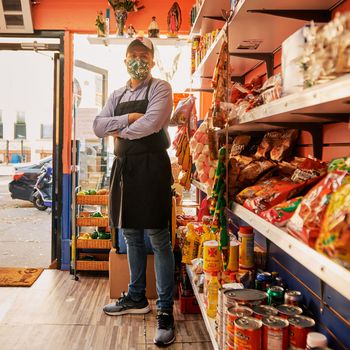 Andrés Tonatiuh Galindo Maria got birria fever.
Photo: Christian Rodriguez
When Andrés Tonatiuh Galindo Maria returned to New York after a six-month sojourn spent mostly on his grandmother's farm in Mexico, he found an industry wrecked by COVID-19 with far fewer job prospects. The 26-year-old cook had spent his career working in high-end restaurants like Ai Fiori, Oceana, and Jean-Georges (the restaurant he left in February, just before the pandemic arrived). Fine dining, though, was always a means to an end for him, never the endgame itself. "It looks good on your résumé," he says of those restaurants. "You work in those places, but you get tired of it — a lot of stress, but you do learn a lot."
So instead of scraping to find a job in another Michelin-starred kitchen during the pandemic, Galindo Maria set out on his own. "There were not a lot of jobs as chefs, and if there were, they were not paying the right amount," he explains. "I told myself, Man, I think it's time for me to open a small business. Nothing fancy, though."
The place he opened is Nene's Deli Taqueria. (The name comes from Puerto Rican slang for "young boy" and is what his stepfather called him.) It's a bite-size shop just north of Maria Hernandez Park in Bushwick, the neighborhood where Galindo Maria grew up and where his mother also has a shop, Itzel's Taqueria Deli. At Nene's, he is specializing in birria, a dish of beef or goat that is marinated in adobo and then stewed in broth.
Even more specifically, he is focused on quesabirria (also referred to as quesatacos), with its chile-stained orange tortillas and cheese crust, which is made by first dipping tortillas into the meat's braising liquid (giving it an Instagram-appropriate red hue), then stuffing them with slow-cooked beef and white cheese that melts and caramelizes.
The dish has become popular on the West Coast, starting in Los Angeles and then San Francisco, and has made its way across the U.S. But it's relatively new for Galindo Maria, whose first job was at his uncle's Lower East Side spot, Maria's Café. "I'm trying to showcase more birria because you don't find that a lot in Bushwick. I've never seen a place sell birria tacos here," he says. For his recipe, he uses beef shank with "a lot of guajillo, a touch of ancho chile, and a very small amount of chipotle."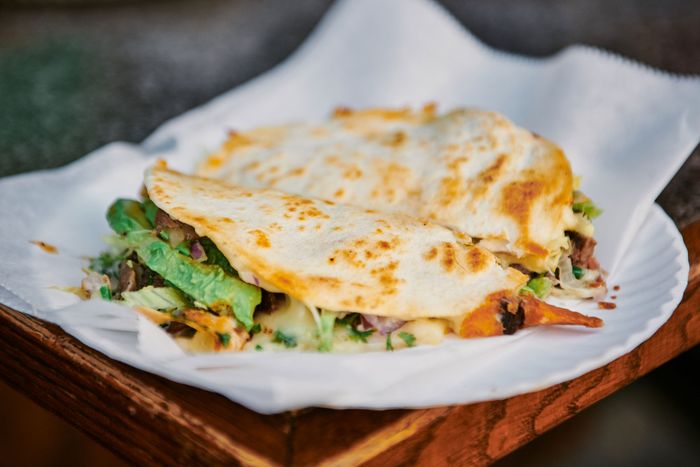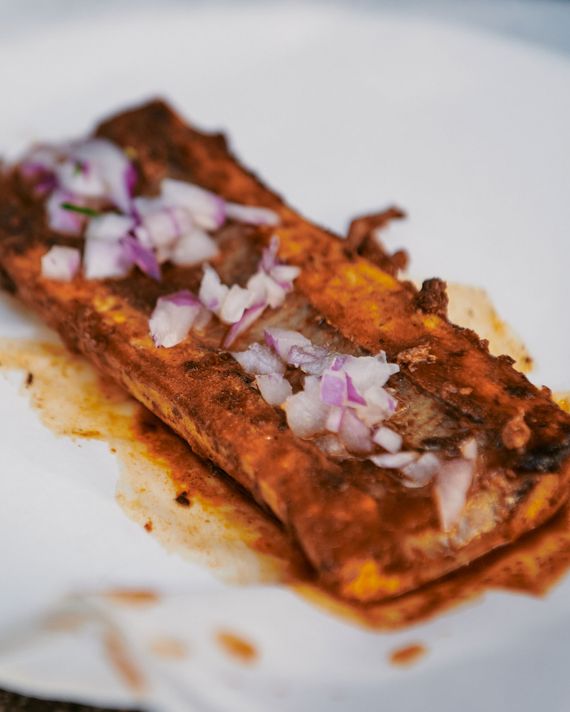 In addition to these tacos, Galindo Maria's menu at Nene's includes picadas, tortas, and quesadillas, plus a couple Cal-Mex specialties. One is birria ramen, a hefty meal made by ladling chunks of birria and its red broth into a container of Tapatío Ramen. (It's not advertised on the chalkboard outside, but you only have to ask and hand over $8.) The other is the mulita, an L.A. stacked-tortilla dish that's like a quesadilla. "They call it a quesadilla on steroids," Galindo Maria says. He uses flour tortillas and adds pico de gallo and lettuce to the cheese, meat, and guacamole.
One of Galindo Maria's former co-workers at Jean-Georges says, "There's a handful of Mexican cooks here in NYC that are able to capture those flavors, and he is one of them."
The chef (and now business owner) is experimenting with a few more items, like a guajillo-and-walnut salsa and el hueso tacos: birria tacos with a side of bone marrow garnished with onions. "I'd love to make more things," Galindo Maria says, "but as you can see, my deli is too small." (He's also running it exclusively with the help of his mother and sister.) He doesn't mind, though. During a year like this, he knew he had to take a space when he could find it. "I told myself, Let me try this," he explains. "The opportunity came up, and I grabbed it."
Nene's Deli Taqueria, 54 Irving Ave., nr. Starr St., Bushwick; 347-789-5745.