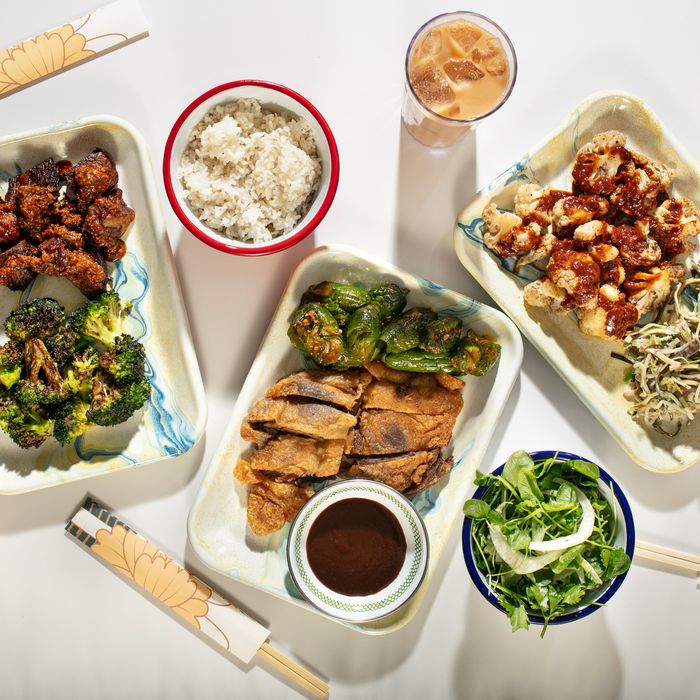 A "family style" duck feast from Milu, which opened in late October.
Photo: Melissa Hom
Like any ambitious new big-city establishment during this plague year, the polished Chinese-style cafe Milu, which opened a couple of weeks ago among the mostly deserted storefront spaces on lower Park Avenue, offers many different dining options. You can enjoy your chicken grain bowl outside under a slightly tattered-looking tent, or at one of the white tables inside the clean, well-lit space. You can peruse a variety of enticing "pantry" items (house-made chili oil, designer soy sauces, jars of duck fat) while picking up your takeout order, or you can do what most us have been doing for many months now and order your own delivery feast, which in my case arrived in neatly stacked and bagged in paper boxes exactly 26 minutes after I'd tapped out my family style order on the easy-to-use website.
"Where are all the noodle dishes, Dad?!" one of the grizzled carryout critics at the table cried as we carefully unpacked the tidily arranged boxes of chilled spicy cucumber, "Sichuan spiced" cauliflower, chunks of densely fatty "Yunan" brisket, and several helpings of refreshingly fluffy homestyle rice.
Our carryout critic, who was raised on the usual multitudinous buffet of thickened lo mein and crispy beef choices, had a point of course, although Milu ("rice road" in Mandarin) is clearly not your average Chinese carryout joint. The chef, Connie Chung, has a degree in chemical biology from UC Berkeley, and her co-owning partner, Vincent Chao, went to Harvard. They met during the glory days of Eleven Madison Park, where Chung served time as the sous chef, among other things. Both grew up around traditional Chinese kitchens, and their idea here, clearly, is to leave the chaotic old connect-the-dots carryout model behind, in favor of a simpler brand of homestyle Chinese cooking.

The cool, vividly green chili-doused cucumbers we sampled first were as good as any versions of this classic dish that Dad has tasted in the grand northern-style restaurants of Shanghai or Beijing, although my Zoom-addled daughters took a couple of hesitant bites and pushed them aside. Ditto the slightly gummy designer dumplings ("You didn't order enough dumplings, Dad!"), which were shaped like little top hats, and stuffed with a savory mash of ground pork and fennel. Nobody had anything unkind to say about the Mandarin duck, however, which the kitchen simmers in its own fat in the classic confit style, and serves either family-style with other dishes for $45, or with the aforementioned cucumbers, over a bowl of rice infused with more duck fat.
The square little chunks of chili-caked brisket packed a similar punch, although after a bite or two, the carryout critics were clamoring again for their gooey noodle dishes and plastic tubs of milky wonton soup. They pointed out that for $22, the serving of brisket was on the small side (this was true), and that the menu could have a little more variety to it (also true), and when Dad began to explain that Milu was designed to be what in the pre-COVID world used to be called a "fast casual" restaurant, a place for quick office meals and healthy lunchtime dining, they left the table one by one.
One person who didn't leave the table, however, was Ms. Platt, a discerning carryout snob of the old school who tends to regard a tub of General Tso's with the kind of haughty disdain that a top Italian chef reserves for frozen pizza, say, or a recently opened can of Chef Boyardee. "This food is delicious," she said as poured herself a glass of the signature Finback Milu Pilsner. She then asked for the box of watercress cilantro salad, which the rest of us had ignored, along with some cucumbers and spiced cauliflower to put on her already alarmingly full plate of duck. "Everything goes well together," she said between happy bites. "Where is this place? Is it near my office? I'm definitely going back for lunch."