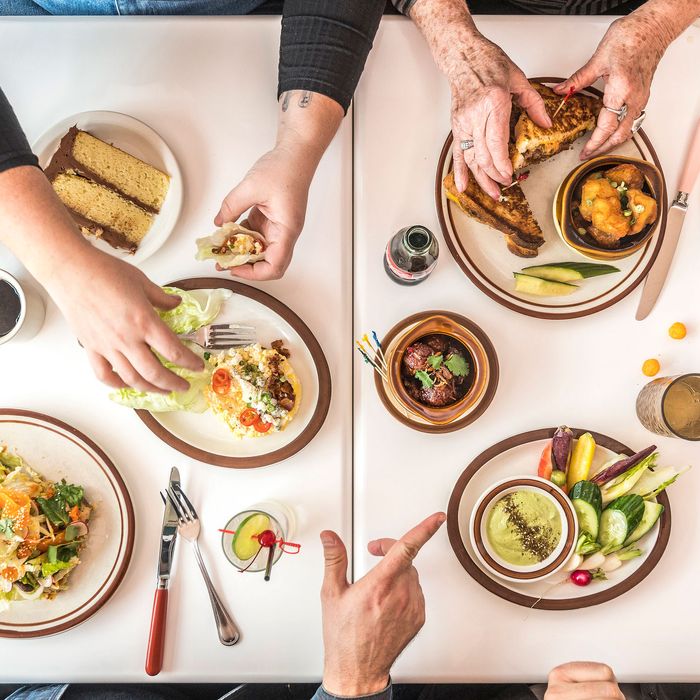 A meal at MeMe's Diner, which closed its doors for good yesterday.
Photo: Noah Fecks
I constantly worry that the last restaurants standing will be those without souls, the VC-backed, microchipped places that won't take cash and can't take a joke. The closure of MeMe's Diner in Prospect Heights, Brooklyn, is one more piece of evidence: Here lies another independently owned neighborhood restaurant with an actual personality and food that wasn't just delicious but also fun. Another casualty of the pandemic, another menu for which we'll feel phantom hunger pangs in the months and weeks and years to come, another precious queer space lost.
You could linger at MeMe's for hours over a variety of fried and griddled things designed to comfort; in this way, it really was a diner. It was perfect for catching up with a friend, for taking your mom somewhere nice, for a brunch nobody ever regretted, for a solo bar dinner of chicken tenders and cake, for impressing a crush. You could take a date there and sidle up at the counter, flirting over a Manhattan and a bowl of complementary cheese puffs, the kind you buy in toddler-size plastic jugs at Costco. The stools were of the swivel sort, which everyone knows are ideal for exploratory knee-touching. A vase on the long end of the counter was always exploding with some outsize flora: A tangle of cherry-blossom branches greeting you when you walked in meant spring had arrived. Next to the flowers was always a gleaming cake on a stand. Above you was a disco ball.
Friends Libby Willis and Bill Clark opened MeMe's in November 2017, and it quickly became a hub of queer community in the industry. "The reason we call MeMe's a diner is because a diner to us is the epitome of a utilitarian, here-for-everybody place," Willis explains. The vibe was immediately welcoming, and the flavor profiles were designed to be accessible. The pair, who met while working together at Ovenly, understood our city's desperate need for a wider array of queer spaces. Here they hosted Queer Soup Night, fundraisers, and Halloween parties. They also set an example of what a queer-friendly restaurant can look like, past flying a rainbow flag out front, and it often came down to hospitality: making all feel welcome, never addressing a table with the "Hey, ladies!" that so often causes discomfort.
"When you're queer, you choose your family and you choose whom to spend your time with," explains Noah Fecks, a photographer who often collaborated with the MeMe's team. "When you experience hospitality from your chosen family, it can be revelatory." It's a feeling that he says is often lost with the industry's emphasis on "machismo and showmanship." There was a queerness, too, to their style and way they understood fun: not born of raucous nights or extravagant expense-account meals, but self-aware playfulness backed up by the desire to build and serve a community. And someone was always having a good time with the playlist.
Their menus rotated seasonally, but not exactly in the "It's April, here are some asparagus spears and peas" way. Instead, the changes were thematic: Italian red sauce for Valentine's Day; New Californian in the summertime. The asparagus and peas did show up on their English Tea Time menu, a concept I simply cannot imagine a pair of straight chefs planning with the same level of cheekiness and care.
At the heart of the dinner menu were two standout dishes: the patty melt and the Buffalo chicken salad. The trick was to order one and make the person you were with think that getting the other one was their idea. The patty melt ruined me for all others of its kind: a patty thin and juicy enough to make this not a Big Meat Sandwich but a paragon of crunch and cheese; slouchy onions and "comeback sauce" commingling dreamily above it; the bread so aggressively griddled in butter that biting into it felt like a sound effect. Then there was the Buffalo chicken salad, a hefty chicken breast fried in a thick armor of crumbs and served over a salad dressed in green-goddess dressing and blue cheese, which could make you indignantly wonder why every salad in the world was not this exact one.
The food always carried the air of a playful smirk: Last summer, one of Clark's towering cakes carried a barbecue-sauce-flavored icing that somehow made brilliant sense layered with strawberry cake. At brunch, the cheese puffs were replaced with a dry bowl of Lucky Charms. You might have forgotten how good Lucky Charms are, but MeMe's was there to remind you of its Technicolor glee, the sweet, chewy crunch of inanimate objects rendered in freeze-dried marshmallow. Their brunch was actually fun, a meal where your table would be overflowing with Dutch babies and everything-bagel babka and a plate of fried eggs over chili oil and yogurt, bedecked with a kaleidoscoping smattering of seeds. You'd quickly forget that you had waited outside for an hour for the chance to eat such things.
Willis and Clark announced the restaurant's closing on a Friday, and those lines instantly reappeared and multiplied. The restaurant's second-to-last weekend was also an intense reminder of the thrashing that restaurants, particularly independently owned ones, have taken over the past six months. "The reason we are here and the reason we opened this restaurant is to connect with people, and we can't do that anymore," Clark explains. "And everyone is behind a piece of glass."
That weekend, they were out of rye for the patty melts by Sunday lunch. "You're making more patty melts than you can physically make," Willis remembers of the weekend rush, "but you're also making them because people are lining up outside for three hours to eat something for the last time that you shared with them. It's sweet; it's sour; it's everything."