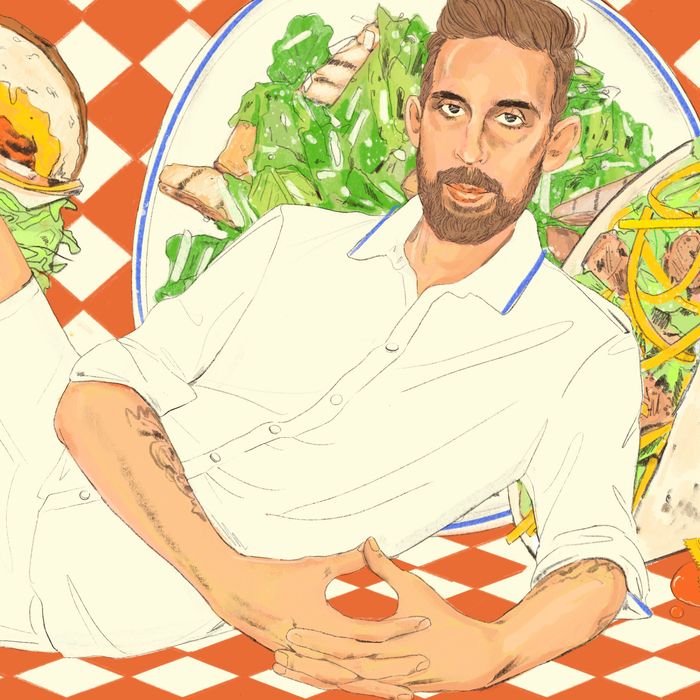 Jason Stewart and his big three: Del Taco chicken soft taco, any Italian deli's turkey sandwich, and a chicken Caesar salad.
Illustration: Lindsay Mound
While others were busy baking sourdough, Jason Stewart was focused on a different quarantine hobby: drinking martinis. "That's been my DIY project for these trying times," he jokes. His real project this year has been How Long Gone, the podcast (or "bro-cast," as Vogue puts it) that he hosts with Chris Black, a brand consultant (and Strategist contributor). Started as a side project for two friends to talk and "keep ourselves sane," Stewart describes the show as "kind of an antidote to the doomscrolling and constant news-checking of all the terrible things going on." (The pair have also launched How Long Gone Radio and a Twitch show.) A former DJ, the Los Angeles resident also hosted the food podcast The Stew and could be described as a Del Taco superfan. This week, he popped by a favorite taco truck and promptly "blacked out" at the sight of the menu, got his favorite Caesar salad at the local seafood market, and went to the grocery store Erewhon "as a prank on" himself. 
Friday, November 13
As a treat for myself, I turn my 6 a.m. alarm off on weekends, as well as Fridays now because I need more self-care. Nevertheless, I woke up at 5:55, cooing like a newborn as I always do. Because of daylight savings and the novel coronavirus, the sky is still black when I rise.
I bought some new coffee beans that I cracked the seal on this morning. When I asked Eric (my barista) which beans he liked the most, he proudly said that he discovered "this little Ethiopian" while drunk off a local's stash of rum. He wanted to let me know that he was really sourcing these beans. I decided to opt for the El Salvadorian, not because of its alluring elevation or washed processing, or even the notes of brown sugar and rose hip, but because it's produced by a woman named Maria Isabella, and that sounds nice.
The coffee tasted fine, honestly a little cat-pissy on the end there. Sadly, as proud of my palate as I am, I couldn't tell you the difference between a good or a bad liquid. Fourth-wave coffee, failing orange wine, or musky matcha: The best notes you'll get from me are "Mmm, yummy."
I typically don't eat breakfast because I'm often still processing my lumberjack's supper from the previous evening. For the sake of this content, I'll allow myself a handful of golden raisins, or sultanas, if you watch The Great British Bake Off as much as I do.
No lunch for me, just a few cups of coffee. Before dinner is our weekly video podcast on Twitch, I make it a point to purchase a six-pack of embarrassing local craft beers and drink a few of them while we're recording. Last week was a Mexican lager in collaboration with the '90s band Sublime. My co-host Chris was particularly upset about that selection.
I had dreams of making a baked-ziti-style dinner with some leftover Bolognese but the day got away from me. On the way home from another unhinged recording, I stopped off at Taco Zone, one of my oldest and most favorite taco trucks in Los Angeles. It might get a bad rap with hard-line taco traditionalists because of its Echo Park location and Caucasian clientele, but dagnabbit, I love it after all these years. I blacked out and ordered $25 worth of tacos, mulitas, and even a veggie quesadilla. They put rice inside their quesadillas which might seem unconventional to some, but it turns into a pleasant mush in my mouth.
Taco Zone is infamous for their suadero meat, a harder-to-find taco filling cut from somewhere near where the udders meet the belly? That sounds fucked up now that I say it, but I have a feeling most places just use brisket. I wolf it all down with my life partner on the coffee table while watching a piping hot episode of Bake Off. Lottie, a fan-fave contestant, was just kicked off the last episode, and I decided to send her a DM, asking her if she'd like to be a guest on our podcast. I did not expect her to respond, or even read my message.
After destroying my mouth on some habanero salsa, I poured myself a tall glass of Straus brand whole milk in an act of fragility. Despite it being disgusting to anyone under 60, I'm desperately trying to preserve the bygone tradition of drinking a full glass of milk with dinner, for no other reason than it's funny to me.
Saturday, November 14
My female-powered Salvadorian beans are starting to grow on me. I made one pour-over, brushed my teeth, and immediately poured another one. One more handful of sultanas for no reason, but this time served inside a tiny Le Creuset dish because it's the weekend. My life partner was stress-baking banana bread and it smelled amazing; the spirit of the holidays began to fill the air, despite it being sunny and 76 degrees.
We took a walk through the neighborhood while her loaf cooled on the windowsill (Looney Tunes style) and on our stroll, we decided to paint the trim of our house the color of baby-yellow, a chaotic decision that could very well leave her in tears, but I push on in silence. Once home, she serves up the warm banana bread in our preferred plating method: still warm, with a couple of cold, fat squares of Le Beurre Bordier butter, and a sprinkle of Maldon salt. I ate it in three seconds, and in exchange for another slice, I'm told that I need to wear a new hat she just picked up in hopes of stretching it out for her. It's a Missoni-like colorful woven bucket, and it's currently squeezing my melon tightly.
I purchased a Realtree camo fishing rod last month with the Amazon gift card my mom gave me for my birthday (Virgo). It's been leaning in a corner of the guest bedroom since September, so I finally carved out some time to drop a line and attempt to melt away the accumulated stress one builds up as a suburban podcaster. My reel got "birds nested" after ten minutes and I was inconsolable.
My partner tried to tranquilize me on the drive home with a thigh pat and an offer of fast food. I laughed out a "no" and may as well have wiped a tear. Instead, we stopped by my favorite local seafood market Fish King to buy a raw chicken and a cup of clam chowder. My partner decided to season-push Christmas this year because we could all use some cheer right now. We put Bing Crosby on the Sonos and made some Nespresso martinis with MCT-oil creamer to fuel our synthetic tree-dressing activation.
For dinner, I made that baked ziti with leftover Bolognese and some brown-rice gluten-free fusilli. I decided to add a few scoops of Good Culture brand whole-milk cottage cheese, truly the greatest cottage cheese, if you're into that sort of thing. I normally am not this much of a dairy daddy, but I'm trying to bulk up for winter.
Our appetizer was a prepackaged chicken Caesar salad that I picked up from Fish King. At $8 it's not only one of the most affordable nasty Caesars, but pound-for-pound my favorite in Los Angeles, nay, America. As much as I love it, it did not pair well with my Nespresso martini.
We ate our meal on the couch while watching Netflix's Christmas themed teen rom-com Dash & Lily. I was feeling bad enough about the whole situation and was pushed over the edge after learning that it's produced by a Jonas Brother. My partner did a "mask" and served me a bowl of Banana Nut Crunch with some more of that sensational whole milk. I remembered to unbox my Mary's Air-Chilled Chicken so it could be "dry-brined," or salted overnight in the fridge.
Sunday, November 15
Two cups of mudd before I untangle my fishing reel by stabbing at the spool with a box cutter. My girlfriend offered her assistance, claiming she was experienced in such matters from cleaning out the hair-tangled bristles from our Roomba.
It was a beautiful Sunday in the high 80s. My co-host Chris and I pushed our podcast recording early so we could enjoy the 90 minutes of the afternoon we get now that daylight savings ruined my life.
This time just one week ago, my partner and I drove up to Lake Arrowhead for a last-minute winter-wonderland getaway — we read that it might even snow a bit! Her parents have a great little A-frame up there that we've grown to love, but it was so hot this summer that her dad (a master electrical engineer) had the ingenious idea to rewire their old heater to instead blow cold air from the basement inside the house, creating an impromptu AC, which I'm sure they loved in the dog days of August. After fiddling with the thermostat for an hour, I found myself in the basement, assuring her dad over FaceTime that I could probably twist a few wires up and get it back and running. He laughed with the purest smile I had ever seen on his face, knowing that he wouldn't have to be the one to tell his daughter there would be no heat. It got down to 19 degrees at night with 50 mph gusts of horizontal "frozen rain" batting at the windows. The only enjoyable moment of that trip was a Sunday roast chicken dinner, which I re-created, and hope to do every following Sunday until Coachella (the end of winter on my calendar).
My heavily salted chicken rested for 24 hours uncovered in the fridge, then I left it out for an hour, put a bunch of butter and fresh thyme sprigs under the skin, inside the cavity, any slot will do. Placed a few thick slices of sourdough underneath the bird before roasting at 425 degrees. After an hour they become this crunchy, soggy, eggy, salty toast that will fuck you up.
I roasted the bird along with fingerling potatoes, millennial carrots, fat chunks of onion, and a head of garlic sliced in half. While the bird rested, I took all those perfectly roasted vegetables and tossed them in a big bowl of greens, always raw baby kale or arugula. The residual heat from the veggies wilts the greens perfectly, and you're able to enjoy the effects of a salad while still eating something warm. I tossed mine at the end with Cheesecake Factory brown breadcrumbs, made from leftover bread — it ended up being one of the better dinners I've ever cooked!
Monday, November 16
Fat-ass cup of coffee and I was ready to get ripping.
I wasn't hungry at all but I made a chicken-salad sandwich with my leftover roast. I can't keep sliced bread in the house or I'll make two sandwiches a day until it's gone. I cubed up some breast meat, chopped the cold, gelatinous skin up like pasta noodles, added some Grillos pickle-de-gallo (a pickle-based salsa from my favorite pickle brand), some raw shallot, dill, parsley, Dijon, and mayonnaise.
I needed an afternoon pick-me-up, and luckily I had the second half of my cocochino iced coffee from Erewhon yesterday. The cocochino is a few shots of espresso and something called "coconut manna," which is some kind of spiritually activated coconut butter. After a handful of sips, I had to put it down because my partner said the veins in my forearms were starting to bulge out. It's impossible to drink a whole one without jumping rope or smoking cigarettes directly after.
I should note that I only go to Erewhon as a prank on myself, and am not rich enough to buy my groceries there. The new Silver Lake location is so zen though, like if Seattle had a Hollywood sign. The clientele here is a perfect blend of explore-page hotties and people who look like they can green-light a script at Hulu, whereas the torched WeHo location is chock-full of scammers wearing matching jogger sets and filthy, fuzzy slides.
My podcast partner insisted that we celebrate this editorial victory for "team us" by securing a reservation at one of his favorite restaurants, Mr. Chow. He comes here for the service, the crowd, and the comforting-but-flavorless Chinese food adaptations from the mid-'80s. Admittedly, I do love watching a well-oiled brigade in action though, a sight only found at legacy establishments like this one. I get the feeling that I could pluck any dishwasher from the sink and they'd be able to start calling out tickets at the pass, know how many onions Gagosian likes in his Gibson, or where the valet parked my car. Unfortunately, though, in my opinion, the only thing on the menu worth putting in my mouth is a martini.
I enjoy dining out for sport, and I'm perfectly happy spending all my money on restaurants because I love the whole experience of it. I have spent my entire life seeking out hidden gems and supporting neighborhood restaurants that I believe in, but when the quarantine hit, I felt an overwhelming desire to eat at restaurants I would never go to, places that prioritize the "scene" above the food. It's funny to look around and spot NBA players crammed into tiny two-tops, TikTokers enjoying a silent scroll, Lena Dunham.
I need a martini or two to get through these meals. They're chic, strong, and give me a hangover-free, clean-but-clear droop of my shoulders. A drunk where I've released my inhibitions, but haven't begun slurring my words. I'm not particularly proud of it, but I love my dirty martini with a couple bleu-cheese olives. Much to the displeasure of my dining companions, there is no smooth and sexy way to ask a server if the bar has bleu-cheese olives, and if they do, could I please have those inside my drink instead of regular ones? For the last two months I've been asking, "What are your olive options?" but at Chow's I simply ordered mine "dirty & bleu," my server gently blinked and nodded his head, as if to say, "Yes, of course, Mr. Stewart, that is a thing that I know."
Tuesday, November 15
We had a podcast photo shoot for W Magazine, and we're being shot by our old friend James. My partner has a great old Mercedes convertible in the garage that we planned to use as a Thelma and Louise–style prop for the shoot, but sadly her Benz's battery is as expired as that reference. I'm proud of myself for removing and installing the new battery all by myself and am flabbergasted by how heavy an old car battery is. Since we were being photographed, there was no eating until the wrap party, which consisted of me patiently yelling at the drive-thru speaker of the regional Mexican American fast-food chain "Del Taco."
My lifelong journey of loving food began there. My brother and I used to hunt for spare change in the couch cushions and ride our BMX bikes to Del Taco, saving a couple of quarters to play Mortal Kombat at the pizzeria. When he and I became vegan in high school, we learned how to manipulate their menu in order to suit our plant-based needs, dipping French fries in refried beans and guacamole, or substituting beans instead of meat for any of their items. Their menu really opened up as we aged out of our vegan phase and discovered marijuana. We were able to always fill our bellies with the comfort of childhood suburbia in our leanest of years.
Nowadays, wherever you live in Southern California, there are at least five Del Tacos within walking distance, and it remains the only fast-food restaurant I ever eat at, not counting In-N-Out, of course. My order was a chicken soft taco: grilled chicken, unmelted cheddar, shredded iceberg, and a tangy white sauce which I douse with a packet of Del Scorcho. French fries well-done, a side of guac, and a bean-and-cheese burrito ordered "Bold," Del Taco's version of "Animal Style," where any applicable item is filled with French fries and extra white sauce.
Now, I'm going to miss writing these twisted little morning pages. Showing a glimpse into my mind through the lens of food is truly what I've dreamed to do with my life, and I plan to never stop writing these now!