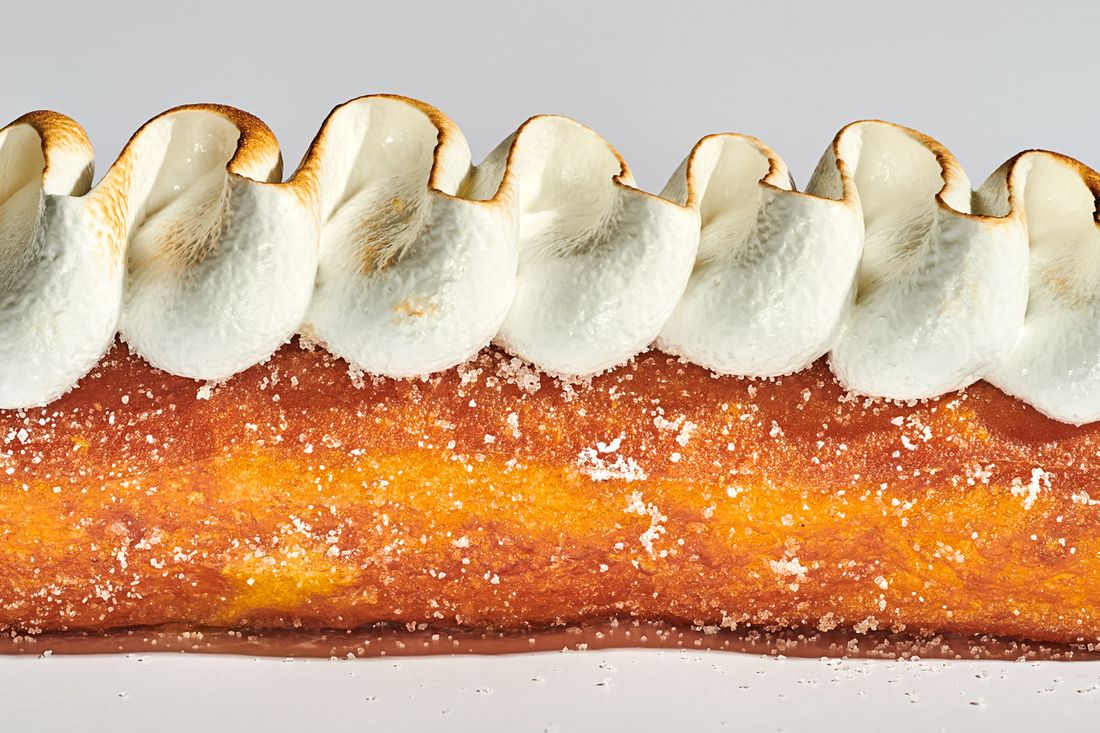 Yuzu-meringue fan-fan from Fan-Fan Doughnuts.
Photo: Joe Lingeman
Even sunny optimists have difficulty detecting silver linings in global pandemics. But if there's one we can all agree on, it's the rise of bakeries of all shapes and sizes. In eight months, New York has gone from a nadir of panic-deplenished grocery shelves to a metropolis flush with sheets of artisanal focaccia, bushels of bialys, and homemade English muffins. While food insecurity persists, much of it caused by jobs lost during lockdown, some laid-off cooks have tried to support themselves by launching their own cottage industries and selling their goods on Instagram. The pandemic might have forced these kitchen workers off traditional career paths, but it also gave them opportunities to experiment creatively, channeling their heritage into confections like Korean hotteok, Filipino doughnuts, and Chinese mooncakes. Given the one-person nature of these microbakeries, supplies are limited, as is delivery range. Which means that your ability to partake often depends on your proximity to where cooks live, not the fancy precincts where they once worked. Happily, if you don't find yourself quarantined in, say, Clinton Hill or Sunnyside, you can still order from one of the established businesses that have responded to COVID-19 by building new online stores and launching delivery or line up outside a brick-and-mortar bakery that by a twist of fate (and the inexorable forces of momentum) opened during the pandemic. You might balk at the notion of desserts on demand or belabored heirloom-grain batards at a moment like this, but their appeal is clear. As Bread and Salt's Rick Easton posted to Instagram recently, "although cookies will do nothing to stave off the impending doom we seem to be rushing towards as a society, they do afford a simple moment of civilized pleasure in a difficult time." Couldn't agree more. Here, a look at the city's newest breed of bakeries, and how they get their goods into the mouths of the public.
DM Me for Dessert
Laid-off and aspiring cooks find fame (if not yet fortune) with online microbakeries.
1. Richaud, richaud.nyc
Out-of-work French actor Richaud Valls starts bread biz in shoebox apartment. Word spreads. Chef at Benoit in midtown calls. Now Valls bakes baguettes at that restaurant for its customers and his. Makes deliveries himself by bike. Signs orders with personalized greetings the way moms slip notes into bag lunches. The bread is good, but the old-fashioned connection between purveyor and patron is what customers really crave.
2. Ban Bè, @ban_be
Doris Ho-Kane is a fashion-industry veteran, a feminist-activist who founded 17.21 Women (an Instagram archive that celebrates Asian women throughout history), a mother of three, and an aspiring baker who had hoped to open a shop in Brooklyn before the pandemic struck. She postponed that plan and pivoted to selling pastries online. Her goal: create a sweet to honor her Vietnamese American heritage that would also resonate across a wide cultural spectrum. The vehicle: "Blue Tin" butter cookies with Southeast Asian flavors like pandan and tamarind that riff on the iconic Royal Dansk brand beloved by grandmas everywhere. So far, so good. At press time, the cookies had a 2,000-person wait list.
3. Extra Helpings, @extrahelpings
Remember Miro Uskokovic's triple-chocolate-chunk cookies at Untitled? He's now baking them in the comfort of his Sunnyside, Queens, home as part of the rotation in the weekly treats bags that he and his fellow-chef wife, Shilpa, sell on Instagram and pack for pickup. Contents — from teff brownie bites to samosa hand pies — change regularly, but the variety is part of the charm.
4. Joy Cho Pastry, joychopastry.com
When Joy Cho lost her Gramercy Tavern pastry-cook job in March, she decamped to her parents' house in Columbus, Ohio and started baking just to pass the time. Soon the family abode became the site of Joy Cho Pastry, where Cho inaugurated a baked goods delivery service that gained a fervent following among Columbus's starchy food aficionados. Now, back in New York, Cho bakes out of her Clinton Hill apartment, and offers a weekly JCP Baker's Box for pickup. Among the rotating cast of carbs: pumpkin scones, persimmon-banana bread, matcha shortbread cookies, and the stuffed Korean pancakes called hotteok.
5. Kemi Dessert Bar, kemidessertbar.com
Two siblings, Kelly Miao and Kevin Miao. She bakes; he does the books. She ran Claudette's pastry department. He used to work for a cosmetics company. In April, they founded Asian-inspired Kemi, headquartered inside Kelly's one-bedroom apartment. The approach is fun and nostalgic, which isn't to say unsophisticated: mousse-filled mooncakes, Vietnamese-coffee "burnt" Basque cheesecake, elevated Dunkaroos, and many other mood-elevating morsels.
6. Boy Blue Coffee & Goods, boybluecoffee.com
What had been envisioned pre-pandemic as a brick-and-mortar coffee shop morphed into the online home for the baked goods of Michael Davis, a veteran of Del Posto and Bouley. The theme is comfort, as expressed through custardy canelés or crusty soft pretzels, available for delivery in Manhattan and Brooklyn. And the sourdough starter kit sounds ideal for those with microbakery dreams of their own.
7. Kora, @fromkora
The Instagram bakery Kora has upped the ante on the amount of suffering New Yorkers will endure for a doughnut. Pre-order slots go up on Mondays and sell out in one minute, 90 seconds on slow doughnut days. Lining up at 5:30 a.m. for a Cronut circa 2013 seems quaint by comparison. What's all the hoopla about? Filipino flavors and fillings that channel the spirit of co-founder Kimberly Camara's grandmother, like ube, champorado, and, in the case of the "keso," queso de bolla cream and a jaunty white-cheddar frico chapeau.
8. Maison Flèche, @fleche
Like many, former ad man Laurent Flechoux started making sourdough at home this spring. Unlike many, having grown up in his grandfather's bakery in France, he knew what he was doing. Now he's churning out 60 handsome loaves per week, available for purchase via Instagram. Bonus points: bicycle delivery all over town. "I love the biking part almost as much as baking," he says. "I'm able to discover this amazing city called New York and because of the geographical diversity of my customers, I'm getting to know incredible neighborhoods I'd normally never become exposed to."
Perma-Pop-Ups
In a time of uncertainty, some bakers are taking things one day (or month, or year) at a time.
9. Edith's Brooklyn, 60 Greenpoint Ave., Greenpoint
New York's most newfangled bagel is baked in the wood-fired oven of temporary home Paulie Gee's; braided in the style of Kraków's venerable obwarzanek krakowski; and, regarding the signature "Chicago" variety, seasoned like an everything crossed with a Chicago hot dog, down to the hot peppers and celery salt.
10. Sullivan Street Bakery, 437 E. 9th St.
In order to "bring the bread to the people," pioneering baker Jim Lahey has opened a short-term East Village storefront and added what he calls bigger, cheaper "survival breads" to his repertoire: a $5 Community Loaf and the Disco Romano, a round remake of his puffy pizza bianca.
11. Ursula, 724 Sterling Pl., Crown Heights
If Ursula is as much a bakery as a new New Mexican café, it's because owner Eric See is a trained pastry chef, and for at least a year, he'll be showcasing the specialties of his southwestern childhood from the sweet (bizcochitos, Mexican wedding cookies) to the full-blown savory (the fry bread called sopaipilla, stuffed with pork or beef).
Brick-and-Mortar Brigade
They never imagined they'd open during a pandemic, yet here they are.
12. Mark's Off Madison, 41 Madison Ave.
For his nascent follow-up to Freds at Barneys, Mark Strausman combines the California casualness of Gjusta with the onion-roll oomph of a New York bakery. You'll find everything from fruit danishes and focaccia to coffee cake and the ever-elusive corn rye. Plus the chef's famous bagels and bialys, seven days a week.
13. Fan-Fan Doughnuts, 448 Lafayette Ave., Bedford-Stuyvesant
Doughnut mavens know Fany Gerson for the supersize specimens she created at Brooklyn's Dough a decade ago. At her new shop, she is expanding her repertoire with fan-fans, a hybrid concoction of her own design that borrows from both éclairs and Long Johns. "It's delicate in the way an éclair is," she says, but instead of choux pastry, it's made with doughnut dough like a Long John. The recipe incorporates Mexican-cinnamon tea, and Gerson's fillings and garnishes make a statement: The yuzu-meringue model, for instance, wears a toasted-meringue crown and conceals yuzu curd intensified with lime zest. "I love anything tart and citrusy," she says. —Chris Crowley
14. Love, Nelly, 53 Rockaway Ave., Ocean Hill
Bakery-bar Butter & Scotch might have succumbed to the pandemic but not before spawning this cheerful Latin American–inspired outpost. There are cakes and cookies aplenty, but the specialty is the assortment of baked and fried empanadas both traditional (beef, chicken) and interpretive (riffs on the Trinidadian double and the Czech-by-way-of-Texas kolach).
15. Frenchette Bakery, 220 Church St.
The viennoiserie void left by Tribeca's Arcade Bakery has been filled by the Frenchette crew, who showcase single-­origin regional grains and new takes on classic pastries. One such, the "egg savory," combines the architecture of toad-in-the-hole with the texture of puff pastry and the nifty addition of kimchee, greens, or mortadella.
16. Crop Circle, 126 Macdougal St.
Just when you thought you'd seen it all on the stretch of Macdougal that moonlights as an international street-food bazaar, along comes Crop Circle and its guokui. The superthin, sesame-seeded Chinese flatbread gets stuffed with piquant fillings that run the gamut from pumpkin to pork floss and is as eminently portable as a slice of Joe's pizza for Washington Square Park promenades.
17. Mel, 1 Ludlow St.
Whole-grain evangelist Nora Allen opens her sourdough shrine to the public only on weekends, so arrive early. There's nothing sadder than a "sold out" sign next to a serious bialy or seasonal slab of focaccia. And if the pecan sticky bun inflicts guilt, do delicious penance with a seed-encrusted rugbrød that ferments for six days.
18. Winner, 367 Seventh Ave., Park Slope
Daniel Eddy had always intended to serve the neighborhood but never expected homebound locals to plan their days around his café's bake schedule. If you miss the sunflower rye at 8 a.m., you still have a shot at the afternoon menu's monkey-bread loaf — part flaky croissant, part gooey cinnamon bun, pure pleasure.
From Physical to Digital
Veteran businesses launch new online shops and delivery services.
19. Bread and Salt, @breadandsaltbakery
When COVID hit, Rick Easton turned his Jersey City destination bakery into an online panetteria and recently started shipping crackly-crusted bread and a few other select items. Chief among them is a tin of cookies — biscotti, tozzetti, brutti ma buoni — of such austere beauty and high quality you'd think there was a gang of Italian nonne quarantining in the kitchen.
20. Nick + Sons, nickandsonsbakery.com
On the advice of his digital-marketer wife, Williamsburg baker Nick Heavican made up for vaporized wholesale accounts with a new direct-to-consumer online shop. The weekly subscription of the Sunday New York Times, plus two croissants, two cinnamon buns, or two sourdough loaves, targets print-media devotees who don't mind crumbs in bed.
21. Bâtard, batardtribeca.com
Pre-pandemic, if you wanted a taste of Bâtard's superb bread, you had to dine in. Now, the restaurant has added a baked-goods section to its new delivery menu. The wild-mushroom brioche is fantastic toasted with butter. The pièce de résistance, though, is a sourdough loaf studded with bits of blood sausage like a chocolate-chip cookie.
22. Balthazar Bakery, balthazarbakery.com
Despite the restaurant's temporary closure, its signature sourdough rye — monogrammed crust, tangy crumb — lives on for home consumption thanks to its sister bakery's new residential-delivery service. Spiffy butter-colored trucks cruise the neighborhoods of Manhattan and North Jersey bearing rustic boules, breakfast pastries, and seasonal cakes and pies.
23. Bien Cuit Provisions, biencuitprovisions.com
The Brooklyn bakery has recently grown to include an online store of practically Kalustyan proportions, trafficking in everything from Kewpie mayo to June Taylor jam. Still, bread (and the signature 3.3-pound 68-hour-fermented miche) is the thing, and now you can get it delivered anywhere in the country.
*A version of this article appears in the November 9, 2020, issue of New York Magazine. Subscribe Now!