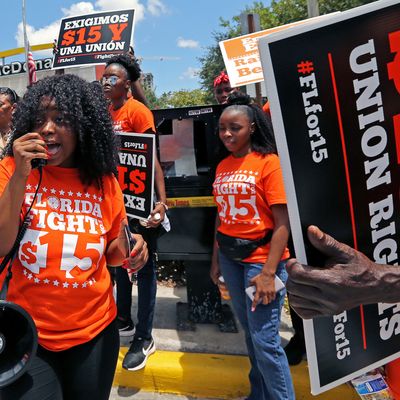 Fight for $15 activists in Florida.
Photo: Miami Herald/TNS via Getty Images
Last night, Florida became the eighth state in the country to pass a $15 minimum-wage resolution. Over 60 percent of voters there approved Amendment 2, which will enshrine the minimum wage in the state constitution and, as in other states, will gradually raise the minimum wage through September 2026. Further north, voters in the cities of Portland and Rockland, Maine, passed measures that will raise the local minimum wage to $15. In Portland, the city's hazard-pay minimum wage will also be raised to $22.50.
Florida's wage hike is a nearly 75 percent increase from the state's current minimum wage of $8.56. Also important, Florida's $15 minimum wage won't be fixed and can be adjusted for inflation every year, starting September 30, 2027. The federal minimum wage has remained fixed since 2009, and the federal tipped minimum wage has remained at $2.13 since 1991 — just shy of three decades.
The Florida Amendment was backed by Orlando lawyer John Morgan, who led Florida for a Fair Wage and says he put $5 million of his own money into the campaign. The effort has, of course, faced the usual criticism and opposition from industry groups and business owners. St. Petersburg restaurateur John Horne, who owns Anna Maria Oyster Bar, told the Washington Post he'll be forced to increase prices, which will cause him to "lose cover accounts. And I won't need all the employees. I'm concerned they're going to lose hours." The Miami Herald shared a letter from Carol B. Dover, president and CEO of the Florida Restaurant & Lodging Association, who wrote that business owners will seek out "labor alternatives like automation."
The other states that have passed a $15 minimum wage are California, Connecticut, Illinois, Maryland, Massachusetts, New Jersey, and New York. Washington isn't far behind: The state increased its minimum wage to $13.50 in 2020 and is required to make a cost-of-living adjustment every year, beginning in 2021. Seattle became one of the first jurisdictions to pass a $15 minimum wage in 2014, and much attention has been paid to how the increase is playing out there.
Democratic nominee Joe Biden made a $15 minimum wage part of his platform, and last year the Democrat-controlled House of Representatives passed the Raise the Wage Act, which would have raised the federal minimum wage to $15. The bill hit a dead end in the Republican-controlled Senate, but last night's victory in Florida — which went red for Donald Trump — shows how much support there is for a $15 minimum wage. Credit for this can go only to the fast-food workers behind Fight for $15, who, eight years ago, started the movement for better pay.
This post has been updated with information about minimum wage increased in Portland and Rockland, Maine.