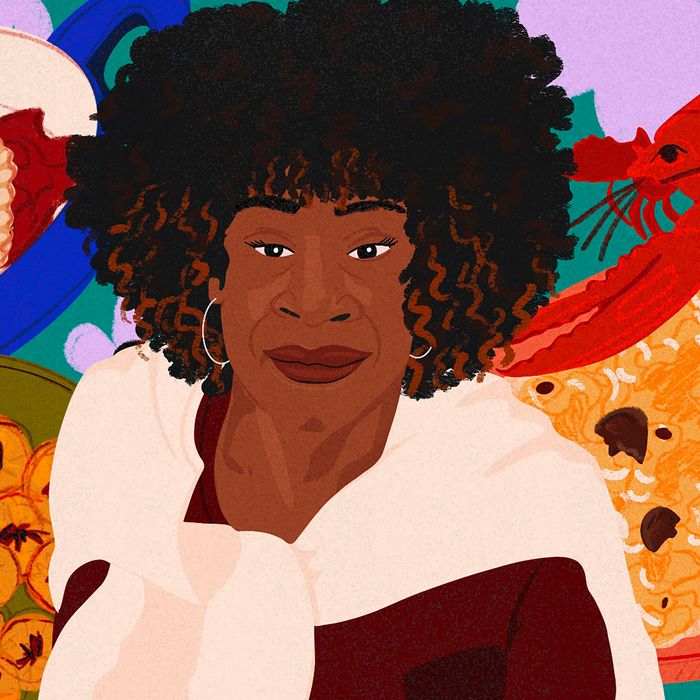 Illustration: Shanee Benjamin
Ceyenne Doroshow is an organizer and the founder of Gays and Lesbians Living in a Transgender Society. (At the Brooklyn Liberation rally, which she co-organized in June, Doroshow announced that G.L.I.T.S had raised more than $1 million to secure housing for Black trans New Yorkers.) She is also an ambitious, accomplished home cook — preparing crisp duck or breakfast grits for her mom — as well as an enthusiastic restaurant-goer. In fact, Doroshow published her cookbook, Cooking in Heels in 2012, after getting the idea in jail: "You get tuna fish, like the worst shit in jail," Doroshow says. So, she decided to teach the other inmates how to make the best possible food:"The guys in there protected me," she recalls. "They were like, 'Protect her. She helps us cook our food.'"
Thursday, October 29
I started my day at home. My normal breakfast might be an omelette, or a quesadilla. I love Muenster cheese. Muenster cheese and pumpernickel bread with a smear of butter is my life. If I really want to spoil myself I'll do shrimps, grits, and eggs.
I went through several costume changes trying to pack and prepare for a night at the Rockaway Hotel with my staff and some friends. We were celebrating my assistant Johnny's birthday, and getting some rest. It usually takes me a while to go through several outfits to pick the right look and the right hair so it doesn't blow all over the place when I'm on the beach.
For lunch, I made baked turkey wings with onions and leek gravy, and white rice with biscuits. I haven't been cooking as much as I used to. I got the idea for my cookbook while I was in jail, starving.  I was in jail for 30 days for a really screwed-up arrest. They couldn't even get me for the sex work — they used sex work as a cover. My charge was actually a bag of marijuana. I wanted to cook the whole time I was in there. I wanted to eat. I was writing about what I wanted to eat and that was how the book began and started.
Other inmates were sharing what they wanted to eat with me, and some knew I could cook, so they asked what I'd cook if I was at home. I literally changed the kitchen shopping list in jail. I was able to change their meals for them. I was teaching them how to make casserole in the microwave. That not only, I think,  saved me in there, but also led me to the book.
I had heard about the Rockaway Hotel and I thought it would be interesting. It was kind of scary in the beginning because I'm a black trans six-foot-one woman and I'm going to a part of the beach where there's not many of me. The hotel is also across the street from some biker bars, but I was received well.
We were leading up to Halloween, so the hotel had orange-and-white pumpkins cascading down the stairs. They got the heads up that I am a little bit of a diva, which is always good. We arrived at cocktail hour and were given glasses of Prosecco. What made me happy was they actually got chocolate milk for my friend Jose's son, Jace. I got a 90-minute massage and it was a life changer.
Then, on to a rooftop dinner with my staff, selected board members and advisers, and my special guest Jace and his amazing dad Jose. We started our service with a seafood tower that had the freshest oysters, clams, shrimp, lobster tails, and claws. We ordered quite a bit of appetizers: chicken wings were mouth-watering goodness; sliders were juicy little bites of sunshine. My entrée was grass-fed filet mignon, roasted vegetables, and a crisp salad. My filet mignon was a buttery blessing of tenderness. Someone else had farfalle with short-rib ragu and Parmesan. She seemed very pleased with her choice and said the meat fell off the bone at the touch, and that the flavor captivated her soul. My friend was quite taken with his roasted striped bass with piri piri and my lawyer had cavatelli with Gorgonzola, walnuts, butternut squash, nutmeg, and crispy sage.
Friday, October 30
The next morning we got breakfast service by the heated pool. I ordered coffee of course. While I waited for my breakfast — and I've never done this — I had a loaded Bloody Mary. It was kind of decadent. It had pickles, string beans, celery — all designed like a floral corsage. The only thing I would've preferred is bacon. I also had pancakes that were literally sitting in a bed of fruit. Oranges, blueberry, papaya, just lined up. It was epic. They made a cream-cheese butter, which you kinda didn't know about. You just thought it was a whipped cream cheese, but it was a cream-cheese butter.
I went home to prepare for Halloween. My neighbors cooked, which was amazing. They made curried lamb and roti, which is like a wrap. We actually just met two months ago and somehow they've made me a part of their family. I met their son when they moved in. I loved their son and he became a child for me. At 33, he passed away a couple of weeks ago. Before he had passed away, he had said I had changed his life. He went from being phobic to coming over and being a part of any kind of thing I did. Sometimes God puts angels in your life for a very short time and they do their job. He brought me and a whole block and community together.
Saturday, October 31
Halloween is a holiday that scares the shit out of me because of the increased violence. I really didn't have breakfast or lunch because I was preparing for a big meal.
I gave out candy, and my mom came and I cooked her dinner. I made roast pork, a roasted duck, collard greens, rice … so much stuff. Turnips, with the collard greens, and fried chicken.
My mom is a cooker. She's always satisfied with my cooking, though. Growing up, my mom would make these sweet-potato-and-pumpkin empanadas for these grand parties she would throw. Amazing.
Dinner ended up being a group: me, Qween Jean, Lady Jasmin, a performer, two of my trans women clients from my program, and my neighbor came by. I played jazz, Etta James, and some gospel and dance music.
Sunday, November 1
Recuperating. I cooked breakfast for my mom. Bacon, eggs, and grits. And then we had steak, shrimp, and string beans. That was also dinner. It was really good.
My days are frantic and crazy. They are … heart-wrenching. My day starts with stress and ends with stress. We're getting ready to set up the grand opening of this building we're renovating to provide luxury-style living to low-income Black/brown queer people. We are always trying to figure out how to affect community in the best way, to make sure they have success in their lives. I have a team of volunteers that give me life. My community is chosen; I never want to fail them.
Monday, November 2
I cooked my mom breakfast again, but I needed to keep my stomach and appetite together for a Chinatown dinner at Hop Kee. Also, my anxiety is at a 12, between Amy Coney Barrett, which is not a good thing, and now the election. People should be scared, especially if you're a person of color, if you're a minority and poor.
I ask my staff to pick restaurants. Derek, my personal assistant, picked Hop Kee and it was an epic choice. We sat in a back room like old-timey mobsters.
The fried dumplings were a favorite among the table. They were sautéed in some kind of sauce that allowed them to keep their crisp. I was mad that other people were eating them. The chicken wings were so light and airy.
The servers were really on it and they were funny. One server did a presentation at the table with the sweet bun where he opened it and he put all this sauce on it and then layered it with crispy duck skin, onions, scallions. Then he put more sauce and closed it and — not for nothing — that little bad boy was good. My problem with duck sometimes is it's very oily and I'm an old duck traditionalist. I like my duck skin. I make duck and I marinate it in garlic days before and I brine in garlic so it has this thyme-and-rosemary-garlic butter.
Someone also ordered Chinese broccoli and chicken with epic gravy. You could've eaten the sauce itself with just a bowl of rice.
My consolation right now is that I see G.L.I.T.S thriving, building community. I see myself possibly running for office. The more of us that can run for office and seats — in a world that's trying to erase us — the better because it feels like we're sitting on the edge of extinction now.
Our people don't feel safe anywhere. My mom has been watching the election coverage in the living room, but I can't watch. We should all come together as a united front and sue this man's pockets loose. Maybe a mass lawsuit will stop him. He gets support from people who want slavery back. They want people to serve them, but it's never going to happen.