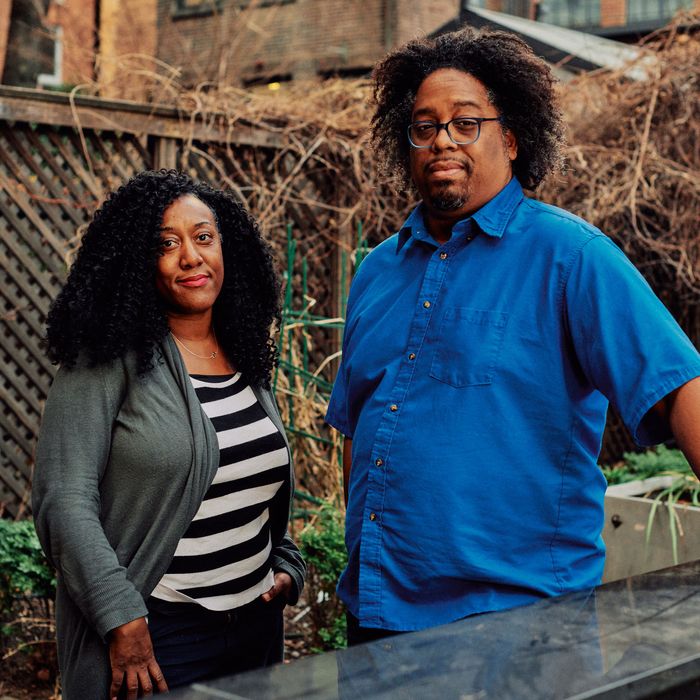 Colleen Vincent and Clay Williams of Black Food Folks.
Photo: Christian Rodriguez
Last week, while tension and anxiety built on the eve of the election, the founders of the online food platform Black Food Folks announced some good news. They were awarding $5,000 grants to ten different Black people who work in food, from those who are feeding the hungry to aquaponic farmers to podcasters. Photographer Clay Williams and Colleen Vincent, the vice-president of community at the James Beard Foundation, started BFF to celebrate Black people working in food and to build community — and the grant program (called Black Food Folks Give Back) is a financial investment into those they aim to support and uplift. The money for the grants came from the ice cream company Talenti, which Williams says reached out after the BLM protests spread across the country in June.
The recipients include Omar Tate's Honeysuckle Project, for which the chef is raising money to open a Philadelphia community center; Tiffani Rozier's Afros & Knives, an interview podcast with Black women in food; Yemi Amu's Oko Farms, a Brooklyn aquaponics farm and education center; Stephanie Willis's Everybody Eats, which partners with chefs to fight hunger in Philadelphia; and Amber Mayfield's While Entertaining magazine, an annual publication about home entertaining. Others include Adrian Lipscombe's 40 Acres and a Mule Project, which aims to buy at least 40 acres of land for a farm to support Black foodways; Tahirah Habibi's The Roots Fund, a non-profit that supports Black and Indigenous people in wine; Lauren Darnell's Made in New Orleans Foundation, a nonprofit supporting people of color in its city's hospitality industry; Tonya and David Thomas's Muloma Heritage Center, a nonprofit creating a space dedicated to the stories of African American food and culture; and Charity Blanchett's Dipping Spoon Foundation, a start-up nonprofit focused on providing access to culinary education for Indigenous and Black aspiring chefs who are women, nonbinary, gender nonconforming, and femme. (The grants will be distributed roughly within the next week, pending paperwork.)
It's a selection of organizations that are doing interesting and impactful work across the spectrum in food. With all of the winners, Williams (who contributes to Grub Street), stresses the desire to support people who, through their work in media, chip away at the representation of Black people as "rare" and perpetuating this idea that "the only stories to tell are the same stories about soul food." He points to While Entertaining magazine, which is by and about Black people. "But it's about, basically, millennial entertaining," he says.
When envisioning the grants, it was important for Williams and Vincent to steer money toward individuals who were already actively fundraising. Tate, for example, has raised $83,330 of the $200,000 he needs to open his community center in his hometown of Philadelphia. For Amu, the grant will help relocate Oko Farms from Bushwick to the historic Weeksville Heritage Center. Williams explains, "It's not just, 'Hey, look! We're great because we're giving to people.' We're doing this as a way to encourage other people to give." Vincent adds, "The money is an investment, obviously, in the future of our culinary community."
Williams and Vincent's also see the grants as a way to ensure more voices are heard. "I've spoken to Stephen Satterfield, years ago now, about the difficulties he had raising funds for Whetstone when it was first coming out," Williams says. "I'm glad there was a lot of success with fundraising and attention in June, for what he's done. So, I wanted to take the next step and say, 'What about these smaller groups?' I'm glad that Stephen and Klancy [Miller, of For the Culture] have been able to fund the things they're doing. The idea is it should never just be one or two or a few. We should be able to support many."
Black business owners have less access to funding and loans. According to a 2017 study by the Atlanta and Cleveland Federal Reserve Banks, only 40 percent of Black business owners get approved for the amount they request, compared with 70 percent of white business owners. According to data from the Federal Reserve released that day, Black-owned businesses are more than twice as likely to be turned down for loans as white applicants. This year, Black business owners were largely left out of the government's PPP loans; the Treasury Department's push to limit access, according to a recent report from the House, hurt minority- and women-owned businesses. (In July, it was reported that fewer than 2 percent of the loans had gone to Black business owners; the application deadline was extended to August.)
BFF was started, Williams and Vincent have said, because of issues around representation in media and as a way to build community by getting people in the same room and connecting them. "To be very frank, the biggest gap is the wealth gap. And because of wealth, people don't understand there's an enormous opportunity lost in that," Vincent says. (The economic divide between Black and white people remains the same as it was in 1968.) But she also stresses the importance of mentorship, to people's success and to the mission of BFF, because "most people's careers level up because of who they get to meet and who is willing to take them under their wing." (Before COVID-19 arrived, they'd had plans for a series of professional-development conversations among other events.)
BFF is also getting some funding courtesy of Talenti, which will allow them to build upon their existing work. (Williams and Vincent declined to comment on specifically how much money.) A podcast is in the cards, and they hope to use the money for new programming next year. They also want to pay the various contributors — including journalist Kayla Stewart, a Grub Street contributor, and chefs Sicily Sierra and Mavis Jay — who have helped make BFF's programming so robust. Since April, they've hosted nearly 200 talks and events on Instagram Live, including weekly happy hours with Sierra and Jay, conversations with writers like Aaron Hutcherson and Kristina Gill. (Gill spoke about her life and work in cookbooks, including how she was erased from the publicity for Tasting Rome, the book she co-authored with Katie Parla.) While the pandemic put all their 2020 plans on hold, it also erased geographical boundaries and allowed them to expand to reach to people from Alaska, Ghana, London, and Hawaii. The page recently broke 40,000 followers on Instagram, growing by 300 percent during the pandemic.