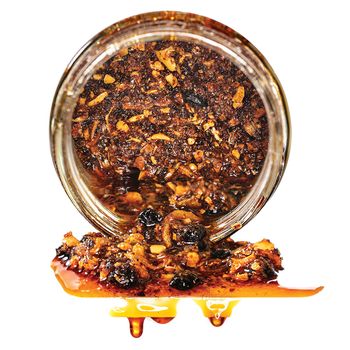 Milu Chili Crisp.
Photo: Melissa Hom
With e-commerce gaining in importance for struggling restaurants, more New York chefs are making and shipping their own Chinese-style chile oils — many inspired by the irresistible crunchy texture and cult popularity of Guizhou Province's Lao Gan Ma Spicy Chili Crisp. A look at the local crop, all perfectly suited for rice-drizzling and stocking-stuffing
Before she began working on the fast-casual Chinese restaurant Milu and its pandemic-friendly retail pantry, chef Connie Chung had limited experience with the whole chili-crisp phenomenon. But once she started developing her house version, she aimed for something more savory than just spicy. Mission accomplished, with two distinguishing characteristics: the salty blast of fermented black beans and an umami boost from dried-shiitake-mushroom powder.
Photo: Melissa Hom
As befits the owner of a culinary lab, David Chang has long dabbled in packaged goods, from chickpea miso to ssäm sauce. His new Chili Crunch pays homage to both Lao Gan Ma and Mexico's salsa macha and is almost pure crunch, with a top layer of oil about as thin as what you'd find in a jar of natural peanut butter. In addition to the expected chiles and crispy garlic and shallots, there's coconut sugar, yeast extract, and seaweed. But none of the chef's beloved MSG — the domestic market isn't quite ready, in his opinion.
Photo: Melissa Hom
Name notwithstanding, 886 owner Eric Sze considers this stuff less of a chile oil and more of a vegan XO sauce inspired by Taiwanese sha-cha sauce, which itself is derived from Southeast Asian saté sauce. Whatever you call it, it's on the hot side, with a plush texture that bucks the crunchy trend. (Rather than fry his alliums to a crisp, he confits them with spices.) Sze likes to substitute it for butter or olive oil in sauces and even uses it to make spaghetti aglio e olio.
Photo: Melissa Hom
Chef Lucas Sin is not new to the chile-oil biz, having started selling a spicy vinegar-laced version two years ago. But now, in an effort to "introduce more diversity into the chile-oil landscape," he offers a gift-boxed limited-edition sauce that's milder and more aromatic — and less chunky — than the original. The name references the ingredients, which include black Urfa chiles, charred onions, and black-sesame oil. Sin uses it to finish soups, as the sesame flavor blooms when it hits hot liquid.
Photo: Melissa Hom
Mr. Bing's origin story is not unlike the one that led Lao Gan Ma's founder Tao Huabi to fame and fortune: chili-crisp scholars will recall she slung noodles before she jarred chile oil. Likewise, Mr. Bing partner Brian Goldberg started out selling the Beijing-style stuffed crêpes called jianbing, a.k.a. bings. People liked Mr. Bing's bings well enough, but they liked the chile sauce that came with them more. Now, having closed his restaurants, Goldberg's focus is entirely on condiments, particularly Chili Crisp. The orangey-brown sludge is nice and thick, like rocky beach sand, and a little sweet.
Photo: Melissa Hom
When Alex Sorenson started marketing his version of chile oil, he was still cooking professionally in New York. Since then, he's left the restaurant world (and the city) to focus on the New Jersey–made brand, which he flavors with chile flakes, Sichuan peppercorns, ginger, star anise, and black cardamom, among other proprietary spices. The inspiration came at lunch at the Singapore restaurant Old Chengdu in the form of a dish called mouthwatering chicken. "I basically drank the bowl," he says.
The Cult Favorite:
*A version of this article appears in the November 23, 2020, issue of New York Magazine. Subscribe Now!