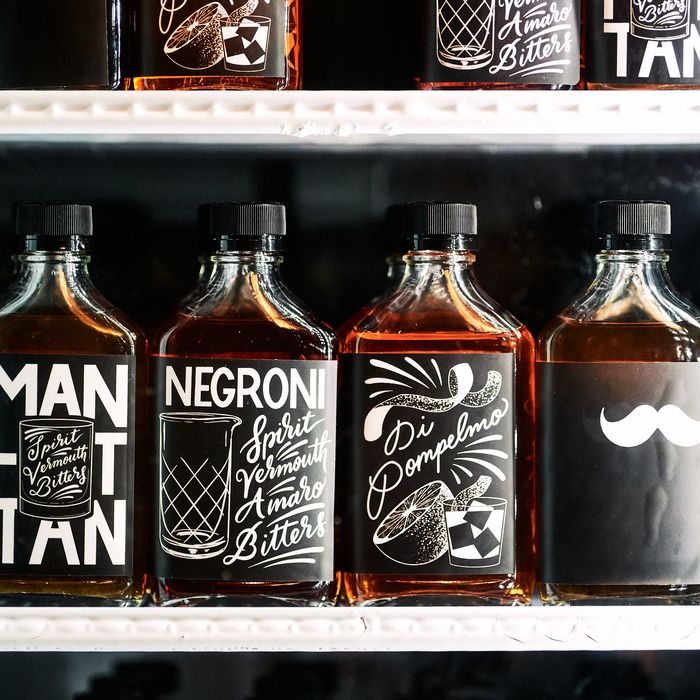 The drinks come in sizes ranging from 100 milliliters to a liter.
Photo: Christian Rodriguez
During this year of lockdowns and shut-ins, to-go cocktails have been a rare bright spot for the restaurant and bar industry, a way to keep customers who can't come inside. During the spring and summer, New York City became an open-container city (for some — predominantly white neighborhoods), as bars sold drinks in pouches, plastic containers, and flasks. Some have taken this a step further, like the Red Hook canteen Fort Defiance, which converted to a general store and has continued to sell cocktails to go and made to order. And today, in the East Village, the owners of Amor y Amargo are opening a retail operation called the General Store, where they will sell bottles and to-go cocktails for as long as they're permitted.
Run by Sother Teague and restaurateur Ravi DeRossi, the new Amor y Amargo is essentially three spaces: the original cocktail bar, which maintains its eight seats and a sharp focus on bitters and amaro; the General Store; and a new bar called Reserve, which will also seat eight until COVID restrictions are lifted, and closer to 20 people will fill the space. It's all somewhat seamless, as the spaces are connected and feature similar design elements, including signage by Natalie Czech.*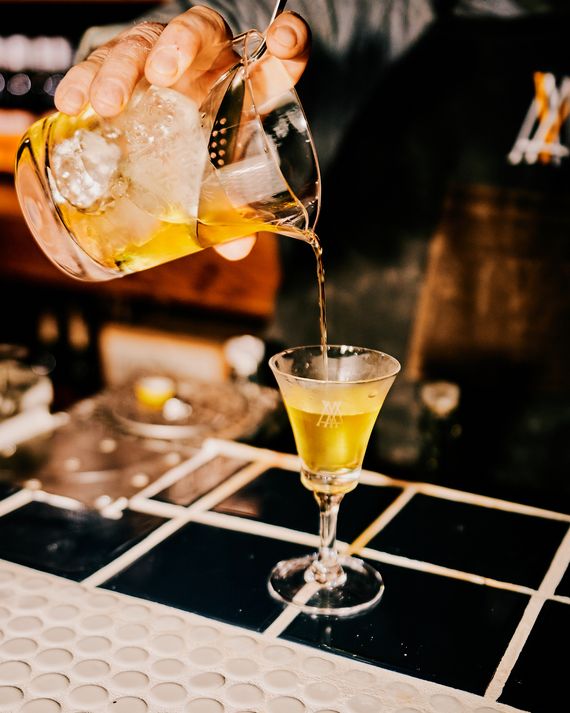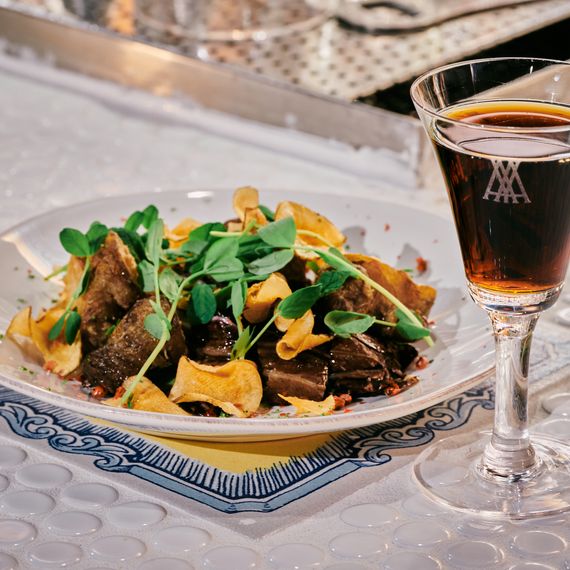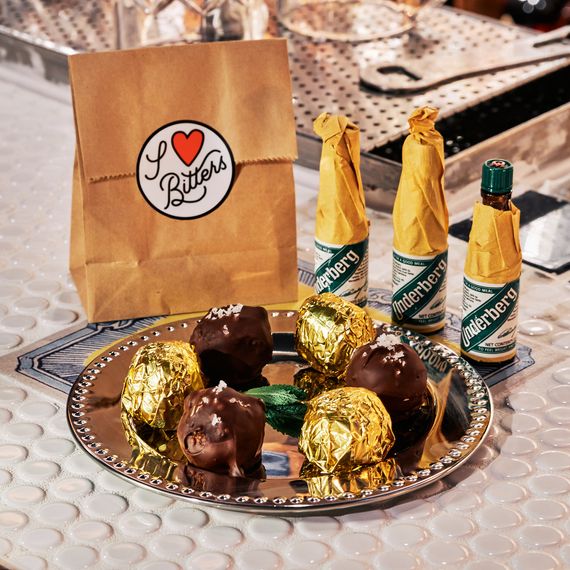 At the bar, which is separated from the store by a sliding door, five- and eight-course paired tasting menus will be offered. Teague, who worked as a chef for 12 years, created the menu with Alec Gross, who worked at abcV. (Both are $100; the food and drinks in the eight-course come in smaller portions.) The idea came out of a Sunday series Teague had put on at Amor y Amargo, during which he would cook and they would make different drinks than they otherwise would at the bar. Here, the drinks will be made in the Amor y Amargo "ethos of no sugar, no shaker, no juice," and the food will be vegan.
"It's really just vegetables. That's all we do," says DeRossi, a vegan. "Vegetable foods paired with vegetable liquors," adds Teague. The food and drinks will be paired to, alternately, contrast and amplify flavors: A dish of confit sunchokes with minted pesto, for example, will go with a cocktail, "CAB," made with extra-minty Fernet Branca Menta and Cynar. The menu will change roughly every two months.
The General Store will be, in both branding and goods, Amor y Amargo on the go, building on what they have always done at the bar. "It's all the things we've kind of wanted to do in the old space, which was simply too small to do it," he says. "Now we have space to do it." They have always sold bitters at the bar, and now they'll have the ability (for the time being) to sell vermouth, whiskey, and amaro. "The bitters selection kind of rotated for the past nine years based on how much shelf space we had and the bitters we were interested in at the time," Teague says. "It can hold all the inventory we always liked and even build on it."
There will also be branded merchandise, including rocks-glasses barware and glassware from Cocktail Kingdom, as well as T-shirts and a 1,000-piece puzzle. But the to-go cocktails feel like the real calling. The to-go drinks will include three classics (old-fashioned, Manhattan, and Negroni), as well as three Amor y Amargo house cocktails (Sharpie Mustache, 8 Amaro Sazerac, and Di Pompelmo).
All of the drinks will be available in several sizes, with a sliding scale so it gets affordable the larger you buy: 100 (a little over one cocktail) milliliters for $19; 200 milliliters (2.5 cocktails) for $30; 500 milliliters (slightly over five cocktails) for $55; a liter (roughly ten cocktails) for $100. The appeal of this for the business and customers alike is obvious: Buying the larger sizes is like getting your party catered by Amor y Amargo's bartenders. At $10 a pop, it's more expensive than making your own drink, but it's not prohibitively so.
Teague and DeRossi's expansion of Amor y Amargo is informed by changes they're predicting in the industry and among customers. "I think people are going to be a lot pickier, choosier, about where they go and how they spend their money, and Sother and I set out to create something really special," DeRossi says of Reserve. "Bar-crawling is not going to be a thing for a while."
The future of to-go cocktails also isn't certain: Governor Andrew Cuomo has continuously extended the rule one month at a time, while State Senator Brad Hoylman decided not to go forward with his bill to extend the rule for two years after New York's state of emergency ends. Teague is optimistic, though, pointing to Iowa's state legislature making to-go cocktails permanent. "We're kind of banking on the notion, a lot of operators here in NYC, anyway," Teague explains, that the rule will last that long and become a permanent part of the business.
General Store by Amor y Amargo, 95 Avenue A, at E. 6th St.; 833-328-4588
Reserve by Amor y Amargo, 95 Avenue A., nr. E. 6th St.; same number.
This post has been corrected; it originally misidentified the designer of the store's signage as Caroline Czech.