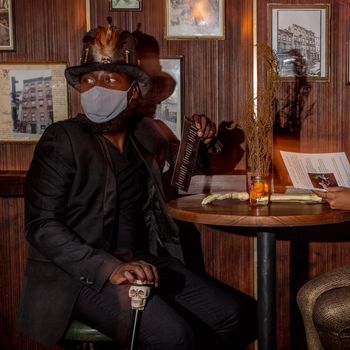 Guests at this past weekend's "Ghede, Gede, Guédé" celebration.
Photo: Jordan Gale
On Saturday, a particularly chilly Halloween during a year that has already terrified everyone, a small but engaged group of New Yorkers gathered in the East Village at the Holiday Cocktail Lounge. Guests kept their masks on — perhaps an unintentional holiday costume but certainly a clear sign of the times — and awaited their first drink and snacks. The occasion was "Ghede, Gede, Guédé," a Haitian folklore experience designed to teach guests the history of Haitian traditions through food and beverages. The menu was a series of Haitian tapas from Black chef Nicole Marcelin, who goes by "Chef Nicky."
"Today, we're celebrating the holiday," Chef Nicky began, "by bringing a bit of my culture to your table." As she prepared to return to the kitchen to finish one of the tapas of the night — arancini with mushrooms, caramelized scallions and pea purée — she asked guests to repeat a common Haitian saying ahead of their meal:
"Onè ak respè," Marcelin chanted behind her mask.
"Honor and respect," we replied, in English, uneducated in the linguistics of Haitian Creole and delighted to learn whatever we could on that hallowed Saturday.
The event was organized by the Adá Supper Club, a communal-dining experience that is focused on Black chefs and women. Started by Nkem Oghedo, who studied engineering and business at Yale and Harvard, respectively, the supper club launched just before the pandemic and transitioned to delivery events amid the ongoing crisis. "Ghede, Gede, Guédé" was one of the first in-person events since the shutdown, and it was an appropriate showcase for Oghedo's desire to amplify the work and talent of chefs of color.
"I think my purpose in life is around creating spaces and things to provide self-actualization for people — for my people — for our people," Oghedo told me over coffee in Harlem.
Looking to break down stereotypes about Haitian voodoo and traditions, Oghedo was eager to work on Adá's first Halloween event with Chef Nicky, who was bringing Haitian fine dining and history to the tables of New York.
"Halloween is such an interesting holiday because it means so many things in so many cultures," Oghedo says. "I think about Black spiritual traditions and how they've been made to seem evil or devilish and denigrated for the sake of monotheistic religions. I think a lot about traditional Ibo religions that I've never known because of the history of colonization. So voodoo in particular is very interesting to learn, especially how it's so strongly practiced still."
Recognizing that "Black food" is often mischaracterized or pigeonholed into one idea, Oghedo has ignored stereotypes and expectations throughout her supper-club events, instead creating a space for culinary professionals like chefs Cybille St.Aude, Brittney "Stikxz" Williams, and Kwame Williams. Whether it's West Indian food or ramen, each supper-club event has been an opportunity for underrepresented chefs to show themselves through their perspective, not that of the suffocating expectations placed upon them.
"I don't care what people think about Black food, because we can actually speak for ourselves and tell you what Black food is," Oghedo says.
As a child, Oghedo loved the idea of someday becoming a chef. As a Nigerian American child raised in NYC, however, she took the direction of what she described as the "immigrant thing," pursuing the more traditional career route. As she grew up, she continued having an interest in the restaurant world, at one point assuming she might be a restaurateur. Merging her business expertise with her love of food and community, Adá Supper Club emerged after a lot of Instagram stalking, cold emails, and sliding into people's DMs.
"I was attracted to people who I was inspired by," Oghedo recounts of building the supper club. "It was really about whatever they put out in the world, and if I thought they had a strong voice or strong perspective. They were doing interesting and tasty things with food."
At the Halloween event, Oghedo moved through the room, helping to serve guests and answer questions from new attendees. Though she has never worked in a restaurant, her confidence in running this kind of community is apparent and comes from the places and spaces she has navigated in other parts of her career.
"One of the most helpful things I learned in business school was the way that men — especially white men — talk about things," Oghedo says. "They can have no idea what they're saying and be spewing complete nonsense. But it's the confidence and the assertion that allows them to move forward." She continues, "So I think when you believe in yourself, and you feel like there's a purpose to what you're doing, regardless of whatever experience you have or don't have, I think you can come into a space and people can receive you."
Through the day, the work that goes into Adá became apparent. Ahead of the dinner, guests could read about the Guédé, an eccentric family of Haitian folklore that, according to Adá, "embodies death and fertility." Guests could also learn about the Boukman rum that's essential to Haitian drinking traditions, another lesson that Chef Nicky wanted to communicate through her food.
"I wanted the guests to enjoy good food with good information about what this culture is really about," she says.
For many guests, the event was one of their first afternoons out on the town. From 3 to 5 p.m., a diverse crowd, safely spaced and temperature-checked ahead of the event, indulged in the feeling of simply being alive, a stark contrast to what the Guédé family may have wanted. As glasses clinked and plates quickly cleared, Adá managed to make at least some cooped-up New Yorkers feel cared for and safe, a combination not common during such a tumultuous year. The fact that a Black woman was organizing it all was especially appealing to the crowd.
"I have a Black-owned business, so I'm all about supporting Black," MIITRA founder Dimitra Williams told me. "Knowing that this is one just makes the experience even more wonderful."
As the visitors swallowed their last bit of food and began to pack up, Oghedo and Chef Nicky smiled among themselves, happy with the response from guests. As Chef Nicky doled out business cards to interested visitors, she reflected on a day well spent. "What better way is there," she asked, "to celebrate Halloween?"