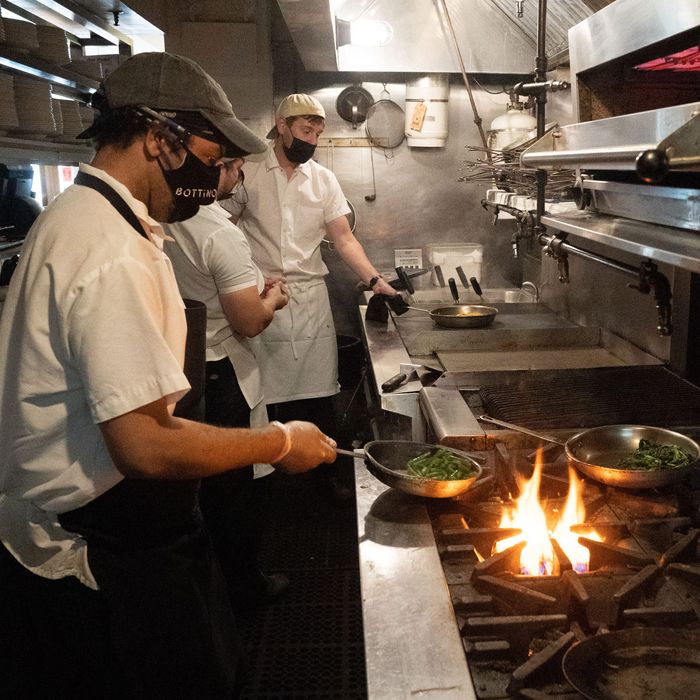 The RESTAURANTS Act passed the House.
Photo: Bryan R Smith/AFP via Getty Images
The restaurant industry has been particularly, if not uniquely, devastated by COVID-19, and industry leaders have been calling for government help since the earliest days of statewide shutdowns. It now appears that they may finally get some. Last night, Oregon representative Earl Blumenauer shared that the RESTAURANTS Act (which he sponsored) passed the House, calling on the Senate to "join us."
But what, exactly, is the RESTAURANTS Act, why are all the letters capitalized, and why does Blumenauer describe it as a "lifeline" to the industry? Let's find out.
What is the RESTAURANTS Act?
The full name of the bill is the Real Economic Support That Acknowledges Unique Restaurant Assistance Needed To Survive (RESTAURANTS) Act. If passed in the Senate, it would provide $120 billion in relief through a grant program administered by the Treasury Department.
What businesses would be eligible?
Restaurants, bars, cafés, and other brick-and-mortar businesses of course, but also caterers, who saw business dry up seemingly overnight as people canceled or postponed events before the shutdown.
Why do people in the restaurant industry say they need more relief? Haven't they gotten PPP loans and enhanced unemployment?
Yes, but the PPP loans were roundly criticized by restaurant owners and employees alike for not being adequate: Big businesses like Ruth's Chris took advantage of a program originally designed to help small businesses; Black, minority, and women businesses owners struggled to get the loans, and employees were brought back to work with lower compensation.
Many employees remain out of work or have seen their wages take a big hit because of reduced business, and the enhanced benefits of the CARES Act ended in late July. In New York, the August jobs report revealed that there were 231,100 fewer jobs in the leisure and hospitality, though presumably some of these have come back as businesses have opened for limited indoor dining. According to the RESTAURANTS Act, four in ten restaurants remain closed, and recent surveys have found that operators have laid off 91 percent of hourly works and 70 percent of salaried workers. Most businesses that are open are struggling to make it work. Only one in five owners say they feel confident they can keep their businesses open. It's not just restaurants, either. These closings have ramifications beyond their own dining room — they also mean less business for farmers, fishermen, and other purveyors.
How will it work?
Restaurant Stabilization Grants will cover the difference between 2019 revenues and projected revenues for 2020, while PPP and Economic Injury Disaster Loan recipients will have to subtract forgiven loans from the maximum amount for the grants. Business owners won't have to pay back these grants unless they close their businesses before the end of 2020, in which case they'll have to return unspent funds. If the grant exceeds revenues at the end of the year, it'll be converted to a loan with one percent interest and a ten-year term.
What can they be used for?
Pretty much everything they need. Payroll (except for employees who make more than $100,000 a year), benefits, mortgage, maintenance, rent, supplies (including protective equipment and cleaning materials), utilities, food, debt, obligations to suppliers, and any other expenses deemed essential by the secretary of the Treasury. Could that include, say, expensive air-filtration systems necessary for reopening for indoor dining in New York?
Who is eligible? 
Not Ruth's Chris. The act stipulates that the businesses not be publicly traded or part of a chain with 20 or more businesses of the same name. Recipients also need to certify that the grant requests are necessary, as well as that the funds will be used for what they're intended for. Further, they need to certify that they're only applying for and receiving one grant, one way in which this bill is addressing some of the issues of the PPP loan. (Bigger businesses like Ruth's Chris applied for multiple PPP loans under different corporation names.)
Does the bill address any other grievances with the PPP loans?
When the PPP loans opened up for application, bigger and more established businesses barnstormed the funds. For the first 14 days of funds from the RESTAURANTS Act, only restaurants with annual revenues of $1.5 million or less will be able to apply. They will also emphasize getting funds to businesses owned by women and minorities, and the Act will have $300 million to administer the program. Of that pot, $60 million will be for outreach to marginalized and underrepresented communities.