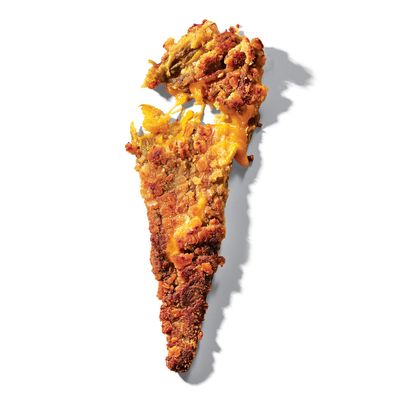 Eric See did not come to New York from his native New Mexico to stuff breakfast burritos. Nor did he aspire to sling sopaipillas (fry bread), bizcochitos, carne adovada, posole, or any of the other regional dishes of his Albuquerque childhood. A decade ago, See came to New York to study under his mentor, pastry chef Karen DeMasco, at Locanda Verde. His ultimate mission was to make contemporary pastries of the sort that would go nicely with a spot of tea, like what was to become his signature vegan lemon-saffron-poppy loaf, and when he co-opened the Awkward Scone bakery-café in Brooklyn last year, he'd pretty much achieved that goal.
On a whim one day, he added a touch of hometown flavor by taking the Hatch chiles his mother would bring him from New Mexico and supplementing the Awkard Scone menu with green-chile cheddar scones and green-chile apple pie. When Hatch-chile heads caught sight of these rare capsicums, they wondered where were the breakfast burritos — a New Mexico specialty that for many serves as the last word on Hatch-chile delivery systems. "They wanted me to make them burritos," says See. "And I was like, 'No, no, no, I'm not going to make burritos.' That wouldn't make sense." The shop was called the Awkward Scone, after all, not the Awkward Breakfast Burrito. "In New Mexico, your shop can be called the Persian Palace or Superfine Chinese and you would still sell a breakfast burrito and nobody would question it," says See. "But in Brooklyn, non-New Mexicans wouldn't get it, and I didn't feel like explaining it."
Eventually, though, See caved to pressure from the New Mexico breakfast-burrito gang, as powerful a lobby as ever there was. He made the burritos, and lo and behold, they took off, becoming the Awkward Scone's number one seller, outpacing even lemon-saffron-poppy loaves. Business was good and things were looking up.
Then came the COVID-19 pandemic and with it a rift with his business partner that forced See to close the Awkward Scone. With the unexpected burrito triumph fresh in his mind, he decided to delve deeper into childhood memories and rebounded with Ursula (724 Sterling Pl., Crown Heights), named after his grandmother (a posole expert) and inspired by the dishes he grew up with.
In See's family, everybody has a dish. Members of the extended clan specialize in one or another regional delight of the American Southwest and bring their handiwork to potluck gatherings during the holidays. Aunt Dorothy, for instance, does pastelitos. Aunt Berta bakes a mean Mexican wedding cookie whose recipe she refuses to divulge to anyone. And Uncle Ernie, whose lips, like Aunt Berta's, are sealed regarding his secret technique, bakes what See calls the best and tenderest bizcochito (the state cookie of New Mexico) he's ever had. To make these treats more accessible to a New York audience, See tweaked a few things for his Ursula menu, rendering Uncle Ernie's bizcochito gluten-free and his mother's cheesy chile relleno not only vegan but filled with quinoa and cauliflower rice. ("I needed a healthier option," says See, who clearly knows his Brooklyn clientele.) So far, the salubrious stuffed peppers have been selling well, but that doesn't mean See has forsaken the chile relleno of his childhood: a Big Jim pepper plumped with cheddar, dipped in egg, rolled in crumbled Ritz crackers, and fried. "That is my favorite dish my mom would make," says See, and even though he's hoarding the last Big Jims his mother lugged to New York for his own private consumption, he isn't opposed to debuting the dish as a special or at a pop-up event, perhaps timed to next year's Hatch harvest. Until then, he's happy — unlike Uncle Ernie — to share the recipe.
Ritz cracker-crusted chile rellenos
1 sleeve Ritz crackers
2 eggs
1 tbsp. milk
6 whole roasted and peeled New Mexican chiles (can substitute Anaheim chiles or long roasting peppers)
8 oz. cheddar, cut into ¼-by-2-inch batons
Oil for panfrying
Crush the crackers in a plastic bag with a rolling pin and place them in a shallow pan. Whisk the eggs and milk together in a bowl and set aside. Remove the tops of the chiles and their seeds. Stuff each pepper with one piece of cheese. Dip the peppers in the egg wash, then dredge them in cracker crumbs. Heat enough oil to just cover the bottom of a sauté pan over medium-high heat. Fry the peppers one at a time for two to three minutes on each side until golden brown. Remove from pan and drain on paper towels.
*This article appears in the October 26, 2020, issue of New York Magazine. Subscribe Now!