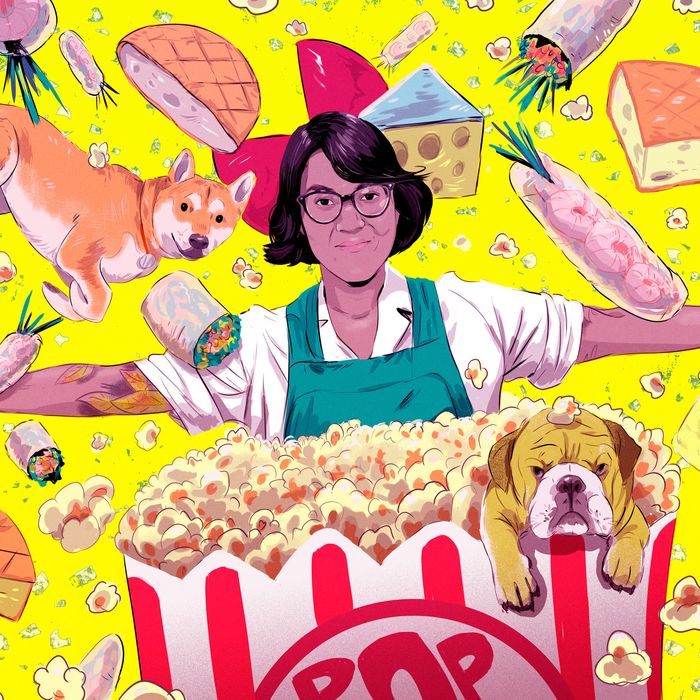 Sohla El-Waylly conjuring some of her faves.
Illustration: Ryan Inzana
It turns out quitting Bon Appétit's once-thriving Test Kitchen videos was a great career move for Sohla El-Waylly. Last week, she launched a new series, Stump Sohla, with Andrew Rea of Binging With Babish. "I actually really like game shows from the '60s," she says of inspiration for the show, in which she spins a wheel that determines what she'll be cooking. "I also really like competition shows, so we wanted to figure out how to make it a competition-ish thing. But it's only me." Now contributing part time to Bon Appétit, El-Waylly will bring her culinary expertise to more corners of the world: She's also contributing to the New York Times, starting a column with Food52, and working on a cookbook. Over the past week, she got biscuits, had her first Vietnamese egg coffee, and made cheddar-chipotle onion soup with hot dogs. "Sounds crazy, but it was seriously delicious," she says.
Sunday, September 20
Most of the time, I'm a one-meal-a day person, with exceptions if I'm hungry. I don't really like to eat when I'm working, so I prefer to come home and have a big dinner. I think it's just a leftover habit from working in restaurants, because you usually don't eat until service is done, and then you go home and get a bodega sandwich. Sometimes you have time to stop for family meal, but I feel like most of the time you don't. I used to eat like a normal person before I worked in restaurants.
For lunch, we went to Dame in the West Village, a snug place that serves fish-and-chips during the week and has a guest-chef pop-up series on Sundays, with all profits going to charity. This Sunday, our friend Jackie Carnesi, the chef of Roberta's, shared her Texas roots to raise money for RAICES, a charity that provides legal service to immigrants and refugees. We had the biscuit (fluff-city as hell) with butter and Habanada jelly; crusty, thick-barked brisket; smoked talon-on Sasso chicken (a heritage breed with flavorful yellow fat and meat that's almost as rich as duck); pulled mushrooms with cashew cream; potato salad with pops of corn and pimiento; and flan with blueberries and buttermilk ice cream. We took our order to go and immediately regretted not getting an extra biscuit.
Later, we met up with Priya Krishna and her partner at East River Park for a waterside picnic dinner. My husband made a DIY summer-roll spread with fish sauce and garlic pork meatballs, crispy-tofu crumbles spiced up with Campo Rosso Farm chile peppers, lime-y cabbage slaw, butter lettuce, and individual jars of almond sauce for dipping (we couldn't find the three jars of peanut butter that are somewhere in the pantry). Priya's partner, Seth, is an amazing baker who you can always count on to bring too many desserts. It's crazy 'cause I think his stuff is better than most professional bakers' I've had. Because he's also crazy, came late — Priya said he was frying the doughnuts à la minute — everything was still warm. We got a doughnut out of the fryer like 20 minutes later, which you don't get in a bakery.
He brought a dozen cardamom-sugar-dusted doughnuts filled with the last of summer's rhubarb, French apple turnovers sweetened with earthy jaggery, and coconut mochi filled with alphonso-mango purée. Priya brought the wine while I provided the hand sanitizer.
After we got home, I had a pour from the bottle of Rittenhouse Rye that Andrew Rea gifted me after we wrapped last week's shoot — you know, to aid digestion. All it did was make me want a snack. I had some Utz kettle chips with a slice of American cheese. And then another pour of whiskey.
Monday, September 21
I started the day with some matcha because I'm trying to become a matcha person. Coffee doesn't do good things to my stomach, so I thought I'd give it a try. It's more of a chill way to start the day. I don't have one of those cute, tiny bamboo whisks, so it was clumpy and bitter. Something to work on.
My husband has Sundays and Mondays off, so Monday is a weird day where I'm super-lazy and mentally think it's Sunday, but my in-box is also blowing up because the rest of the world is working. We made a big snack board to nibble on for breakfast and lunch while we watched American Horror Story and I (kind of) got some work done. Jasper Hill Farm never lets us down, so we had their cave-aged cheddar, funky washed-rind Willoughby, and mild Bayley Hazen Blue. We opened up our last packs of Olympia Provisions charcuterie (probably the best charcuterie around #notanad) and rounded out the board with dried fruit, apples, crackers, nuts, and olives. We ate from this board for most of the day.
It's our favorite weekend thing. We usually just hang out at home; we might walk the dogs. I find it really comforting to have this really elaborate charcuterie board on the kitchen counter that you can just walk by and pick up crackers all day.
We didn't want to cook and instead walked around the neighborhood until opting for a spontaneous sushi omakase dinner at Kura in the East Village. We hadn't been there before; we just happened to be walking by. The scallop nigiri was a standout, super-buttery and fresh. We supplemented the menu with a few hand rolls. I was especially into the eel hand roll. The miso soup was really rich and dark, more like a fish fumet than a traditional dashi. And for dessert, we were served black-sesame macarons filled with chewy mochi.
Tuesday, September 22
I had a busy day and forgot to eat until I was walking home. I had to write a bunch of stuff in the morning, then I had my election poll-worker training, which was like five hours of them trying to teach us how to use an iPad. It really was: "On the top-right corner, along the side, there is a vertical button. Please press down."
On the way home, I decided to stop by Hanoi House for takeout. While I waited for my order, they offered me a Vietnamese egg coffee, something I hadn't heard of but apparently the rest of the world has. The coffee was topped with a thick, sweet, whipped egg mixture, which, together with the coffee, reminded me of tiramisu. For dinner, I ordered the tofu summer rolls and Hanoi-style beef pho with brisket and oxtail. I forgot to ask for half noodles! I am not a huge noodle eater and prefer my pho to be mostly broth with an occasional nood. I know I'm wrong — please don't come after me.
I like noodle soup, but I mostly want the broth. I guess noodles are kind of unwieldy. I like neat little bites. I don't slurp. I like to pull out a noodle, put it in my spoon, put a little broth in there, put a little meat and whatever else, and then have a bite. So it takes a long time. And if you have your noodles like that, you'll notice that the ratio is always too many noodles, the way people plate it. Because everyone else slurps.
Wednesday, September 23
Found the peanut butter! Had some on a few seedy crackers, the kind Mary makes. I had a cold and decided to pick up some chicken bone broth from Hearth. They sell bone broth either straight up or seasoned. My favorite is the "Hot Mama" — or maybe it's called "Spicy Italian"? It's bone broth of your choice seasoned with roasted garlic and Calabrian chiles. And I picked up an extra quart to get me through the rest of the cold.
For dinner, I channeled Kura and turned the rest of the bone broth into corn miso soup. I like corn when it's late summer. It's been really good. Somehow, I feel like there's still summer produce at the market. I stripped the corn off a cob and steeped the cob in the bone broth before adding instant dashi powder, miso, and the corn kernels. I made some quick pickles with miso and rice-wine vinegar, cooked a pot of rice, and opened up a tin of oil-packed sardines.
I feel like canned fish is the way I consume most of my fish because during the week it's annoying to go buy fish. I don't like fish hanging out in our freezer because our freezer is questionable. It thaws randomly in the middle of the night, so we don't really use it to keep stuff frozen.
Growing up, Bengali cuisine uses mostly oily fish, so I think the No. 1 fish we had was shad. Shad and mackerel and catfish. I feel like those are all hard to find. Sardines come close to the same oiliness. I wanted to put catfish in the cookbook I'm working on, and as soon as the editor saw that, she called me and said no. She says, "No one cooks catfish. Make it chicken."
This cookbook is kind of a challenge because there's food from around the globe in there. I'm working on the technique section, and I'm like, "I don't know how to figure this out," because it's just wild if you're trying to teach people how to cook everything at the same time. It's impossible.
I think that culinary school is totally just Eurocentric, and they kind of make you believe that "Oh, French technique is the core of everything, and it must be the base of all of your food." But the way the cooking is in the rest of the world — in Bangladesh, in the Caribbean, in Africa — the techniques are completely different. With the French approach, what I would try to do for korma, for example, is start with a stock instead of water, bring it to a gentle simmer, and just poach the chicken and make it more "refined." But it just doesn't work, because korma is not exactly a stew or a braise. It's a bhuna, which is a very specific technique that you don't see in European cuisine at all. It's high heat, low moisture, constant stirring, so it pulls out the flavors in a different way that you can't get through French techniques. So I think my first reaction out of culinary school was like, Oh, I have to take these French techniques and apply it to everything. It took me a long time to realize there are other techniques out there that are just as important and just as good. You can't just make everything French.
Thursday, September 24
I was still feeling a little under the weather, so I decided to commit myself to a full day of bone broth, but that plan went bust around two o'clock, when I broke into a box of Mary's Gone Crackers and finished off the last bit of the Jasper Hill Farm Willoughby (cold and not tempered, because I'm a monster). I think Mary's Gone Crackers and Harbison cheese are the main things that are always in our house. I really like their crackers. They're super-seedy, and I feel like I'm being healthy but it's still a cracker, and it can go sweet or savory really well.
My husband and I met at the Culinary Institute of America, and there was really nothing there in Hyde Park. But there was a really good grocery store next to us, and they had a huge cheese selection. There wasn't anything else to do, so we ate a lot of cheese and kind of stuck with it. Basically our activity was: We would pick out a different cheese every week and get to know it. We had a class assignment where we each had to talk about some cheese. We were assigned Époisses, which was really intense for us at the moment, but then we ate so much of it that it became our favorite cheese. It isn't easy to find, so Harbison and Willoughby, they kind of give you that same texture.
The first episode of Stump Sohla had just aired, and to celebrate, Andrew sent me a big ol' order of chicken bone broth from Hearth (with garlic purée and Calabrian chile on the side! How did he know??). The order also included some ginger juice, so I made myself a Penicillin cocktail with the Rittenhouse Rye, lemon juice, ginger juice, and honey.
Then I decided to watch the episode of The Chef Show that Andrew was on — getting to know my new people — where Roy Choi made French onion soup. I had all that bone broth, and some whiskey left over, so I couldn't not make French onion soup. The only melting cheese I had was cheddar, and I decided to go with it and make a cheddar-chipotle onion soup. I went all in and added hot dogs and olives and topped the soup with a cheesy tostada. Sounds crazy, but it was seriously delicious.
Hot dogs are something that are always in our freezer. Both my husband and I were never allowed to eat hot dogs because we were raised to eat halal. There are halal hot dogs, but they're also spiced like kebabs; they don't taste like American hot dogs at all. The texture is totally different, and it's more like a sausage. Because we weren't allowed to eat them, now we always do, but we almost never eat them like a classic hot dog. It's more like, the other day, I was just really being lazy, and I made an omelet with hot dogs in it. I first had American-style hot dogs when I was 19 years old, and I was married to a Mexican man, and one of their regular meals at their home was tacos de salchicha — hot-dog tacos — and that's when I learned the power of the hot dog.