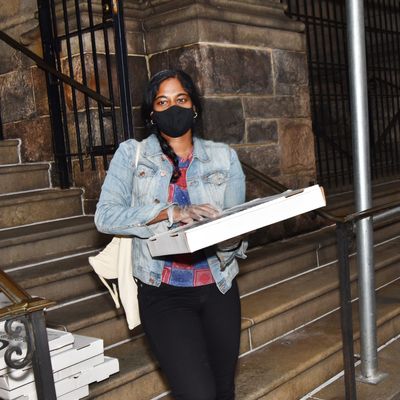 Anita Pandian at an early voting site in Soho.
Photo: Nina Roberts
There are innumerable reasons to vote — and, preferably, to vote early — this year, but a little extra incentive never hurts. "I knew the line was long," says Anita Pandian. "I wanted to encourage people to stay and vote." So, as residents of lower Manhattan brave waits of two, three, or sometimes even four hours to cast their ballots in the 2020 election, Pandian arrives at her designated early voting site in Soho, equipped with one thing that's guaranteed to appeal to people: pizza.
"Pizza?" Pandian asks those in line, clad in a jean jacket, black face mask, and plastic gloves. "Pizza?" Some voters demur, while others carefully reach for a slice, asking, slightly bewildered, "Where does this come from?"
It comes from some of the city's preferred pizzerias: Two Boots, Ben's, Adoro Lei, and Song' E Napule, among others. Pandian has been ordering pizzas through Pizza to the Polls, a nonprofit organization that delivers free pizza — typically ten pies at a time — to early voting sites with long lines across the U.S.
Pandian learned about Pizza to the Polls on Instagram. A wedding planner whose work has slowed due to the coronavirus pandemic, Pandian decided to take advantage of the service. It is the act of a truly good Samaritan, but it only took her one order to realize she couldn't just order the pies to be delivered and leave. "People feel weird about grabbing a pizza," she explains. So, after an order arrives, she sticks around to hand out slices.
An average of 900 pizzas per day get delivered to New York City's long voting lines, according to Pizza to the Poll's program director Amirah Noaman. Deliveries will continue through Election Day, and anyone waiting in an early voting line can order a pizza through Pizza to the Polls's website or social media.
Neighborhood pizzerias that have been hobbling along since the pandemic hit are grateful for the surge of business. Server Carlos Lopez, of Adoro Lei, received orders totaling 33 pizzas earlier this week. "It was amazing!" he exclaims, as the restaurant had been averaging just one pizza delivery a day. Orders come in via the app Slice, which works with independent pizzerias, and has partnered with Pizza to the Polls for the early vote initiative.
Roberta Pettit, head of marketing at Two Boots, notes an earlier order of pizzas to Saint Anthony's of Padua — one of four early voting sites below 14th Street in Manhattan — was enormously helpful. "We have no corporate lunches anymore," she sighs. "We're just surviving."
Pizza to the Polls co-founders Scott Duncombe, Noah Manger, and Katie Harlow initially launched the service to support voters in the 2016 elections. Because of this year's COVID concerns, they've also added a fleet of food trucks dispensing wrapped snacks, an initiative called Democracy Is Delicious. Seven brightly painted trucks have been roving New York City streets, visiting early polling sites with free local goodies, from Nuchas empanadas to Milk Bar cookies.
At Saint Anthony's yesterday, voters were immensely happy to see Pandian and the pies — even if the sight of free food raises eyebrows during the coronavirus pandemic. "I didn't take it the first time," said Jordan Scott, leaning against a brick wall while gleefully eating her slice. But after Pandian made several rounds, Scott took a slice. "It's good!"
"At this point," said Maria Parchesky, a nurse from Mount Sinai West who had been waiting in line for more than three hours, "it's the best pizza I've ever had!"
Of course, New Yorkers being New Yorkers, some critics noted that while the pizza was indeed "nice," it could've "used more garlic."
"It was a little cold," said Diana Goetsch, who noted she'd been a New York City schoolteacher for 21 years, "but the love involved made it tasty."
The most important thing, though, is that it succeeded in keeping some people there, and encouraged them to stick out the long wait. "If not for this," said voter Katherine Lucas, holding up her pizza slice, "I would have left."