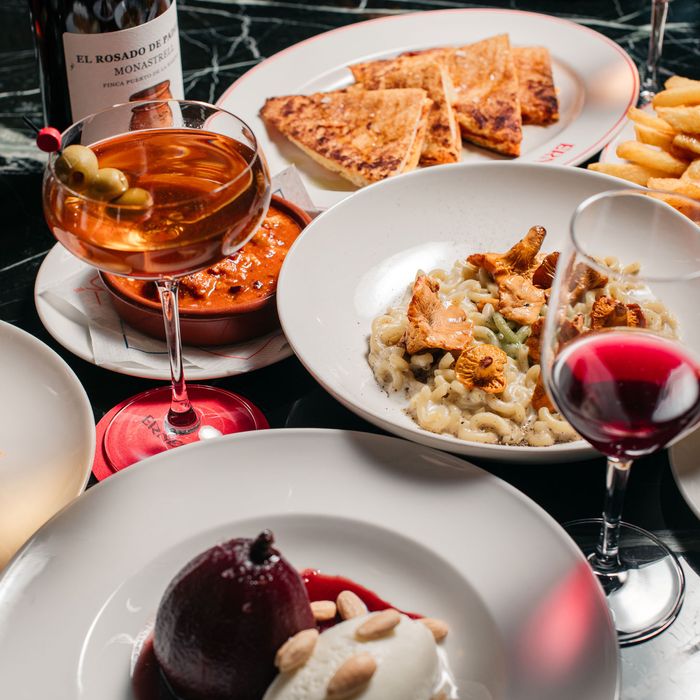 Ernesto's takes inspiration from the Basque Country.
Photo: Scott Heins
Like many restaurant fanatics of a certain age, I used to like to grab a pack or two of matches on my way out the door of the places I reviewed or dined at semi-regularly. Since we have a working fireplace at home, there was some practical value to this old habit, which likely goes back to the vanished era of the Stork Club and the Rainbow Room, when gentlemen drank their martinis straight up at lunchtime and the most sophisticated couples burned through a pack of cigarettes a day. Lots of places have discontinued the practice in recent years, preferring to dispense carefully carved toothpicks, or mini-notepads, or party bags filled with boxes of organic chocolate or granola. In our household, these tend to get lost, or thrown away, or eaten, but the old fine-dining matchbooks still survive, stowed furtively in bathrooms or tossed in a ceramic bowl above the fireplace.
Lately, this little collection has taken on a kind of nostalgic, even anthropological quality, of course. Fishing around in the bottom of the bowl the other day, I found a couple of matchboxes from old deceased regulars like Gotham Bar & Grill and others from hotels I stayed at long ago in another life on trips to far-off places like Tokyo and the Kingdom of Bhutan. In the middle of the pile were ones from a jumble of places I'd forgotten or hadn't thought about in a while (Peasant, the Dutch, legions of half-remembered Japanese omakase rooms), and at the top of the bowl, ones from the most recent establishments I'd visited, including a couple of crimson-colored matchboxes from an excellent, formerly boisterous Lower East Side Basque-style bar and restaurant called Ernesto's, which happens to be the last dining room I patronized as a working critic, in mid-March, before the lights went out in restaurants all over town.
The lights are back on at Ernesto's now, for indoor dining and also outside, so I decided to pay a call the other day to see how the chef, a talented young Frenchette veteran named Ryan Bartlow, and his team were getting on. As you can imagine, the airy dining room, which occupies a corner space on the easternmost fringes of East Broadway, is much less boisterous than before. I counted only four tables inside, and to sit down at one of them, your temperature must be checked. Contact-tracing information is also required, and masks must be worn all meal long — except when shoveling delicate spoonfuls of the deliciously simmered Madrid-style "callos de Joan" tripe stew into your mouth. Things are slightly more relaxed on the curb outside, where, on the evening I dropped in, members of the masked waitstaff were bustling among the rows of carefully spaced café-style tables that stretched down the sidewalk in two long lines.
Bartlow spent some formative cooking years living above an old tavern in the Basque country around San Sebastián, and I was happy to see that many of the classic tapas-style small-plate dishes I remembered from the winter were still on the slightly abbreviated, single-page menu. These included piles of house-frizzled potato chips, which are draped with dense candied slivers of Ibérico ham, as well as the aforementioned tripe, which the kitchen simmers for many hours with bits of pork trotter, chorizo, and clouds of smoked paprika and serves, for a few extra bucks, with a stack of grilled country bread on the side. There's also a refined version of blood sausage, if you enjoy that kind of thing; great tangles of frisée salad plated over little crowns of roasted mushrooms; and fried croquettes filled with the kind of creamed chicken my family never managed to cook up in the quarantine kitchen back home.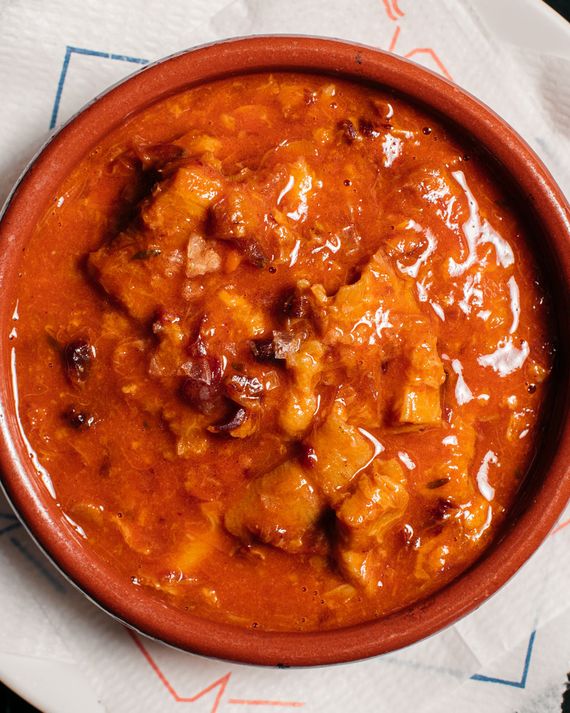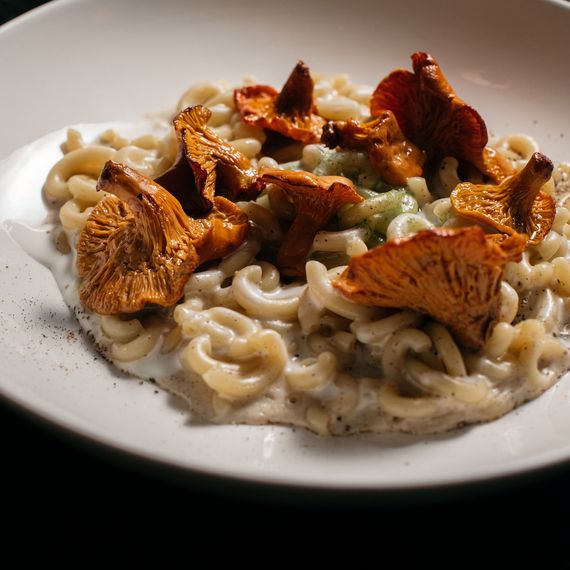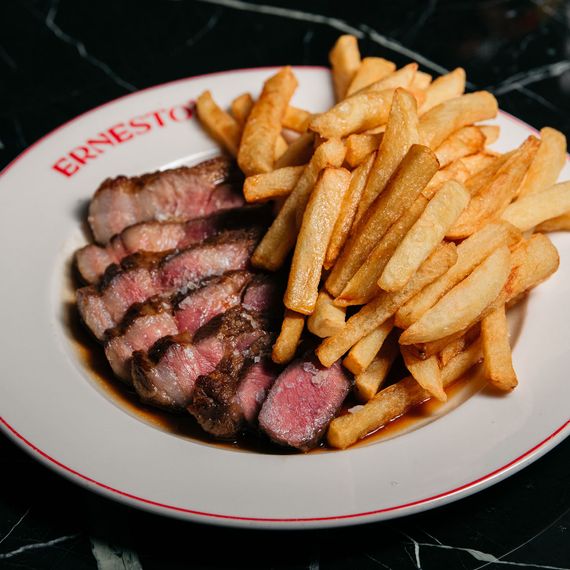 "This is really rich cooking," one of my daughters said as we pondered the "Platos Principales" portion of our meal, much of which seemed to be the kind of thing you'd want to be eating outdoors in the mountains around San Sebastián, with a hint of wood smoke in the air and winter setting in. In fairness, the food at Ernesto's is also classic, heavily flavored big-city restaurant cooking, which takes some getting used to after a steady diet of sourdough and pots of home-cooked beans. Ernesto's name is a nod to that grandfather of he-man cooking, Ernest Hemingway, who probably would have enjoyed our portion of baby elbow macaroni, which Bartlow tops with chanterelle mushrooms and tosses, cacio e pepe style, with plenty of black pepper, and the bountiful pork collar, which is cut in tender ruby-colored slices and garnished with a small mountain of patatas fritas and pork drippings sweetened with sherry.
Most of the tables are filled on this balmy alfresco evening, and during dinner the streetlights pop on, illuminating the sidewalk and the park across the way in a soft glow. Three tents stored in the basement are set up when it's rainy or cold, our server says, and will be heated when winter comes. Until then, there are plenty of sherry-tinged cocktails on the drinks list to warm the soul (try the gold-tinted "5 Finger" martini) along with a series of elegant, rib-sticking desserts, like whole pears poached in wine served with milky scoops of sorbet and toasted almonds and a generous wheel of classic, rusty-top crème caramel that judders pleasantly when you tweak it with your spoon. And I'm happy to report that there are still matchbooks set in a bowl by the entrance of the new COVID-era Ernesto's 2.0, a couple of which I pocketed on my way out the door, to add to the old collection back home.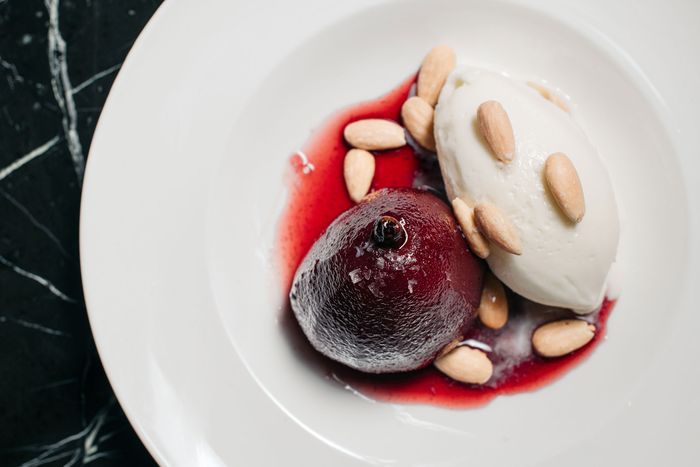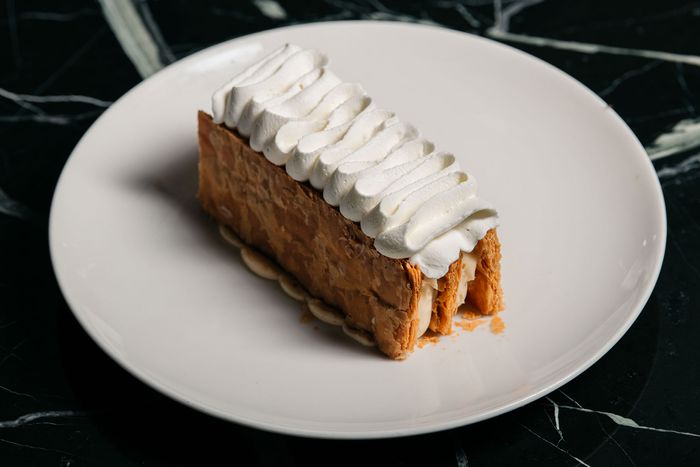 *This article appears in the October 26, 2020, issue of New York Magazine. Subscribe Now!