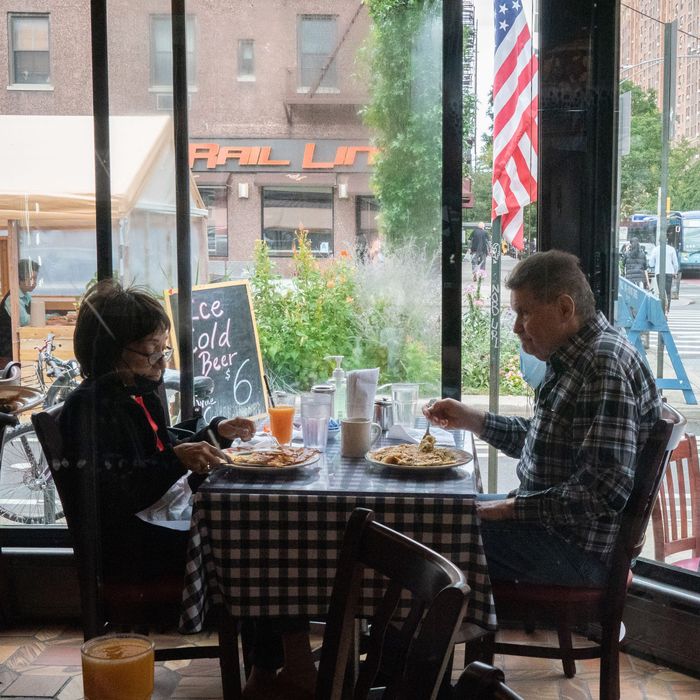 Indoor dining just returned to New York. That's been reversed in some neighborhoods.
Photo: Bryan R. Smith/AFP via Getty Images
Four days into its return, New York City's indoor dining was selectively rolled back — and then it wasn't. On Sunday night, Mayor Bill de Blasio announced he'd reverse the reopening plan in 20 coronavirus hot spots in Brooklyn and Queens, the New York Times reported last night. Following de Blasio's announcement, Governor Andrew Cuomo — who yesterday criticized local governments for not doing "an effective job of enforcement" in hot spots — said Not so fast, Billy.
De Blasio's plan would mean that schools and all nonessential businesses will be closed in nine Zip Codes, meaning there will be no indoor or outdoor dining allowed. But Cuomo refused to close nonessential businesses in those Zip Codes while moving ahead the date to close schools in those same areas. It's yet the latest in a series of conflicts between Cuomo and de Blasio, who have continued their tradition of bickering and contradicting each other during the pandemic. Instead, the governor says that the state government will take over enforcement in hot spots, including supervision of mask and social-distancing rules, with personnel provided by local government.
The Zip Codes where de Blasio wanted to shut down nonessential businesses include areas of Bensonhurst, Borough Park, Far Rockaway, Gravesend, Kew Gardens, and Sheepshead Bay. Along with the aforementioned areas, 11 more Zip Codes will be under observation, including parts of Bedford-Stuyvesant, Bergen Beach, Clinton Hill, Crown Heights, Fort Greene, Fresh Meadows, Hillcrest, Jamaica Estates, Kensington, and Williamsburg.
While the city's transmission rate had been stable for several months at around one percent or lower since June, it has been rising in recent weeks and, last week, spiked from 1.93 percent on Monday to 3.25 percent on Tuesday. NYC Health Commissioner Dave Chokshi called the spike "alarming." The rise has been driven, Gothamist reports, by hot spots in areas of southern Brooklyn and western Queens. A number of these neighborhoods include Hasidic communities, and, in late September, the Times estimated that as many as a quarter of the city's new COVID-19 cases were coming from Orthodox Jewish communities.
While the rollback is now … not happening, this back-and-forth between the mayor and the governor — a trademark of New York's coronavirus response — only serves to create confusion. Operators and employees alike have complained about last-minute rule changes, as well as unclear guidance. That de Blasio's shutdown was eighty-sixed doesn't mean a shutdown isn't in the cards. A setback like it, however necessary, will be
difficult and painful for local businesses. Both for the restaurant owners who have invested in meeting new health guidelines (like those air filtration systems), and for the employees who'd just been hired back. People who were bringing home money again for the first time in six months, who were unable to claim benefits or not able to get nearly enough, will now find themselves out of work.
Reopening for indoor dining has been an expensive and uncertain proposition for many business owners. When asked if he'd reopening for indoor dining on September 30, one Brooklyn restaurateur told me he would rather wait and see how it goes for others. In mid-September, bar owner Melody Henry said she was still figuring out if it made sense for her. "Do I have to now hire waitstaff, which I've been trying to avoid this whole time? Because my bystanders are barely surviving as it is," she said.
There's the fear of a second wave, lingering questions about the safety of indoor dining, issues of enforcement, the assumption that guidelines will change overnight, and the fear among some that everything is going to go sideways again and shut down. Permanent outdoor dining provides a buffer for business owners and workers, but that will require investments of its own for the winter. (In a year of product shortages, there may already be a shortage of heat lamps.)
There's also the fact that the effectiveness of a targeted shutdown isn't a given. George Mason University epidemiologist Sasika Popescu tells the Times that it could push people "to seek resources outside that affected area" and that communication with community members will be key to success. If Cuomo decides to go forward with such shutdowns, it's a lingering possibility that has to be taken into account.
This post has been updated with new information following Governor Andrew Cuomo's announcement that he's blocking Mayor Bill de Blasio's plan.