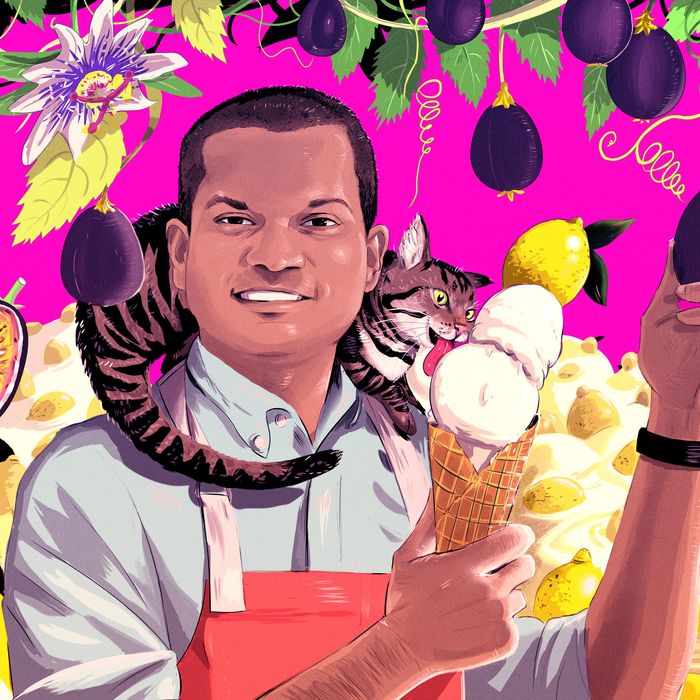 Nik Sharma and his cat enjoying ice cream.
Illustration: Ryan Inzana
This week, Nik Sharma published his second cookbook, The Flavor Equation, which explores the science of cooking as well as the ways emotion and personal history can influence taste. On his blog, A Brown Table, and in his first cookbook, Season, Sharma delves into his own history as a gay immigrant. Born in Mumbai, he came to the U.S. for a Ph.D. program in molecular biology before dropping out and later studying public policy. In science, he felt encouraged to explore his interests; as a writer, photographer, and cook, he has felt pigeonholed. "If you look at any of my cookbooks, Amazon always classifies them as Indian," he says. "I would never tell someone it's an Indian cookbook, because their expectations are going to be different. It's a constant, I guess, battle." This week, while at home in Santa Monica, Sharma worked on his rye roti recipe, made doro wat and Indo-Chinese noodles, and got through a pizza disaster.
Monday, October 19
Breakfast was coffee and cinnamon-raisin toast with butter and Seville-orange marmalade that I made last year. I buy the Ezekiel brand; for some reason, I've been in love with that bread for years. I think the recipe is from the Bible as per the packaging. I made the marmalade from oranges I bought at the Santa Monica Farmers Market.
I use a combination of Nigel Slater's and Felicity Cloake's recipes. I like that they both really go for the bitterness. I feel like Seville-orange marmalade is one of those places where bitterness is really celebrated against the backdrop of sugar. So it feels more citrusy, and I like the attention they pay to the rind. You have those chunks in there; that's what it makes it very special to me, biting into the rind. You get that bitterness.
My breakfasts are not very fancy. My husband leaves for work early, so I usually just have it by myself. I'm not a big breakfast person. Because I'm at home a lot now, I've started to force myself to eat it more, but usually I don't.
I will say this about this year: One thing I think is, if you're in a relationship, it's hard if you're not used to being together all the time. My husband — I think he likes me — had to go to work as soon COVID happened, because he's in crisis management. He's been going to work daily, so he hasn't been at home driving me nuts. We were very thankful for that.
Lunch was leftover noodles I made the night before with bits of roasted chicken (from the store) folded in. The noodles were from my book; I was craving that kind of Indo-Chinese thing. I crave that food a lot. I know it is extremely popular in India, and I can never find it here in L.A. It's also not that common to see in cookbooks, I don't know why. It's quite an interesting cuisine because the number of the dishes is so varied and large. Indian people tend to build on flavor in their own way, and the Chinese immigrants that moved to India also brought those stronger flavors into their own cooking. It kind of balances both and creates something marvelous.
I have tea every afternoon. I usually just get the Taj Mahal ginger tea bags. It's one of the Indian black-tea brands, one I grew up with. I buy them in bags. I don't buy loose, which people probably will roll their eyes at, but I don't care. It's just one extra thing for me not to wash. I'm fine with steeping tea bags.
Along with the tea, I'll have a snack. This time, it was cucumber sandwiches with salt and pepper and Smart Balance. I'm a big fan of vegan butters.
Dinner was roasted chicken with some root vegetables (carrot, parsnip, and those cipollini onions) and yogurt on the side. I usually eat a cup of Greek yogurt by itself every day. I just have it at some point. It's not very regulated.
Tuesday, October 20
Breakfast was coffee and toast with honey, butter, and a slice of cheddar. The one I get I'm going to call it orange or yellow. I like Kraft. But I got this cheddar from the grocery store — what is it called? — where someone posted the photo of the girl walking the guy with the leash. Erewhon!
The honey was from my mother-in-law. She sends me a big jar of honey and sorghum molasses every year from their farm in the southernmost portion of Virginia. I never use that for baking; I use that to eat.
For lunch, I made a kidney-bean salad with oranges and herbs. I like beans a lot, just because of the texture. It just feels soft and comforting. It's a weird thing to say, but I like the bite. When you bite into a bean, the skin kind of pops open, so it feels a bit of a surprise every time and reveals something creamy inside. I really like that. I like bean salads a lot, too, because you can add a lot of things to it, throw in whatever is in your panty at the moment, and fill it up. Make it what you want.
Afternoon tea with coconut cookies. These are from the new book. I had some leftover dough in the freezer. I just wanted something sweet that day. I'll usually make extra cookie doughs because you can freeze most of them for a while. This one freezes really well. I have a little bit stashed away, and when I need some cookies, I'll slice and bake.
Dinner was just leftover bean salad from lunch and my daily yogurt.
I would say 80 percent of the week is cooking my own stuff, because I have to create food for my column, so I'm busy with that. But there are times when I get cookbooks, and if I open the book and something really speaks to me, I'll get the ingredients and cook the recipe that day. It'll just be like, Wow, I need to have this today.
I've been eating a lot of Thanksgiving food because I've been creating Thanksgiving recipes for the New York Times, so I've been working on that. Thankfully, I'm taking a break from Thanksgiving food. I feel like with cooks, we're making the same thing again and again. I was making an upside-down banana cake, which got really popular during the pandemic, and that was crazy. Right now, even the thought of ripe bananas grosses me out.
Wednesday, October 21
Breakfast was coffee and skyr. If you're a big coffee person, you're going to hate me. I use Nescafé instant coffee. I have acid reflux, and coffee aggravates it the worst. I gave up coffee for a couple years, but I still need some caffeine to keep me moving in the morning. I tried cold brew; it would make me sick after a while.
Taco salad for lunch. It was a craving more than anything. I like the crunchiness of the tortilla chips when they're chopped up. I like that, and the one I made was nothing crazy. It had avocado, cotija cheese, and some frozen roasted corn I threw in there, plus the usual stuff, lettuce and peppers.
Tea was chocolate cake with fudge frosting. That was a craving again. I really wanted a chocolate cake, so I made a recipe by my friend Edd Kimber; he writes a lot of dessert cookbooks. I made his cake, and I had this recipe for chocolate-fudge frosting, so I put it together and used it on the cake. I find myself making a cake once a month, maybe. My husband will have some too. He has a sweet tooth.
For dinner, I put together spinach-and-lemon soup. This was again a leftover thing where I had bought a lot of spinach for work and then I needed to use it up. So I basically sautéed it with a little bit of garlic and made it into kind of a cream in the Vitamix at high speed. I added some cashews to build on the creaminess and then lemon juice for that strong jolt of acid.
A lot of the food I eat at home is made with ingredients I have from work because I need to plan out. I'll buy three or four times the ingredients I need, because I don't know if the recipe will work the first or second time. I don't want to eat the same thing (by that time, I've had three iterations), so I'll usually try to come up with something simple and easy.
Thursday, October 22
Black tea and crispy fried eggs. I prefer fried eggs for breakfast; once in a while, I'll do hard-boiled eggs, most often with just salt and pepper. Once in a while, I'll add something like za'atar or Aleppo-pepper flakes.
Had bone broth — turmeric and ginger — for lunch. I always have a large stash of broth in the fridge. Chicken stock, mostly, so I like the taste of ginger and turmeric in it. Sometimes instead of having a protein shake, I'll do bone broth.
Tea with Greek yogurt and cucumber with salt and pepper. I do buy a lot of cucumbers.
Rye rotis, sautéed green beans, and doro wot for dinner. At night, I'm cooking for my husband also, and I know what he likes and doesn't like. When I'm cooking for work, I'm actually cooking for everyone, not myself. So I have to keep in mind what people like and don't like and then it has to go on social media, make sure it looks all lovely and nice. I take a break when I'm cooking for myself and don't have to share it on social media. There's no pressure to have a recipe churned out.
I've been experimenting to build a roti made just from rye, so I've been testing that. That was one of the reasons we had it that night. I wanted to see if rye would help me build the same quality in terms of dough and final bread. So far, I've had success. I want to see how far I can push this because I can't use rye by itself. I've got to use all-purpose flour to build the dough. I'm trying to see how far I can get the ratio in favor of rye.
I like doro wot a lot because I lived in D.C. for the longest time, and Ethiopian food is quite big there. So when we moved to Oakland, there was one place where we used to get Ethiopian food and then I just started to learn on my own how to cook it. So I make doro wot maybe once a month on average.
I wasn't familiar with Ethiopian food before I lived in D.C. I think what was fascinating to me, why I fell in love with it, is that it has so many similarities to Indian cuisine, just even from the names to the flavors. It's easy to connect with it. Even sometimes with Lao cuisine, because it's so close to India, you see a lot of the same influences traveling with ancient times. A lot of these were parts of different kingdoms, and the borders cross over each other at different points in history. It's nice to see it through someone else's lens.
With Mexican food, I think it's the similarities that draw me in, but when I was drawn in, I realized how vibrant and unique it is by itself. Then a lot of Indian ingredients come from Central and South America because of colonization, and now they're a part of Indian cuisine. They weren't around for a large part of our history.
Friday, October 23
Coffee and toast with raspberry jam and butter for breakfast. I made that a year before, actually two years ago, back when we lived in Oakland, where we had a garden. We moved with all my jams and stuff.
I think it was Diana Henry who said to me, "You're in a phase in your life if you're making jam." I feel like I'm in a phase of my life where jam-making has taken over. But I don't actually end up eating most of it; I give away most of it.
Banh mi that I bought at Banh Oui for lunch. If I could have a banh mi once a week, I would probably do it. I definitely could eat them all day long. But I want to eat other things, too, and I don't want to get sick of them.
Dinner was a roasted-corn-and-squash salad with avocado-lime dressing and watermelon. The corn freezes really well, so what I do is I roast the ear and then shave everything off and freeze them in bags or containers. I'll usually have some on hand, and it's great in salads.
I like to have a lot of pantry ingredients, things that last forever. You can make a hard-boiled egg the same way, but the way you change it again and again is what makes it special. So I'll put chili crisp on it; sometimes I'll use the "gunpowder" spice mix. I feel like there's a thousand ways you can go about the same main ingredient, and the pantry is where it becomes really useful. So I build on my pantry more than anything.
Saturday, October 24
Breakfast was coffee and buttered olive-bread slices that my husband picked up from somewhere, I have no idea where.
Lunch was Jeni's Splendid ice cream. I love Jeni's. One of my first cookbooks was actually Jeni's Splendid Ice Creams at Home. I love her approach. The lemon ice cream sold it to me. So every time I go to the store, I get all the different types of lemon flavors they have. I'll ask them what they have that's lemon or anything that's tart. They do such a fabulous job of making it nice and tart, the passion fruit or lime or lemon.
I grew up eating this Indian ice-cream brand called Kwality; it's the one I ate at home. As a child, I also visited the dentist a lot, and they'd recommend ice cream afterwards because they'd say it would numb your mouth. I think because of that I really love ice cream. I have it once or twice a week.
I attempted to make pizza at night but failed. Ended up eating what was salvageable and some leftover soup.
It was a disaster. We have an Ooni oven, and we haven't been able to use it because we were living in an apartment and then moved into this house, so we're able to use it now. We decided to bring it out of the garage, and it was getting dark, which was a bad idea to begin with.
I set everything up, and my husband brought the wrong paddle and I was too tired to tell him to bring the right one. It was a perforated paddle. We were losing the whole pizza in the oven because it stuck, and the cornmeal fell off and didn't help due to the paddle. It was a bloody nightmare. The whole thing folded over itself and then I couldn't get it out. I said, "Oh my God, this is — shit's screwed right now." It was cooked partially. It was very disgusting. We managed to pull it out, put it in the regular oven in the house, and called it a day. Even then, it was miserable.