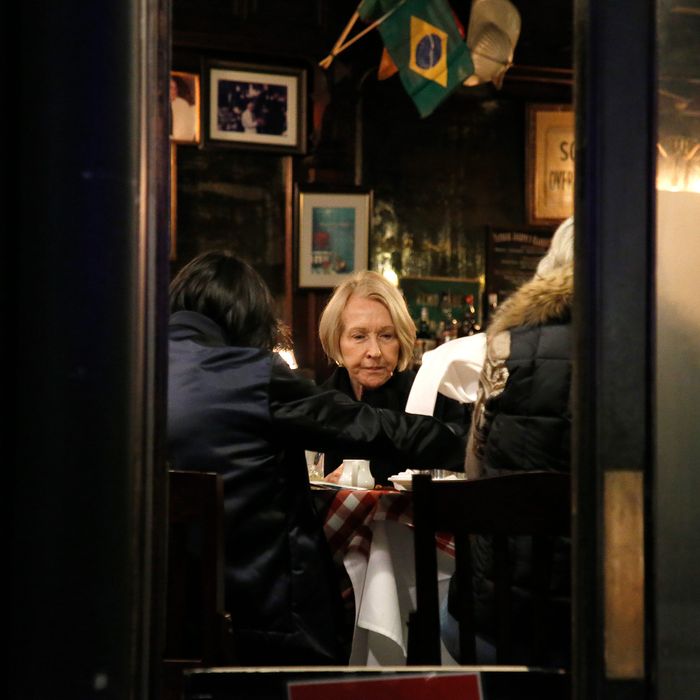 "Would you mind opening the window a bit more?"
Photo: John Lamparski/Getty Images
Late last week, I got an unexpected email. It was a PR blast from one of the city's more popular restaurants touting its November 4 reopening tied to the expansion of New York City's indoor-dining guidelines. I had, to be honest, either forgotten or not completely registered in the first place that a tentative November 1 date had been set to reassess the city's indoor-dining capacity, and that it would increase to 50 percent if the infection rate did not increase. When it was announced in early September, the plan seemed like a reasonable timeline. Now, however, there are all sorts of troubling signs that indicate it may not be the best time to pack more people into the city's restaurants.
To be clear: The city's owners say they need more patrons if they want to stay in business, and we all want them to stay in business. But cases in New York State and New York City are nevertheless continuing to rise in an alarmingly steady fashion.
One way to know for certain that the coronavirus still poses a severe risk to all Americans' safety is that the Trump administration says it does not. Another way to know is to simply look at the numbers, which are worse than they have ever been. They are so bad, in fact, that Governor Cuomo now advises the vast majority of Americans to maybe just stay away from New York, which is still handling the spread comparatively well.
Given all this, owners are understandably wondering whether the November 1 expansion will hold or be pushed off. Cuomo, at the moment, isn't saying anything definitive, though it stands to reason that officials will eventually push back the expansion.
It's not a given, though! For months, health experts have warned that cases would rise in the fall and into the winter. We know how to slow the spread of the virus, and yet the numbers are indeed going up. We saw it coming, and we did nothing to prevent it. (Some people simply cannot be trusted to take basic precautions.)
If a delay does happen, it will be bad news for owners and the diners who were excited to sit indoors, where it is warm and not raining, and eat a meal they do not have to cook before they leave without having to do the dishes.
If indoor dining expands as planned, though, it will be bad news for workers — who remain, irrefutably, the most vulnerable people in this equation — and, likely, for the population at large if cases continue to surge. It will also, inevitably, be bad news for the owners and diners, since it will lead to another shutdown (look at what's happening in Chicago), and then we'll all be right back where we started. It's something of a running theme in 2020!
There is a right answer, of course, which is to incentivize business owners to stay closed by offering them assistance in the form of … money. Owners and workers need help, we want them to stay in business, and this is a once-in-a-century disaster that demands sacrifice and generosity in equal parts.
Will that actually happen? Probably not. Even when the right way forward is obvious, we seem — for so many reasons, all of them dumb — unwilling to fully pursue it.