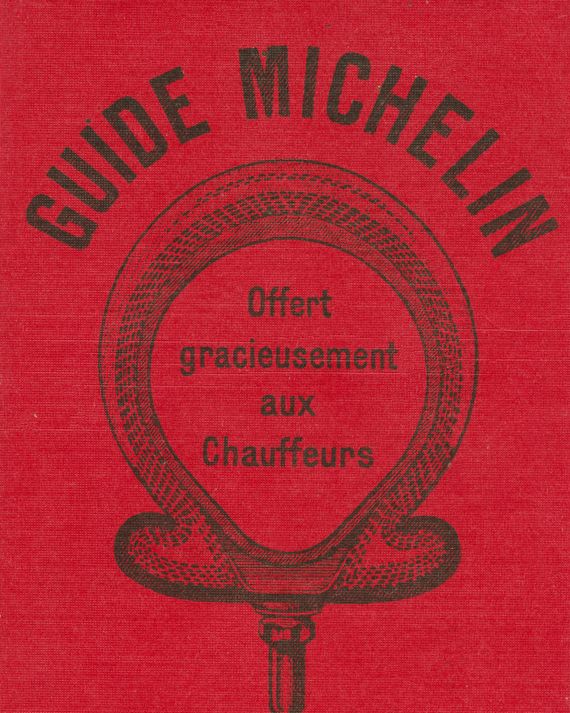 A Michelin guide from 1900.
Photo: adoc-photos/Corbis via Getty Images
Right now, there is so much to look forward to: the day when our in-boxes are no longer filled with campaign fundraising pleas, the far-off afternoon when the sight of a stranger's unmasked face doesn't trigger pangs of alarm, a time when the whole world no longer feels as if it's teetering on the brink of collapse. But, in a typical year, this is around the time that the food world would begin to look backward — to reflect on the best restaurants of the year, the best dishes, the most impressive chefs, etc. etc. etc.
Of course the ideas of "new" or "best" have almost nothing to do with the restaurant conversation right now. The more relevant descriptors are phrases like "still open," "surviving," and "offering some degree of comfort." This is a problem for all sorts of reasons — it's grim! — and, as you might imagine, it is especially problematic for enterprises that are built expressly to give awards to high-end restaurants around the world.
The James Beard Foundation has halted its annual restaurant awards for at least another year and is in the midst of a messy foundation-wide reckoning. The World's 50 Best has shifted its focus from restaurant ranking to industry recovery. And Michelin, the most storied name in the restaurant-awards game, announced that it has indefinitely delayed the release of its 2021 guides in America.
Here at Grub Street, we are — it probably goes without saying — not exactly strangers to the idea of restaurant rankings or hype. Covering any city's restaurant scene is typically a terrific beat — a pleasure to write about, fun to debate, and hopefully useful to people who want advice on where to eat.
During the best of times, Michelin's city guides manage to be both incredibly silly and undeniably popular. The annual October release of the New York guide is big news, at which point we all begin dutifully breaking down each year's winners and losers. Michelin, as a restaurant-ranking organization, tends to be incredibly self-important, frustratingly opaque about its operation, and curiously out of touch with other local critics. This combination makes it an easy target for criticism, which is as much a part of the annual Michelin rollout as the guidebook itself.
What's become increasingly clear is that, pandemic or no, the attributes traditionally favored by Michelin raters — super-high-end tasting menus rooted almost exclusively in European or Japanese cooking — are not necessarily the attributes favored by diners. Watching the industry collapse around us over the past eight months has only emphasized this reality: Most diners don't yearn for flights of old-world wines or laborious tableside deconstructions of artfully cooked produce — or even delicate little swooshes of sauce and puree.
It is the simpler, unrankable pleasures that are missing from so many of our lives.
Now, and for the foreseeable future, any restaurant that offers honest food, some semblance of human connection, and the promise that I won't have to do the dishes is, in the words of Michelin, "worth a special journey."
This is not a knock on the Michelin-targeting restaurants or the extremely hardworking people that run them. Talk to almost any chef or owner who has been on the receiving end of Michelin's praise and they will tell you that the monetary value of the tire company's stars is very tangible, not only in increased business from travelers, but in increased business opportunities: cookbook deals, access to funding for new restaurants, demand to expand an empire around the country or world.
To be fair, Michelin recognizes this, hence the "pause" in its ratings, and an upcoming fundraiser for California restaurants. But even the concept of a temporary pause presupposes a time in the future when we will return to business as usual. When will that even be?
It all feels so far away. The thing that restaurateurs need right now, more than stars, is aid, aid in the form of the RESTAURANTS Act, perhaps, or any other kind of government assistance that fully recognizes the inherent value of these businesses, not as destinations for international travelers but as places of refuge for neighbors and friends.
How long will it take restaurants, in New York and beyond, to rebuild? What will the city even look like on the other side of this? In France, the Michelin Guide has taken years off before. It also discontinued its Los Angeles edition in 2009, and still managed to make a splash with a new California guide last year (a guide for which the state's tourism board reportedly paid Michelin $600,000). But things are so different now and there is no clear path back. This moment instead feels like an inflection point, when the guide's frivolousness might finally outweigh its usefulness.