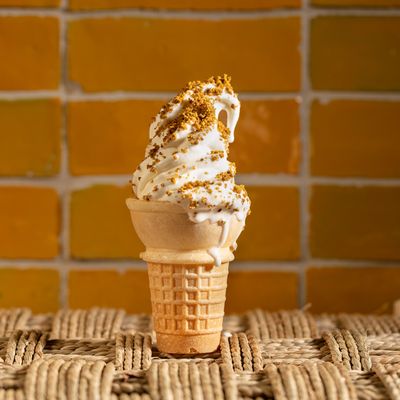 What happens when booza meets Mister Softee.
Photo: Melissa Hom
Business partners Naji Boustany and Ziyad Hermez had an idea for a new dessert that combined two of their favorite types of ice cream: the stretchy, Lebanese specialty known as booza, and the gentle swirls of soft-serve that are handed out at trucks across the city. So, Boustany, who is the executive chef at the restaurant Manousheh in the West Village, started in on R&D: He bought a Cuisinart soft-serve machine for his home kitchen. "We had to play a lot," Boustany says.
The problem is that the two types of ice cream do not, at first, seem very compatible. Booza's famous stretchiness comes from two ingredients: sahlab, or ground orchid root, and the tree resin mastic. "The more you churn it, the thicker it gets," Boustany says, "so it wouldn't get out properly from the machine."
Ultimately, he landed on a texture that is less stretchy than traditional booza, but more dense than what you'd find at your nearest Mister Softee. Boustany and Hermez chose the classic flavor of ashta, rosewater and orange blossom, for their first flavor, with a final dusting of crushed pistachios.
Though the dessert is rooted in tradition, it is, the duo says, a completely new invention. "Someone might have it," chef Boustany says doubtfully, "and we don't know about it." But as an avid ice-cream enthusiast who has sampled all frozen creamy desserts in New York City, Beirut, and beyond, Boustany has never found a soft-serve version of booza. Neither has Hermez. They're calling it "Ashta Merry Cream," a reference to both the flavor, and the name given to soft serve in Lebanon. ("Only a few people will really get that," says Hermez.)
Of course, there was one last hurdle to clear before Boustany and Hermez could actually unveil their innovation. Their West Village restaurant was too small to house the commercial soft-serve machine. "It's bigger than the location!" Boustany explains.
Today, though, Manousheh will open a second, larger location at 403 Grand Street, on the Lower East Side, in a space that's large enough to fit the necessary equipment. "Now is the time, Boustany says. "We're here."
In addition to the Ashta Merry Cream — which costs $3 for a small and $5 for a large — the bigger Manousheh has shelves of Lebanese imports like jars of pickled turnips and pomegranate molasses, as well as an expanded menu. Freshly baked man'oushes (the classic being za'atar with labne) are offered with various toppings, as are slow-cooked, garlicky legume mezze dishes; drinks made with Arak, the Lebanese anise liquor; and a full coffee bar that includes coffee served in the Lebanese rakweh pot.
"We're not here to go and mess around too much with things that are traditional," Hermez explains. "But we want people to try the ashta ice cream with pistachios the way that it's meant to be served — it just so happens that we did it out of a merry cream machine."