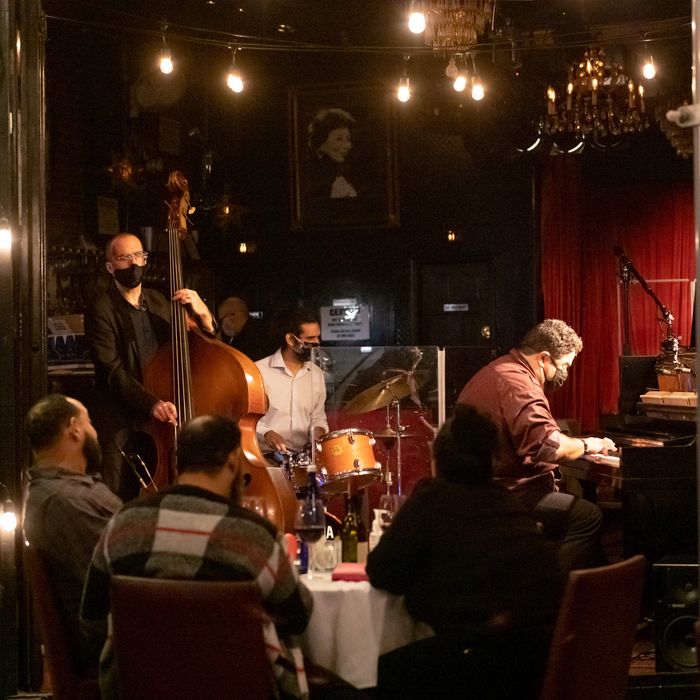 Musicians Adrian Moring (bass), Juan Carlos Polo (drums), and Arturo O'Farrill (piano) playing at Smoke Jazz & Supper Club on October 20.
Photo: Alexi Rosenfeld/Getty Images
Sunny's Bar has survived the Spanish flu, Prohibition, and both World Wars — COVID-19 is the latest hurdle, as the Red Hook bar grapples with the financial instability that comes with reduced indoor capacity and outdoor service that's hindered by weather and available space. In anticipation of the winter, Sunny's owner, Tone Johansen, has embroidered the bar's logo onto blankets she plans to sell. Heat lamps are too expensive.
A musician herself, Johansen is also among a number of bar and restaurant owners hiring musicians, a practice that fell out of favor even before iPhones, streaming services, and sound systems became the ambiance-providers of choice. Now, though, besides private events, which have dwindled both in regularity and size, restaurant and bar gigs are one of few ways working musicians can get paid while venues remain shuttered.
Still, those gigs can be difficult to secure. Saxophonist Sam Taylor has noticed that most musicians currently playing at restaurants and bars had a relationship with the business beforehand, and that's the case with his stint at the Grange Bar and Eatery in Hamilton Heights.
Taylor relies primarily on the restaurant's guaranteed pay, but not all gigs have a guaranteed rate — or at least a substantial one. Jazz band the Gotham Easy relies on tips, and with five bandmates, profits can thin out quickly. (All of its members also participate in other bands and sometimes perform solo.)
"There are definitely fewer opportunities. We know a lot of people who have made opportunities for themselves — just get a band together and go from restaurant to restaurant or bar to bar and scrounge for tips," says Chris Cortier, a trombonist and singer for the Gotham Easy. "We've had gigs where we get 10 percent from the venue, and the rest is tips. The percentage changes based on how many tips we're able to hustle, but at the end of the day, maybe a quarter of it, or less, is guaranteed."
It doesn't help that guaranteed rates for musicians haven't changed much since the 1960s and '70s, according to the group's tubaist Joe Exley. With venue shutdowns and new regulations, playing gets more perilous, too. Recently, the Gotham Easy was hit with noise complaints as they played a bar on Avenue B. Afterward, they were told they couldn't return. It was 6 p.m. on a Sunday.
"Restaurants and clubs are struggling to figure out how they can survive, and then the city is struggling trying to figure out how to get people to be able to survive but also to be safe," says Stefan Zeniuk, the Gotham Easy's clarinetist and saxophonist.
The rules haven't been easy to navigate for operators, either. Crown Heights bar Wild Birds opened in July; co-owner and booker Julian Klepper had to call five different government agencies to determine whether he was even able to host music outside, a condition related to his liquor license. When he made those calls, no one could give him an answer. (In fact, proprietors have found themselves in the dark frequently regarding city rules. Bushwick's House of Yes was temporarily closed for violating regulations they believed they were following.)
Those who are open must also consider what matters most to their bottom line: entertainment, or space for one more paying table. After all, a five-piece band is included in the capacity limit.
There's an undeniable curb appeal to a restaurant with music, one that feels more alive: Pasta Louise owner Allison Arevalo opened her doors in July, and Park Slope neighbors have come in to praise the outdoor music and offer up other potential acts. (This being Park Slope, it's probably a given that kids dance outside of the restaurant.)
Yet, as it gets colder, there's a new set of concerns: Who will still dine outside? Who can afford heaters? Will musicians feel comfortable playing indoors? Will restaurants give up seating space — and capacity — for entertainment? With the winter in mind, violinist James Teal bought a carbon fiber instrument, which can withstand the weather far better than its traditional wooden counterpart. He knows not all musicians can afford to do so. And at a certain point, they'll have to go inside.
"At what point do we draw the line of, 'Okay, I'm comfortable with this', or 'I'm slightly uncomfortable with this, but I'm just going to do it anyway because I need to work?'" Gotham Easy accordionist Erica Mancini posits. "Personally, I'm going to take the risk of being indoors because I physically can't play when it gets too freezing outside."
Meanwhile, the indoor plans at Wild Birds are still uncertain. Klepper had COVID-19 himself, as did most of his team, and he doesn't want to participate in the disease's continued proliferation; he won't open his bar to the public until it's as safe as possible. For now, music is kept outside as he works with an HVAC expert to create filtration systems.
But even outside, coronavirus remains a concern. Cortier worries that the Gotham Easy's big-band party music could contribute to an environment where customers take off masks, drink, and hug: "We love to see people have fun, but at the same time, we don't want to be agents of virus-spreading."
Johanson looks to Sunny's previous hurdles: For the past hundred years, it's been a bar in some iteration. "The trick to survive any crisis is that you just have to hold on tight and have a strategy. There is always another end," Johanson explains. Live music is an essential part of that strategy; she calls online concerts a "virtual meal" that can't make you full.
"Music is an energy exchange. That is so necessary, especially now when people are hungry for life," Johanson says. "We need that. We're a little starved of that right now."