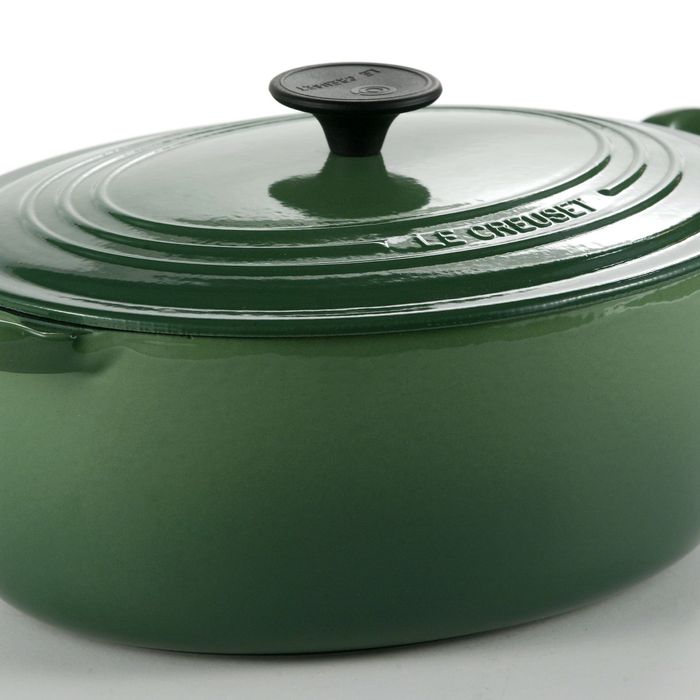 Just look at this beauty.
Photo: Myung J. Chun/Los Angeles Times via Getty Images
Even in times of great darkness and unrest, people can find comfort in brightly colored luxury cookware. In fact, Le Creuset, the French brand founded in 1925 has become an object of lust among TikTok "cuspers" — content creators who straddle the millennial and Gen-Z generational divide.
"Everyone has a lowkey obsession with le creusets, right?" posted user ave.abe, who identifies herself as "the le crueset girl," is known for her Le Creuset–heavy mood boards and recently posted a short ode to the company's honey pot, paired with the song "Mystery of Love" by Sufjan Stevens.
Many TikTok users say they were unfamiliar with the French pots until they discovered them on their "FYP," or "For You Page," a sort of home page that populates with recommended content on the app.
Now, to satisfy their ardor without spending several hundred dollars for a Dutch oven — the classic 5.5-quart pot retails for $360 — they take to TikTok, where they edit intricate posts dedicated to the well-heeled brand and its vast rainbow of colors. (Le Creuset has recently added a "Cosmos" color scheme — "deep, dark & captivating" — for fall.)
In one before-and-after video — a popular form on the platform — a user begins with an image of her despondent face: "Me scrolling through Tik Tok a week ago not knowing anything about cookware." Suddenly, the song "I Like Him" by the artist Princess Nokia swells. "Me now being obsessed with dutch ovens from a brand I never heard of."
However, upon learning about the brand and its coveted enameled cast-iron, many are unhappy to then learn about the famously high prices. "For like a week those fucking pots have been on my FYP, the really cute cottegecore ones?" marveled another new initiate. "They're $300???" And yet, even skeptics have found themselves intoxicated by the French brand's aspirational enameled stability. In one telling Tok, a user captures her enchantment with the pots as Irish musician Hozier's "Someone New" plays in the background.
While the Dutch ovens dominate the phenomenon, other users have focused on Le Creuset's less iconic offerings, including cocottes shaped like hearts, flowers, and pumpkins. "This is the real hero!" user niklebirt observes. "I'm not even into, like, fall décor or anything and that's charming as fuck."
Though the meme is primarily focused on desiring, but not having, Le Creuset, some TikTokers are using the trend to showcase their own collections.
"Lemme flex the le creuset gang real quick," posted one user, showing off her "medium bitch 'soleil'," "small asf 'provence,'" and "big daddy 'cosmos.'" Another user offered a series of posts featuring her extensive Le Creuset collection, including what appears to be a drawer filled with pots from the brand. On Twitter, Morgan Sung, a writer for Mashable, upon seeing the drawer post in question, observed, "this is what generational wealth looks like."
Some other observers simply don't understand what this all means.
"Out of all the things 2020 has brought, the most surprising in this exact moment is being cancelled on TikTok by Zoomers who are obsessed with @lecreuset pots," tweeted an apparent Le Crueset skeptic named Alex Fitzgerald.
"Is Gen Z okay?" Fitzgerald asked on TikTok, the platform where they tend to gather. "I mean, this is some serious boomer vibes."