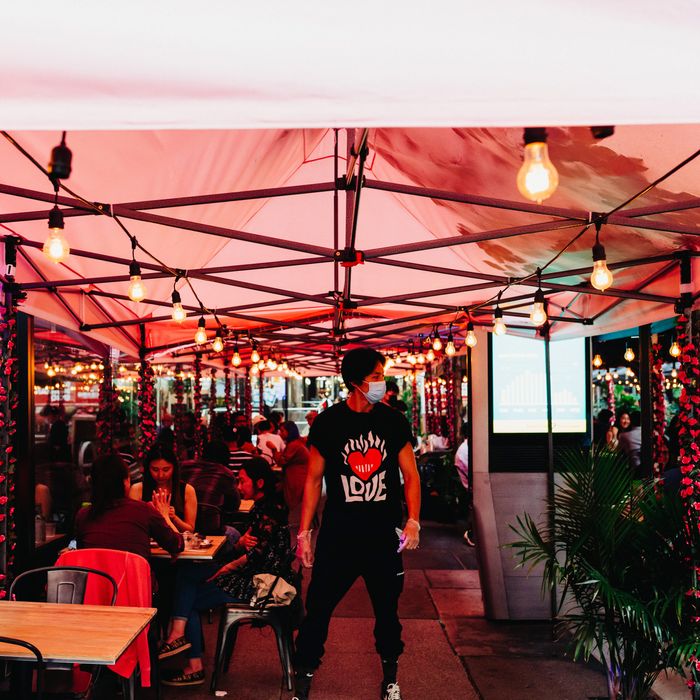 Coronavirus is the biggest threat to Manhattan's Koreatown since its inception in the 1980s, and yet, the neighborhood has never looked better. On any given Friday night, the new patios along 32nd Street are filled with diners and sizzling barbecues, music blasting, dancers lining the streets. But the festive scene at street level is deceiving, and K-town restaurant owners say that they are struggling to keep up with soaring rents and the city's ever-changing regulations.
"Koreatown is Manhattan's busiest late-night dining destination, so we were hit extremely hard," says Bobby Kwak, a co-owner of Kang Ho Dong Baekjeong. "We only make two turns per table," he explains. "We used to easily hit up to ten turns on a weekend night."
The two blocks between Sixth Ave and Madison are home to more than 100 small businesses — restaurants, karaoke bars, and nightclubs — that cater to a largely non-Korean crowd of locals and tourists. But as those customers have disappeared, this distinctive nightlife hub, where many of the businesses are located above street level, is in a uniquely precarious position, and operators are left to wonder how they'll see it through.
Rent along "Korea Way" can be as high as $60,000 per month, a shockingly high rate even by midtown standards.
"Rent reflects that we're open 24 hours, every day of the year, on every holiday," says Christina Jang, who owns New Wonjo. "We're not afraid of hard work … but right now sales are barely 15 percent of what they used to be." Christina Jang's mother, Hai Wha Pak, owns Kunjip across the street from New Wonjo. Both restaurants are decades-old staples on Koreatown block, and despite having no shortage of loyal customers at their outdoor dining, Jang and Kwak say making rent is impossible.
"My mother's been in the Korean restaurant business for 40 years and she's never seen anything like this," admits Jang. "We survived Hurricane Sandy with active delivery and takeout, but this is too long and unpredictable."
It is not only the rent and other fixed costs. The ongoing effects of the coronavirus pandemic threaten the very essence of Korean food, which is built on a foundation of family-style sharing. A typical Korean meal requires space, with hot stews, sizzling meats, and at least five pungent banchan, or side dishes, served at a single table. "Co-workers are no longer comfortable sharing banchan, so we've had to separate them out individually, which is so strange for our culture," Jang laughs. "It's a whole new world for Korean food."
Korean barbecue houses, meanwhile, are braving New York City weather without being able to provide traditional tabletop grills to outside diners. "We can't do that outdoors," says Bobby Kwak. "We're grateful that people have been understanding, as we're running meat as fast as we can outside." He sums it up like this: "The support's amazing, but we're struggling financially." The upcoming fall and winter months add additional apprehension for restaurateurs who have to shoulder yet another expense to install outdoor heat lamps.
The return of indoor dining is welcome for most Koreatown businesses eager to recover, but the neighborhood's remarkable vertical density remains a major limitation. "Most businesses in K-town are above the ground floor, and those restaurants, bars, and karaoke clubs on the third, fourth, and fifth floors, and so on are at a huge disadvantage without outdoor dining," says J.K. Kim, owner of Soju Haus and Food Gallery 32, both located above the ground floor.
"We won't survive the winter without government help," says Joung Lee. "Our livelihood is in the hands of the city." Last month, Joung Lee permanently closed CajunSea, a seafood restaurant on 33rd street, despite receiving a short-term loan from the Paycheck Protection Program. He fears his two Koreatown restaurants, Pocha 32 and Gopchang, are next. Lee notes it's been "night and day" when dealing with landlords who are willing to negotiate rent, but concedes landlords are also struggling as business owners.
I've seen firsthand how brutal the business realities of New York City can be, and the reinvention that it can require. My father and brother first came to Koreatown in the 1980s and opened a commercial retail store right off the block. They sold electronics as wholesale retailers, and their 30-year-old business went from operating 80 hours a week to zero for the first time in decades when coronavirus struck Manhattan in March 2020.
My father and uncle had to radically pivot their business model. Similar to K-town, their monthly commercial rent is $40,000 and they work almost constantly. Within a month, they found mask manufacturers, and called upon their existing wholesale retail networks to disperse masks throughout Manhattan.
Other businesses in the area have been forced to make similar shifts. Paul Choi has had a particularly painful first year in business, having opened not one but two restaurants just prior to when the pandemic struck Manhattan. His restaurants Tap Haus and Shabu Garden were exciting newcomers to the Koreatown neighborhood until coronavirus disrupted their unique indoor concepts.
In fact, Choi had to completely readapt Shabu Garden, since its dining tables, equipped with hot pots, could not be transferred outdoors. So, Choi hired a new chef to create an entirely fresh menu of comfort Korean food for their temporary pocha — short for pojangmacha, or "tented wagon" — of a street-food vendor.
Choi operated the pocha at night in Shabu Garden's outdoor dining area, and focused on Korean lunch boxes and bubble tea during the day. Now that indoor dining has resumed, he will close the pocha and continue indoor hot pot. "It's just a whirlwind of not knowing what's next," Choi says. "The hustle is real."
More heartening, perhaps, is the sense of community that remains. "Everyone on our block is giving their all every night to make K-town enjoyable for customers," Kwak says, before adding, "We're not giving up what we've built for the last 20 years."
As painful as Koreatown's transformation has been, some visitors appear to prefer this new version, with its festive lights, greenery, and walkable streets when they're closed to car traffic on weekends. As one customer told me recently, "It's actually a better experience now than it was before." For the operators who desperately need customers, they hope that message can get through to as many people as possible.