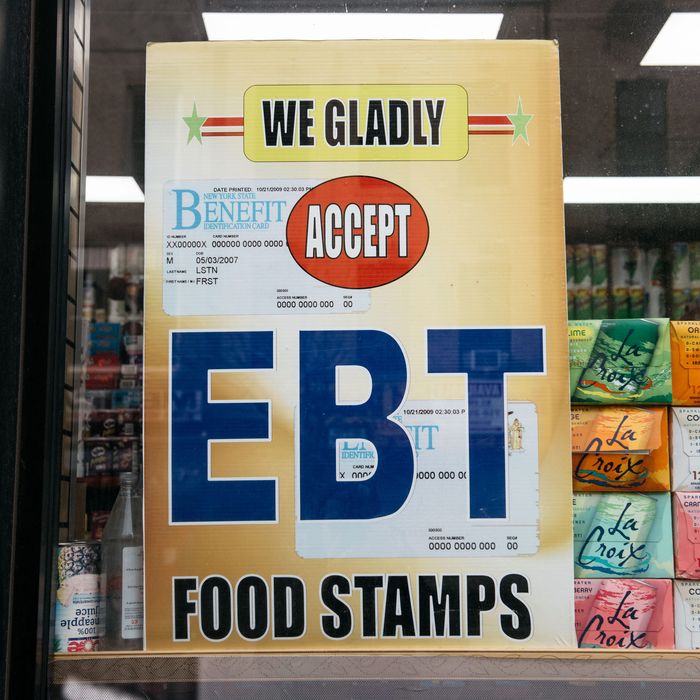 Photo: Scott Heins/Getty Images
A federal judge has officially blocked the Trump administration's plan to end food-stamp benefits for nearly 700,000 unemployed Americans. In her decision, Chief U.S. District Judge Beryl Howell called the USDA's rule "arbitrary and capricious," writing that it would have left states "scrambling" and "exponentially" increased food insecurity.
In a statement, New York Attorney General Letitia James told the Washington Post the decision is "a win for common sense and basic human decency," adding that — in addition to stripping tens of thousands of people of basic resources — "would have exacerbated the public-health crisis we face and the economic recession we are still in the midst of under President Trump."
It is, however, a loss for the administration, which has been diligently working to cut food assistance for tens of thousands of people currently receiving it. The rule, which had been approved by the Trump administration in December of last year, would have made it harder for states to waive federal requirements for SNAP assistance. While able-bodied adults without dependents (ABAWDs, in bureaucracyspeak) have long had benefits capped at three months, unless they can provide sufficient proof of at least 20 hours of work or school per week, states have historically been able to waive the time limit based on local economic conditions. The new rule would have made it harder for states to get those waivers. This was good, the administration argued, because it would promote "work, self-reliance, and personal accountability among the ABAWD population," and "move more able-bodied Americans to self-sufficiency." (Critics, as The Atlantic notes, have pointed out that work requirements do not in fact help people find work.)
The coronavirus, though, put plans on hold: While the rule was initially set to take effect in April, Howell issued a temporary injunction on March 13, when COVID-19 was declared a national emergency, Congress waived the new requirement for the duration of the crisis, and the Trump administration suspended its planned timeline. But, as the Post explains, the USDA appealed the judge's order, meaning that the rule would have gone into effect as soon as the state of emergency was lifted.
Now, it won't. In her 67-page decision, Howell argues that the rule "radically and abruptly alters decades of regulatory practice," noting that the USDA opted not to engage with the question of how the policy would disproportionately hurt "minorities, women and people with disabilities," or the impact it would have were it already in effect, NPR reports. "The agency has been icily silent about how many ABAWDs would have been denied SNAP benefits if the changes had gone into effect during the pandemic as planned," she wrote. "In the pandemic's wake, as of May 2020, SNAP rosters have grown by over 17 percent with over 6 million new enrollees."
In New York City, an estimated 1.5 million people — roughly 18 percent of the total population — can't afford food, according to the New York Times, with people depending on food pantries in record numbers. Meanwhile, the federal aid that was helping to keep people out of poverty has dried up.
Per the Post, the USDA still has two other proposed rule changes pending — one capping deductions for utility allowance, the other limiting SNAP access for working families — but in at least this one case, common sense has won.