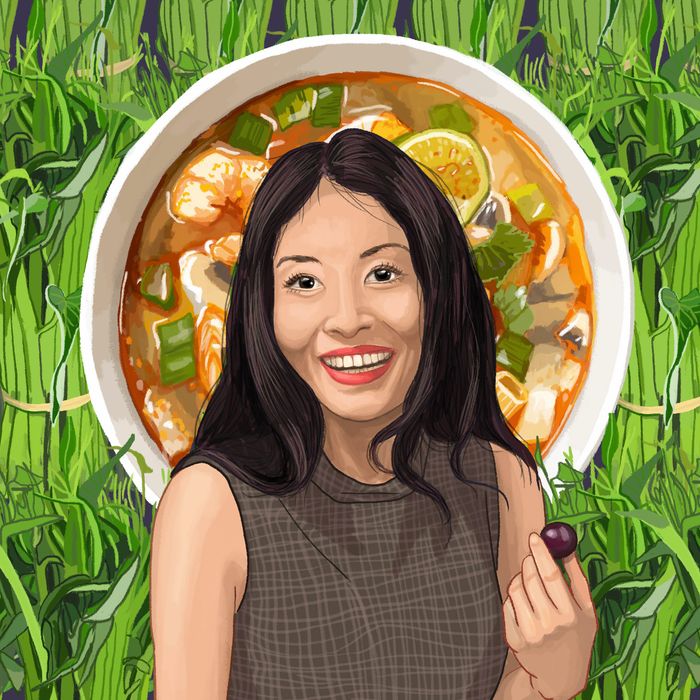 Illustration: Margalit Cutler
As a staff writer for The New Yorker, Jiayang Fan has covered the umbrella protests in Hong Kong, Constance Wu's star power, and the impact of the coronavirus on Chinatown. But she got personal in an essay last month in which she details her mother's struggle with ALS, a story that Fan will expand on for a book, Motherland. "Food is our language," Fan says of her mother. "She loves to send me lists of what to buy at the grocery store." While Fan is currently busy advocating for her mother's care, she makes time — sometimes at very late hours — to snack on dried squid, feast on flaky mooncakes with friends, and make sure her local Taco Bell knows that, yes, she really does want 50 packets of hot sauce for her five tacos.
Thursday, October 1
I'm not usually a big breakfast person, but I'm a huge leftovers person. I should add here that I'm an insane night owl — maybe "owl" doesn't even fully capture the scope of my madness, which is to say I often move seamlessly from dinner to breakfast without sleeping. I'm sheepish about the freakish nature of these hours — another reason why my career choices were basically between writer and night security guard — and recognize that it's not a great strategy for longevity. But it does mean a pretty big appetite by 5 a.m., when I'm having my breakfast, which is actually more like dinner, before I prepare to go to bed.
The night before, I had eaten with a friend at Madame Vo, which left me with a doggy bag of pho and stir-fried eggplant. Madame Vo's pho is reliably good (though, if I had my choice, the only meats I would ever put in pho would be tendons and tripe!), but the real treasure is the eggplant, ca tim xao xa ot. Madame Vo's version is cooked with lemongrass, scallions, and chile sauce. What makes it magical is its crispy shell combined with tender flesh. I love the pairing of airy crunch and soft velvet. It's a humble kind of exquisiteness.
For lunch, I met up with my friend and favorite foodie Hannah Goldfield — The New Yorker's food critic — whose pathological obsession with Sichuanese food resonates with my own. So naturally we went to Public Village, a new Sichuanese spot on Essex Street that promises to have you "eating, drinking, and gossiping like a Sichuanese." As a Sichuan native, I was naturally curious. There was a nice breeze and plenty of opportunity for people watching — Chinese grandmas with grocery bags and rail-thin hipsters with neon-colored masks — when Hannah and I gnawed on beef jerky, an appetizer that we didn't realize would arrive in a freeze-seal bag. Spicy Sichuanese jerky is my favorite savory snack. I've been known to play fast and loose with customs declarations when I smuggle cartel-worthy quantities of jerky on the plane from China to the U.S., but the beef at Public Village is a lot stringier than I expected. Still, the mala flavor — the numbing tingling caused by Sichuan peppercorns — was pleasingly aggressive. We also decided to order most of the menu: smashed sweet-and-sour cucumber salad, tofu-skin salad, chile-oil dumplings, a flat noodle wrap with chicken sausage and mozzarella cheese and egg, chilled spicy noodle with cilantro and scallions, and squid-ink noodle with braised beef (this was a first time for me).
The rest of the afternoon was pretty unpleasant. I was called a "COVID chink" on the subway and then had an unsuccessful time trying to collect the COVID-test result for my mother's health aide, a non-English-speaking Fujianese immigrant. To reset, I met up with my friend Betsy Morais and her husband, Thomas Rhiel, for dinner on the Upper East Side. We took our seats around 9 p.m. at Quality Eats, where, close to us, a jazz band played on the street. My diet is probably 85 percent Asian food, but I'm a devotee of steak. I like to play the "last meal on Earth" game a lot with friends, and my last meal — I want a tomahawk steak and a two-pound lobster! — has unfortunately always sounded very Trumpian.
Friday, October 2
After retiring at the relatively early hour of 3 a.m., I woke up around 10. The first thing I did was go to the grocery. My mother's aide was running low on fresh vegetables and even though she'd already been in the facility taking care of my mom for two weeks, it looked like she might have to stay a day longer if her replacement aide didn't get her COVID test sorted. I bought cucumbers and tomatoes, my mother's aide's favorite, and some white peaches, black velvet apricots, watermelon, and cara cara oranges for myself.
After I delivered the vegetables, I went home and remembered I had leftover stir-fried periwinkle snails from the day before. I questioned the prudence of eating snails that have been in the fridge for two days and conducted multiple taste tests. But the snail was just too precious for me to throw out. I heated them up and dug them out with toothpicks. For dessert, I had brown-sugar boba-tea ice pops.
I have to graze when I'm writing and eating. Which means I am grazing 80 percent of the time that I am awake. This wreaks havoc on my teeth but guarantees that there is always something in my snack drawer. Currently in stock in my kitchen: dried fish, dried squid, wasabi peas, candied pecans, Pocky sticks, mini Heath bars, Bouchard dark chocolate, green-tea plums, Meiji gummy choco candy in the muscat gummy flavor.
Actual Muscadine grapes are only available in July and August and sold exclusively in Chinatown or on sidewalk carts. I used to buy, I kid you not, two pounds a day — and the Indian fruit seller near my apartment would alert me every summer when they were back in stock because he knew I would spend hundreds of dollars on it. They're like a summer-camp boyfriend. By August, you think, I'm gonna have to part with you soon … That has been my relationship to them for years in New York City.
This year, likely because of the pandemic, the fruit stand near my house disappeared and I haven't seen Muscadines in Chinatown either. These grapes always taste like a burst of childhood summers in China, where Muscadine was the definition of a grape. The juice is so honeyed and thick. When I first arrived in the U.S., I couldn't believe grapes that were so pretty could be so tasteless. So the closest approximation to muscadine for me this year is the muscat-flavored gummy candy. It's not really the same, but in a pandemic, you don't get to be choosy.
Lunch is around five. I am still hopelessly hung up on Madame Vo's eggplant, but it is too far downtown for me to order delivery. I order a stir-fried eggplant dish at a Vietnamese and Thai restaurant nearby to trick myself. It doesn't work; the eggplant is mushy and tasteless. I eat it reluctantly because I'm constitutionally incapable of throwing out food.
Dinner is Cantonese shrimp dumplings and crab soup dumplings. I bought frozen bags of them in a Chinese grocery last week without high expectations, and they are actually kind of amazing? Almost — almost — dim-sum level.
Saturday, October 3
Woke up late and had shrimp cocktail for breakfast. Two of my favorite regional breakfasts are traditional Japanese breakfasts — which consist of rice and grilled fish — and Cantonese fish or squid congee, which is usually served as the first meal of the day. I much prefer the shrimp-cocktail package at H-Mart to the one in Whole Foods, but because the latter is closer to me, I make do. The problem with the Whole Foods one is its cocktail sauce lacks punch. To remedy this, I sprinkled the cocktail sauce with wasabi furikake seasoning. I also made a porridge out of leftover rice and threw together a few appetizers: fermented tofu and pickled mustard tuber.
For dinner, which is actually lunch, I was invited to a neighbor's backyard. My hosts are Eric Wong and Hao Wu, a documentary filmmaker whose latest feature is 76 Days, a compelling and unsparing look at the Wuhan lockdown. A native of Chengdu, the provincial capital of Sichuan, he is also a master chef whose attention to detail is as evident in his films as it is in his cooking. While I waited in the yard, chatting with their adorable 5-year-old kids, Leni and Clayton, Eric brought out sweet-and-sour pork ribs, mapo tofu, Sichuanese saliva chicken, and tofu stir-fried with celtuce. Hao and Eric both remark that I eat more than their family of four combined.
For dessert, Eric brings out his mom's homemade mooncakes, which she had mailed from Atlanta in celebration of the Lunar Festival. The mooncakes came in two shells, the moist, chewy kind that's golden brown with an ornate pattern printed on top and a crumbly, flaky kind that's crispier. They all have Chinese date paste and salty yolk fillings. Even though they are as dense as hockey pucks, I scarf down two. In Chongqing, I remember the highly varied and creative nature of the fillings, from crawfish to leeks to spicy beef. But because I'm a Sichuanese Basic Bitch, I like red bean or date paste the best.
Sunday, October 4
I woke up with a craving for pastries. So I headed to my favorite pastry shop: Paris Baguette. This probably confirms the suspicion that I don't have taste. Yes, I prefer a Korea-by-way-of-America bakery named Paris Baguette to anything that comes out of Paris. I bought a pain aux raisin, a blueberry cream-cheese pastry (the only time you'll catch me eating cheese is when it's in a Korean pastry!), and a piece of chocolate-strawberry cake with vanilla frosting. I admit that this is overkill, but since the pandemic, I rarely visit bakeries, so I give myself permission to indulge. I also get a cup of chai latte. I do so to avoid having to stop by Starbucks, even though I prefer the Starbucks chai latte because it's less rich and creamy.
I walk with the pastries to Marcus Garvey Park, from which I can look up at my mom's hospital window. I can't ever see her because her bed isn't next to the window, but reading here makes me feel close to her. Due to COVID cases at the facility, I haven't been able to see her for two weeks. Food is our language. She loves to send me lists of what to buy at the grocery store. My mom blinks out the letters to her aide one at a time. Bless the aide who transcribes these lists.
While I was a kid, when my mom was working as a housekeeper in Greenwich, Connecticut, we would eat dinners mostly with the family that lived there, and that was when I was introduced to American food for the first time. The children loved pasta and chicken nuggets. I was a huge eater, like 3,000 calorie days, and my poor mother, she was so grateful to be a live-in housekeeper at the time because at least she could keep me fed. I remember thinking, Why would anyone eat something so bland when there's a universe of flavors out there? The only thing we had was the salt and pepper shaker. I would just empty the shit out of the pepper shaker because it was the only thing that would give my chicken flavor.
Americans love their chicken breast. Nobody in China eats chicken breast. Nobody eats white meat in china. The best part of the chicken is the feet, the legs, the neck: all the parts that Westerners throw out. Whenever my mom would even cook something simple like stir-fry bok choy, the kids would make fun of her: "So smelly!" That does something to you when you're a fearful immigrant. It brings a social hierarchy. On the weekends, my mom would take me to one of the grocery stores in Greenwich and they had the hot-food bar and occasionally they had BBQ drumsticks. They felt like an oasis in a desert. BBQ drumsticks!
Six p.m. rolled around, and I headed to the Upper West Side to meet up with my friend Simon, who owns one of my go-to Sichuanese hotpot places in Manhattan, Legend 72. Unfortunately, I haven't had hotpot since March — doesn't exactly seem like a pandemic-friendly food! — but Simon, who is also a Chengdu native, knows the agony of the chile-pepper-deprived. His business partner and chef, another Sichuanese native, have already begun cooking when I arrive.
There are dishes of conch with chile oil, kung pao chicken, boiled tilapia with rattan peppers, spicy fish with green-bean jelly and pig trotters on the table. I requested two vegetables: pea shoots with egg and lotus roots with celery and fungus. This last dish is probably my favorite because I love sautéed lotus and always misremember its ridiculous Chinese name — Lily Flowers Under the Moon Light — for something even more ridiculous: Gilded Palace Encrusted With Jade. In Chinese, there's a similar ring to both phrases, I promise!
I begin cooking dinner around midnight. I had leftover containers of rice from lunch and regret not packing up the leftover sauces of the various dishes at lunch. In the fridge, I find kimchee. I also steam some broccoli. My favorite part of the vegetable are the stems, so I made sure to cut carefully so I could preserve as much of it as possible. I also have a bag of cooked jellyfish with vinegary dressing and sprinkle some sesame on top.
In an hour's time, I'm hungry again. Because the night is young, I decide a second dinner is in order. I discover to my delight that I had bought a round loaf of rosemary sourdough that I had yet to touch. Back in March, when it seemed like the world was ending and everyone was stocking up my grains, I bought the first loaf of bread of my life. I'm not a bread person (for carbs, it begins and ends with rice), but I figured that if the apocalypse was coming, I might as well toss things up. In the fridge, I found the butter I bought months earlier, unopened and, again, purchased in harried preparation.
When I smear a piece of toasted rosemary sourdough with butter while standing in my kitchen, I feel a secret thrill. Is this what it tastes like to be American? A little salty, a little creamy. Tasteless but also oddly comforting? I don't think bread and butter will ever enter my regular meal rotation, but once in a long while, it's not half-bad.
Monday, October 5
Some days, I wake up hopelessly groggy even though it's 2 p.m.
I start off the day — early afternoon — with a coffee shake from Joe & the Juice. If I'm not too hungry, I'll toggle among five different liquids. This time, it's a coffee shake, jasmine tea, a mango-flavored La Croix, and water. I also crack open a tin of eight-treasure congee which is translated into "instant cereal" on the can. My go-to brand is Taisun; I like it best because it's thick and sweet. Among the eight treasures are mung beans, oats, pinto beans, red bean, peanuts, and longans. I like it also because it staves off hunger. A Coke-size can comes in at 300 calories.
At some point, I get a text from my mother's health aide who has transcribed my mother's admonishment to cook the morning glory in my fridge sooner rather than later (the day before, I had FaceTimed with her and told her that I'd purchased a pound a week earlier). My mother appends this with a recipe: "vegetable oil, chopped garlic, salt don't put in pan too long."
I follow her orders to the T. I also cook some Korean Nong Shim ramen, which I keep in bulk around the house. Usually I like to crack an egg on top but I discover to my disappointment that I have no eggs in the house.
At 1 a.m., the only place open around my apartment that still delivers is Taco Bell. No one I know eats Taco Bell, and for that reason, I'm a little embarrassed to admit how delicious I find it. Part of the reason is that it brings me back to my childhood, where the 99-cent tacos were one of the few foods that fit in my mom's budget. At 11, I could eat eight to ten at a time, a feat that was only topped in absurdity by how many hot-sauce packets I could squeeze into a single taco: about nine to ten.
In my 30s, I have regressed. I only ordered five: beans and rice, three with soft shell, two with hard shell. Taco Bell online doesn't restrict how many packets of hot sauce I can order, as long as it's in the double digits. Ten packs for five tacos is 50 packs. I worry that the restaurant will think this is a typo for "5" tacos, so just in case, I add a message: "I know this is a lot of hot-sauce packets, but I promise I won't waste them and will eat every one. Please count out 50 for me."