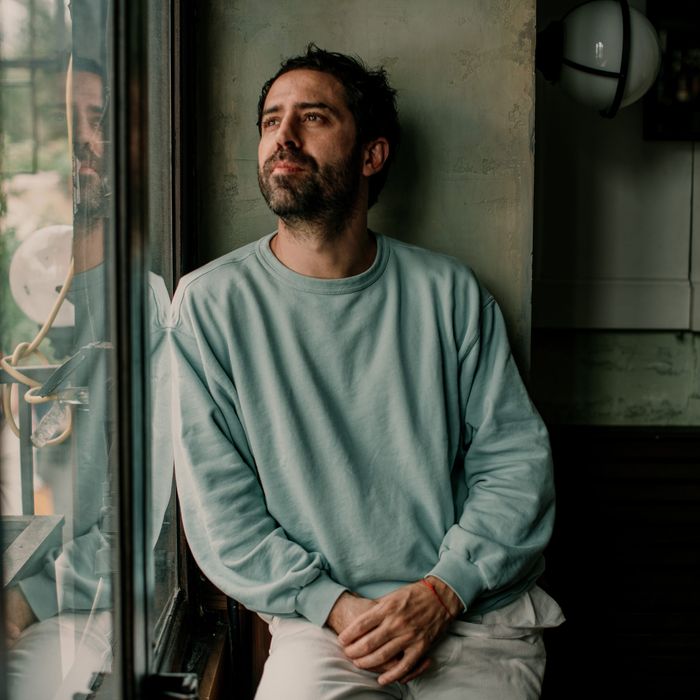 Mattos, inside his restaurant Estela, which remains closed for the time being.
Photo: Scott Heins
Like most people, Ignacio Mattos has spent the past seven months wondering about … everything. "There's no one day where I don't have a What the fuck? moment," he says. As the chef and owner of three New York restaurants — Estela, Altro Paradiso, and Flora Bar — the pandemic and resulting economic fallout crushed business and upended his career. The subsequent reopening has played out differently at all three establishments. Altro Paradiso, his Soho trattoria, is open for outdoor dining and reduced-capacity indoor dining. He plans to reopen Estela when restaurants are allowed to operate at 50 percent capacity. And the future of Flora Bar, located within the museum that had been the Met Breuer and is now in the process of becoming Frick Madison, remains TBD. "Financially, nothing makes sense," Mattos says. "The plan is to survive through this period."
In addition to finding a path forward for his existing restaurants, Mattos is also looking ahead in other ways, including working with American Express on a new bar in JFK and launching an entirely new project. Currently slated to open early next year, Caffè Lodi will be a market, bakery, and café at 1 Rockefeller Plaza in midtown, in the space that was previously home to Bouchon Bakery.
Though Altro Paradiso and Flora Bar have both offered to-go pastries in the past, at Lodi, the plan is to be far more casual than any of his previous projects. He points to the shop Peck, in Milan, as one point of inspiration. "A very compact Peck," he clarifies. "Food you can take home — grab-and-go stuff. You can preorder stuff. You can take home a roast chicken with garnishes."
In the parlance of pre-pandemic times, Caffè Lodi would fall comfortably into the category of the "all-day café," a place where you can sit down for light breakfast and coffee in the mornings, simple lunch, or a spritz and a plate of prosciutto in the evening. "It will be a quite complex operation, but you'll be able to sit in the space" — or in the outdoor seating planned to run along 49th Street — "and have some olives or a glass of wine."
There will definitely be panini — a sample menu lists a porchetta option, another features fried 'nduja and caciocavallo — and all of the bread, made in house, will be part of the market's extensive bakery program. To that end, Mattos has partnered with Louis Volle, a baker who has previously worked with both Blue Hill at Stone Barns and Tartine, among others. Cornetti, focaccia, and the small Italian cookies known as ricciarelli are part of the breakfast plan. Mattos says he will mill his own flour and ensure the shop's pastries are always fresh: "We want to be baking throughout the day so you don't get a croissant that was baked at five in the morning." (Natasha Pickowicz, who had been the pastry chef at Altro Paradiso and Flora Bar, is no longer with the company.)
Though Mattos's food has a clearly defined visual style — a spartan approach to plating, ingredient lists that seem deceptively simple — he says a big concern now is making sure the look of the space fits in with its Rockefeller Center Art Deco surroundings. "It's one of the most beautiful architectural spaces that you will find in the city — you can't believe the attention to detail," explains the chef, who just finished hosting an Estela pop-up on the Center's ice rink. "You couldn't build it again if you wanted to. So, in a way, we're trying to figure out how to do some of those things in a subtle, reasonable way."
It's worth noting that this will be Mattos's first new project since he parted ways with Thomas Carter, his onetime business partner who left the company after an Eater report alleged that Carter's emotionally abusive behavior created a hostile work environment. It also feels a bit incongruous to launch a project at a time when everyone in the food world — Mattos included — is hurting. So it all begs the question: Why embark on something new right now?
"We need to look forward, to start making certain things happen," Mattos answers. "It's our responsibility to bring everything back, rebuilt in a better way."