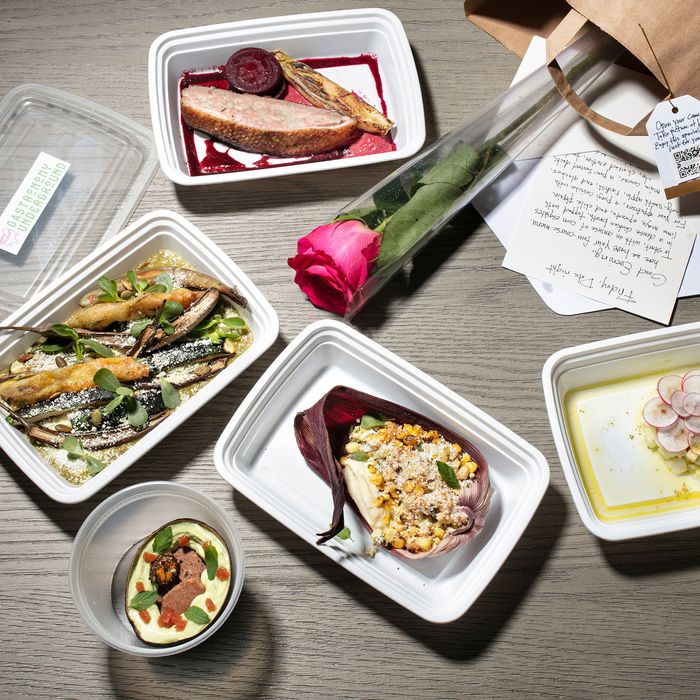 A spread from Gastronomy Underground.
Photo: Melissa Hom
Eight months ago, Pablo Rojas was roasting luxury chickens at the NoMad, and Roxanna Mejia baked extravagant bread at Thomas Keller's Per Se. Then, the pandemic hit and everything changed. The couple, both 26, had moved to New York City from Brownsville, Texas, a year and a half earlier to work in the city's fine-dining kitchens, but suddenly, both were furloughed indefinitely. They had a 4-year-old, and they needed a new plan.
Conveniently, they had one. Sort of. Rojas is from Mexico City, and Mejia grew up in Brownsville, but their vision for Mexican cooking was born here in New York. "We didn't feel that detached from the culture," Rojas says, "but when we came to New York, we were forced to kind of explore our roots and try to understand them." The goal, he explains, was to dig into Mexico's "history of occupations and conquest" and explore the country's deeper culinary identity: "Obviously, that kind of cultural and emotional collective baggage has to seep into the food somehow."
That search is the inspiration for Gastronomy Underground, with its tagline: "Modern spirit, ancestral roots." Originally, Rojas and Mejia imagined someday hosting small pop-up dinners on the roof of an apartment in Kensington — they'd gotten as far as buying the domain name —but when it became clear that wasn't going to be possible (due to the pandemic), they tweaked the vision. So Gastronomy Underground morphed into a service that, since it launched this summer, has been delivering preordered meals across south and central Brooklyn, three days a week. On Tuesdays they offer a $45 Taco Feast for 2, which comes with homemade corn tortillas, either carnitas or a "black mole of brassicas," 12 different toppings, and two sides. On Fridays, the couple offers a rotating four-course "Date Night" menu: chayote "crudo," perhaps, followed by duck confit with a traditional green pumpkin-seed mole. And Sundays are for Condesa Brunch — named for the tree-lined neighborhood in Mexico City — which, in addition to an appetizer and a main (on a recent Sunday, purslane and poblano quiche), arrives with Mejia's fresh-baked brioche and coffee.
But it is not enough for the food to be merely delicious, the couple insists; it should start a conversation. "It has to have a line of argument," Rojas explains. "We knew from the very beginning, we weren't just gonna do mindless takeout — anybody can do that. Creativity has to go hand in hand with history."
Consider, for example, a recent vegetarian main course: chiles en nogada — stuffed poblano chiles in white walnut sauce — a celebratory dish associated with Mexican independence. It is, Rojas gleefully points out, a testament to the global complexity of the cuisine, explaining that poblanos are "a Mexican variety of chile that traveled to Morocco and got blended with bell peppers, and then came back on ships as a completely new pepper that Mexicans adopted as their own." And please, Rojas continues, don't forget about all of the nonindigenous spices that now go into Mexico's moles: "I think the bigger picture here is Mexico is a lot of things, a lot of contradictions." He wants to put an emphasis on that story: "We're a country that eats all these foods on the daily and forgets their roots."

But if Rojas and Mejia are very clear about their mission — interrogating the foundations of Mexican identity through food — they are also very clear about what they are not doing, which is "elevating" anything.  "You see everywhere in New York City," Rojas explains. "There's 'elevated' Mexican cuisine, 'elevated' street food, 'elevated' this and that — I don't think Mexican food needs elevation at all. It just needs understanding."
The whole enterprise is aggressively unpretentious, in spite of the couple's fine-dining background, or, perhaps, because of it. They just want people to experience this food, and talk about it! "And that conversation doesn't have to be limited to a dining room," Rojas says, "and it doesn't have to be limited to people with the means to pay $400 to $900 for dinner."
They'll admit that it's tricky, starting conversations when you can't actually talk to anybody. While they hope to someday turn the project into a brick-and-mortar restaurant, right now they're working out of a kitchen space in Bushwick, and Mejia does the delivery herself, stacking orders in the back seat of the couple's Toyota Prius. Undeterred, they're leaning into multimedia to help: There's a pamphlet on the bag, offering cultural context (and heating instructions), and they've recently added a QR code that takes diners to a playlist designed for each night's meal. "We compile amazing, super-raunchy songs," Mejia says. "The legit shit that we grew up with."
Like everything else in the New York food world right now, it's all a work in progress. "Honestly, we're just like, 'Do people even want to be told all this?' Some people just want to eat — I know I do!" Mejia laughs. "But we're trying it out."
"Everybody has to eat," Rojas adds. "And if they know where what they're eating came from, maybe they'll have a little bit more self-awareness."
*A version of this article appears in the October 12, 2020, issue of New York Magazine. Subscribe Now!