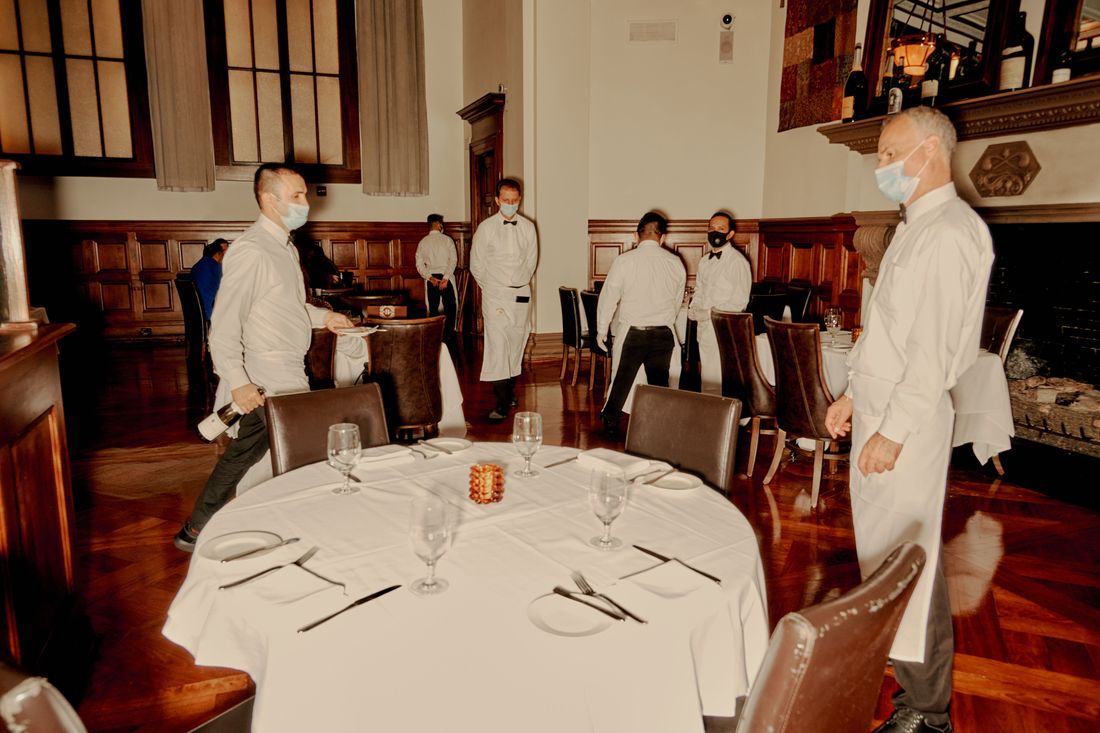 Preparing for the dinner rush at Benjamin Steakhouse on the first day of indoor dining since the pandemic began.
Photo: Victor Llorente/Victor Llorente
When he's feeling low about his little corner of that restaurant ecosystem called midtown, Paul Denamiel does what many of us are prone to do during these sideways times: He thinks about the good old days. His family enterprise, Le Rivage, which opened in the '50s among the gin joints and dive bars clustered west of the Theater District, on the stretch of 46th Street now known as Restaurant Row, hasn't been reviewed for a while, or breathlessly blogged about, or patronized by members of the haute Broadway celebrity set. But over the years, Bruce Springsteen has been in for a taste of the sturdy French cooking, and Madonna has too. On good days, which were most days, you could set your watch by the different crowds — the matinee crowd, the pre-theater dinner crowd, the post-theater regulars — who would keep the snug townhouse dining room busy until after midnight.
"We were full most evenings, and on the big nights we pushed capacity so we could do maybe 300 covers," Denamiel says with a sigh. Since reopening outdoors in June, Le Rivage rarely does 300 covers in a week or two, let alone in a single evening, and even with the latest vaguely upbeat developments (the beginning of limited indoor dining, the push for year-round outdoor tables), he doesn't see that changing in the near future. These days, his longtime manager, Gigi, stands out on the curb dressed in her mask and latex gloves, trying to lure stray customers off the sidewalk like at a tourist-trap restaurant in Marseille or Morocco. Denamiel ticks off the names of all the places on the block that have closed and of other venerable establishments, like Orso and Joe Allen, that haven't reopened yet. "This part of town is all about the buzz and the crowds," he says. "Until they come back, it's basically a disaster."
Walk the sparsely populated dining regions of midtown and you'll find hundreds of operations like Le Rivage: prosperous, relatively anonymous establishments that have flourished over the decades on that same delicate alchemy of density, money, and confidence that makes the city itself go around and around. Danny Meyer, who in March laid off 250 people at his MoMA-based destination, the Modern, compares midtown to a great forest that nobody talks about very much yet that affects the climate of dining all over town. The residential neighborhoods are already bouncing back, he says, but with its reliance on tourism, public transportation, and business entertainment, midtown will likely take much longer to return. "It's going to be a long winter," he says, with an un–Danny Meyer–like hint of weariness creeping into his voice. But when midtown does finally come back, he says, New York City will be back too.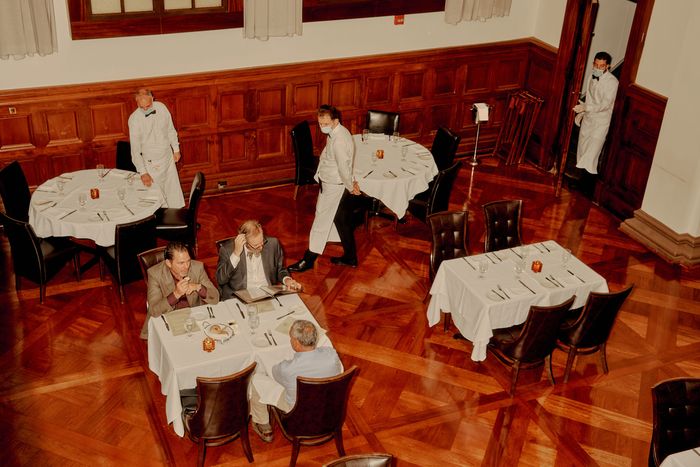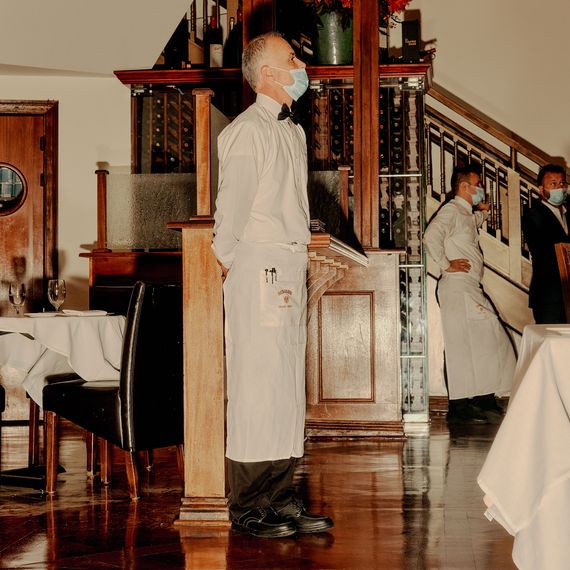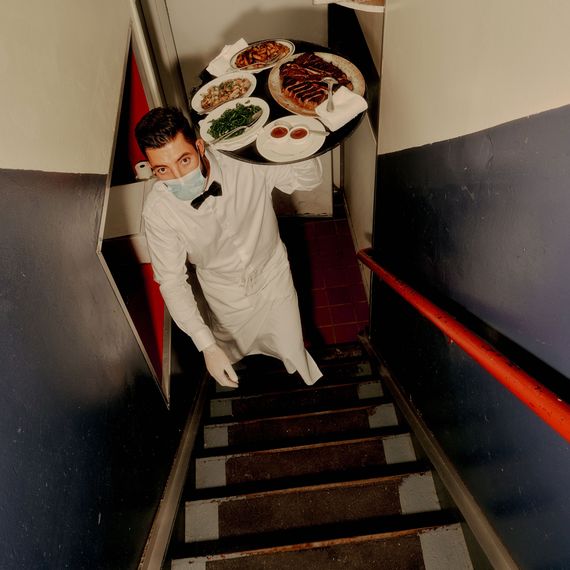 "We're in a big war, Mr. Platt. It's going to be a fight to get back to the old days," says Benjamin Prelvukaj, who opened his eponymous Benjamin Steakhouse 14 years ago on East 41st Street after working as a waiter at Peter Luger. Prelvukaj grew up in Montenegro and went to high school in the Bronx, and he describes himself as one of those traditional 20th-century New Yorkers who still view Manhattan in general and midtown in particular as the global epicenter of a certain kind of glamorous big-city sophistication and style. When I dropped in on the first afternoon of indoor dining, Prelvukaj was dressed to greet his customers in a freshly pressed aqua-blue suit. A few people were gamely enjoying their steak lunch at a single lonely table out on the sidewalk, and inside, his staff drifted to and fro in the vaulted, mostly empty dining room, wearing waist aprons and black bow ties.
"It's going to be a strange Christmas. Hopefully, Santa Claus will appear and make us all smile a bit," Prelvukaj says, trying to muster a bit of a smile himself behind his blue paper mask. The holidays are the traditional moneymaking season for most restaurants in the city, of course, but nowhere more than in this region of the East 40s, which used to fill up like a kind of capitalist Disneyland with tourist dollars, bonus money, and big spenders from around the globe. Prelvukaj hasn't trimmed his menu here or at his other steak joint, Benjamin Prime on 40th Street, but he realizes that customers probably won't be clamoring for the $110 "prestige" caviar service anytime soon. "We had 50 tables in the dining room last year," he says. "Now we have 15, but only five can be occupied. We're optimists in the restaurant business, and you have to start somewhere, but if we don't get more indoor capacity soon, it will be difficult to survive."
Up on the sun-splashed corner of 44th Street and Sixth Avenue, serving his Vendy-winning $7 piles of tender, spicy chicken tikka over mounds of rice, MD Alam is doing his best to suppress similar dark thoughts. "We need 200 customers per day to survive. Now we're only getting 50 or 60," says Alam, who arrived in the city from Bangladesh 22 years ago and has been doing a brisk business on this corner since 2005. He remembers the big crash of '08, he says, but the streets weren't empty back then, as they are now, although he has noticed that in the past few weeks, the city has been slowly filling up. Most of his customers these days are essential workers — parking guys, cops, and construction workers — but he's hopeful for the return of the corporate armies: the office assistants and the executives with their impressive gold wristwatches who used to wait patiently in lines stretching around the block for this classic brand of street-cart cooking.
Back at Le Rivage, Chef Denamiel is waiting too. He heard rumors that Broadway will be opening up in January, but he doesn't believe them. On this formerly packed matinee-Wednesday afternoon, the tables are mostly empty indoors and outside, and as I enjoy a crock of steamy, unexpectedly delicious onion soup, he greets characters from the neighborhood as they pass by. There's the UPS guy, and the dim sum chef from next door, and presently someone from the Hourglass Tavern down the street, who comes by with the grim news that, after 30 years, the owners are closing down and everything inside is for sale. The dim sum chef wanders off to have a look, but Chef Denamiel turns his head away and waves his hands in the air like he's warding off an apparition. In France, it's "bad juju" to take anything from a closing restaurant, he says, and the last thing they need on this little stretch of 46th Street in this cursed year of 2020 is more bad luck.
*This article appears in the October 12, 2020, issue of New York Magazine. Subscribe Now!