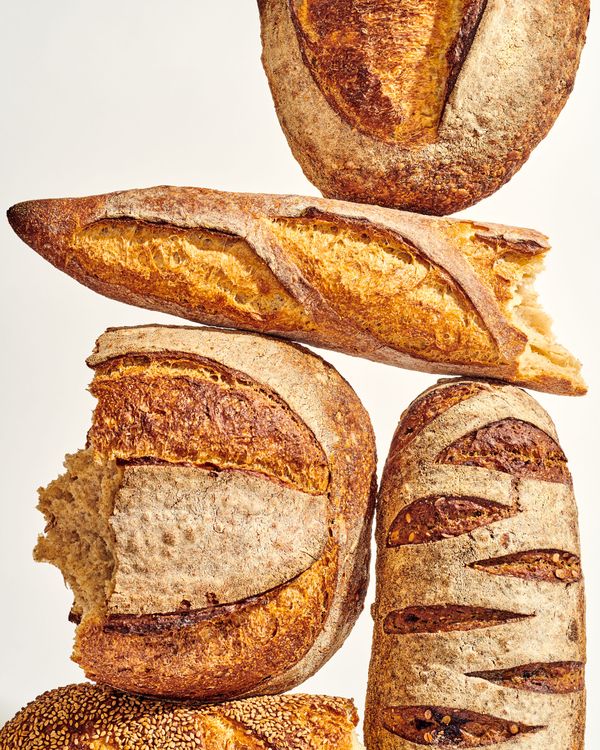 Frenchette Bakery's loaves are made from house-milled regional grains.
Photo: Joe Lingeman
Lee Hanson and Riad Nasr met as young cooks at Daniel in the early 1990s and spent 16 years expanding Keith McNally's New York empire before leaving the fold to open their own restaurant, Frenchette, in 2018. Besides kitchen duties, they share preservationist tendencies, both for classic cooking and classic New York spaces. Last year, they took over Le Veau d'Or, the octogenarian Upper East Side bistro, promising to keep the name as well as the tripe stew. Not long after, across town and culinary spectrums, Nasr launched an (ultimately futile) Instagram campaign to save Gem Spa, the landmark East Village newsstand and egg-cream mecca.
And now, when so many New York institutions are in danger of disappearing, the partners, who are beginning to resemble a two-man Culinary Landmarks Preservation Commission, have managed to revive one. On October 19, they unveil Frenchette Bakery in the same unlikely Tribeca office-building hallway where Roger Gural ran his semi-secret Arcade Bakery for five years before closing it last summer. Over its short life, Arcade became a destination for its distinctive baked goods (laminated baguettes, whiskey-pecan babkas) and ingenious design, which unobtrusively incorporated mahogany recessed seating and drop-down tables into the sloping corridor's long walls.
With the exception of a new espresso machine and display case (an angled dark-wood-and-marble unit designed by the craftsman who did Frenchette's sleek millwork), Nasr and Hanson have left the place intact, aiming to honor Gural's vision of a neighborhood bakery and community hub. They had been loyal Arcade customers, holding meetings there while building Frenchette and sourcing their bread from Gural once they opened. "Roger was timing the bakes so bread was delivered at 4:30 right out of the oven," says Nasr. "It was a privilege to have freshly baked baguettes." When Gural curtailed his wholesale accounts, Frenchette pastry chef Michelle Palazzo began the arduous task of baking house loaves in 40 individual Le Creuset dishes. "That gave us the confidence to take on the bakery," says Hanson. "To have this separate space and be able to do a variety of breads is really appealing to us."
Joining Palazzo is head baker Peter Edris, an Aureole and Bourke Street Bakery veteran who uses terms like small plot and single origin to describe the regional grains he buys from a New Jersey cooperative and mills fresh daily. There's cracked rye and dark-malted (sprouted, dried, and roasted, in baking parlance) spelt in his city loaf and dark-malted corn in his baguette; both have been available to outdoor diners at Frenchette and at the restaurant's Rockefeller Center pop-up. But you'll have to visit the new bakery for the other loaves and for viennoiserie like croissants both savory and sweet (the former made from durum–olive-oil dough and filled with kimchee or greens and a soft egg; the latter including a "twice-baked pistachio," which is soaked in rum syrup and stuffed with Sicilian-pistachio frangipane). Although the team is toying with a "Frenchette bread pizza" as a nod to Gural's round pies made with baguette dough, Frenchette Bakery won't imitate its predecessor. "The spirit is there," says Nasr. "There's a standard and a template we hope to live up to."
Frenchette Bakery, 220 Church St., at Worth St.; 212-227-1787
*A version of this article appears in the October 12, 2020, issue of New York Magazine. Subscribe Now!