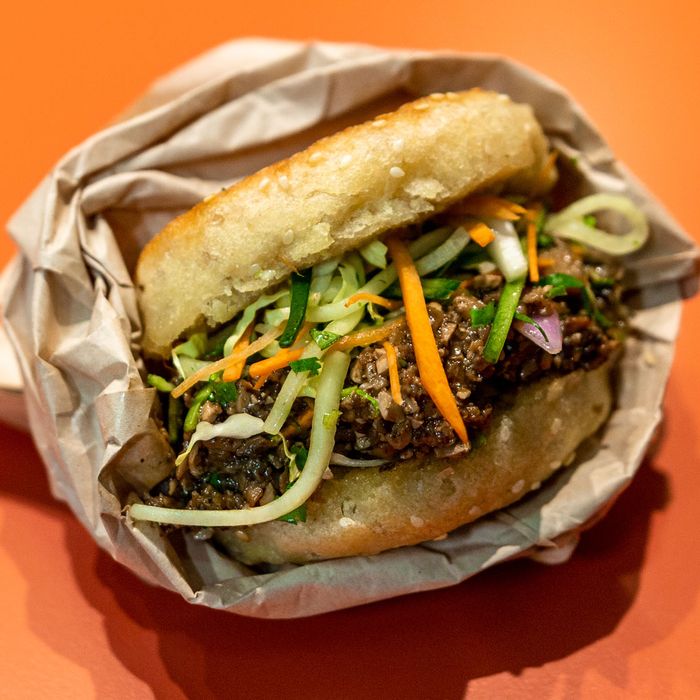 Fat Choy's Mushroom Sloppy.
Photo: Aaron Venn/Fat Choy
The irony of two cooks who met while working at the unabashedly carnivorous Cannibal going on to open a vegan Chinese restaurant isn't lost on Justin Lee. Late last month, he and Jared Moeller launched the shoebox-size Fat Choy on the Lower East Side with nary an animal product on the eight-item, $10-and-under menu. Neither is vegan, and they consider their meatlessness more of an environmental and economical statement than a dietary one. "For us, this restaurant is about a future for everyone," says Lee, a Virginia native with deep family roots in Manhattan's Chinatown and a veteran of kitchens like Barbuto, Locanda Verde, and Montmartre under his mentor Tien Ho. "We see way too much factory farming of animals and its side effects."
Rather than compromise with commodity meat, Lee keeps prices low with a plant-based menu. But Fat Choy stands out from the traditional vegan-Chinese pack by focusing not on wheat-gluten mock meats but on seasonal vegetables, most sourced from small Chinatown purveyors. Lee's cooking style is witty and ecumenical, and, according to the brand's tagline, "kind of Chinese." He sluices smashed cucumbers in a broken-vinaigrette "leopard" sauce and tosses crunchy romaine and "Asian fines herbes" in "Chinese Ranch" dressing. He mingles jasmine rice, beans, and greens with vibrant cilantro and ginger. He stuffs dumplings with kitchen scraps like cores, stems, and stock remnants to avoid food waste. And for his Mushroom Sloppy sandwich, he simmers flower shiitakes with smoked tofu, then tucks the mixture into a house-baked sesame roll.
The result is impressive, and it passed what might have been the ultimate Underground Gourmet vegan-food litmus test: On the way home from the restaurant the other day, we walked by Katz's, peered wistfully at the old hot-dog griddle through the window, and for a moment considered, then rejected, the idea of popping in for a postprandial pastrami on rye. In other words, we didn't miss the meat. Which sums up Fat Choy's mission. "Everyone's like, 'Oh, I should bring my vegan friends here,' " says Lee. "No, what you should do is bring your carnivore friends here. We are vegan food for everyone."
250 Broome St., nr. Ludlow St.; 347-778-5889. Currently open for takeout and limited outdoor dining; closed Monday.