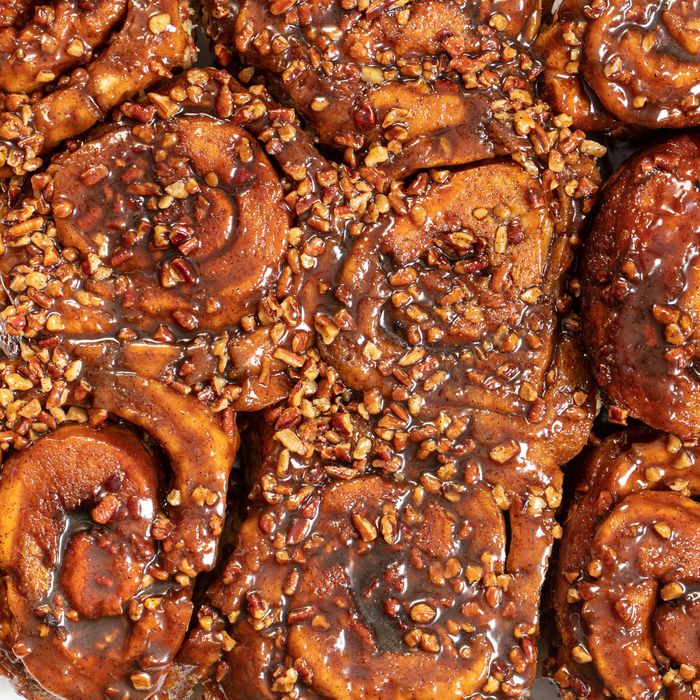 Sticky buns are made from leftover doughnut dough.
Photo: Melissa Hom
On Saturday, Fany Gerson soft-opened Fan-Fan Doughnuts, her new doughnut shop in the same Bedford-Stuyvesant space that originally housed her first doughnut shop, Dough. (Earlier this year, Gerson announced she split from her partners at Dough, with plans to shortly open her own shop in Clinton Hill, but the coronavirus changed those plans — hence the location.) When Dough opened in 2010, it became a bit of a local obsession. The yeasted, extra-large doughnuts in flavors like chocolate-chipotle and tamarind drew long lines, and seemed to become a staple (or sign) of a good coffee shop.
But even though she was successful, Gerson says she was a bit of a doughnut novice at the time. "We have doughnuts in Mexico City, but it's not the way that it is here. There's not a big culture around it," the pastry chef and cookbook author says of her hometown. Dough came together only a few months after Gerson had launched La Newyorkina, which specializes in paletas and other Mexican sweets. A former boss turned friend, Thierry Cabigeos, asked Gerson what she was going to do once it got cold — then he asked her to start a doughnut shop. (Cabiegos is a partner at Fan-Fan.) "Because we didn't have, either of us, a memory that we were trying to recreate, it was more like starting from scratch. More like, 'what do you think would make an awesome doughnut?'"
It's been ten years, and Gerson has learned a lot about the fine art of frying dough, American-style. At Fan-Fan, she says she's working with a completely new doughnut recipe and incorporating techniques from making churros and ice cream. Specifically, the dough will incorporate Mexican cinnamon tea, a trick she picked up while researching her book My Sweet Mexico, which she uses for La Newyorkina's churros. "It seasons the dough in the way salt seasons a piece of meat," Gerson explains. "It helps bring all these other things out." The glazes will also incorporate infusions. In the "White Fox" doughnut, for example, the kitchen steeps coffee beans for 36 hours for a glaze that Gerson says tastes "like a strong café con leche."
This Saturday, Fan-Fan will open properly, with a full assortment of doughnuts both round and braided, sticky buns fashioned from doughnut scraps and in flavors like "Kafe Hawaij" (made using NY Shuk version of the Yemeni spice bend), and the namesake fan-fans. Gerson describes that last item as a bridge between elegant eclairs and boxy "Long Johns." "I love eclairs and how simple and beautiful they are," she says. Flavors will rotate, and there will be more robust daily options once they sell enough doughnuts to acquire a second fryer. Along with the regular menu, Gerson will go on a doughnut world tour with her specials, starting with the Peruvian sweet-potato doughnut: picarones.
The fan-fans will come in five flavors (with two or more available any given day). Flavors include a Boston creme with classic vanilla-bean pastry cream; and guava and cheese, with a cream-cheese filling and walnut-and-cookie-crumble garnish (inspired by the popular pastry at Mexico City's Panadería Rosetta). Another flavor: toasted milk with prickly pear, inspired by Oaxacan ice cream, which is made from burnt milk. Gerson says she toned it down a little for New York. "It's really an acquired taste, I will say, because the burnt milk does taste literally burnt," she adds. "It's not brûléed or caramelized. No, it tastes burnt, like burnt burnt. Charcoal kind of thing."
But doughnut flavors at Fan-Fan will be a little more complicated than they were at Dough. Take the "Luna Limón," made with a lemon and lime juice as well as zest and candied lemon — or "La Donna," a cassis-raspberry combination that Gerson says was inspired by her grandmother. ("She seems like a tough cookie, but is really sweet," she says.) Comparatively simple is the salty-sweet "Miso-Ringo," made with New York cider reduced to a thick syrup to which miso is added. Citrus is a theme that she had to dial back a little. The "White Fox," a chocolate-and-coconut flavor, was something she originally wanted to make as coconut and lime, a favorite combination. "I love anything — you can imagine, being from Mexico — tart and citrusy," Gerson says.
Fan-Fan Doughnuts, 448 Lafayette Ave, at Franklin Ave.; 917-669-4591