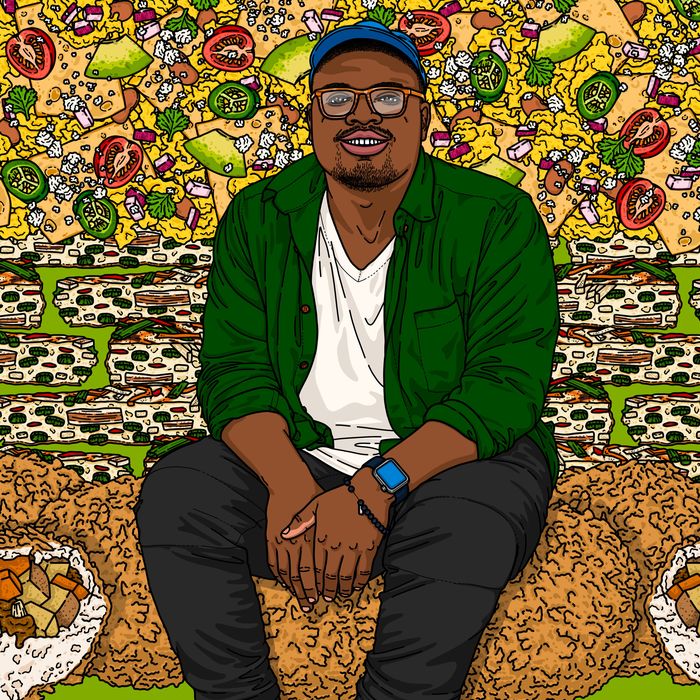 Bryan Washington amongst the curry bread and migas.
Illustration: Eliana Rodgers
"Probably everything," says Bryan Washington, the Houston writer, when asked what he likes about Japanese food. Growing in Houston, he says, you feel like it's just normal to have "eight cuisines in arm's reach," and Washington is a writer whose writing often explores food — whether achiote or Japanese curry bread — as well as queer life and his hometown. Called a "lit world wunderkind" by Los Angeles magazine, next week he will publish his debut novel, Memorial, which is about a maybe-ending romantic relationship and set in Houston and Osaka. Already optioned by A24, it's his follow-up to the critically acclaimed Lot, for which he was named a National Book Foundation honoree. This past week, Washington spent a lot of his time signing books while watching K-dramas, recipe testing his croquettes ("my life's mission"), spoiling his mom with a breakfast of migas with lump crab, and getting dim sum after drive-through voting. 
Wednesday, October 14
So breakfast was egg curry rice from last night's leftover curry (using the One Meal a Day recipe) that I ate with my boyfriend. I usually end up making boxed curry once a week — I buy Golden Curry and get the extra hot — because I think it's a perfect recipe. It's super-quick, maybe ten minutes of actual work altogether. I usually make a little bit extra because I know I'll either make egg curry rice the next day, or if I'm not fucking lazy that week, I'll make kare pan at some point. So, I like making a little more than I'll immediately need. Yeah, no, one curry a week isn't enough, to put it lightly, especially if it's a busy week, because it's just so quick and so good.
I really like One Meal a Day, and I haven't tried a single recipe of theirs that didn't work. I fall into YouTube holes a few times a week, just watching people cook. I think the first OMAD one I saw was for tuna egg rice, but I don't know for sure. I mean, it's just really simple, really good. I learned how to make some pretty decent rolled omelettes from them, and they've got a really good galbi-jjim recipe. And then there's their steamed egg recipe, the drunken egg recipe …
Honestly, this was kind of a strange fucking week because I've been doing a lot of publicity for my novel Memorial, in the middle of our pandemic, so things have been pretty planned out to the hour or whatever. I did some promo after breakfast and had plans to see a friend in the park by the Rothko Chapel: Our social revolutions had been our respective significant others and parents since like March, so this was the first time we were seeing someone that wasn't them in a minute. And there aren't a lot of third places in Houston that you don't need to spend cash at, so the park is in a lovely juncture: You've got the Menil and the Rothko Chapel and a bunch of other museums in walking distance. I've picnicked out there a lot more this year than I ever have. It's just a really nice vibe. So we ate lunch in the park: bánh mì from My Baguettes, nem nướng from Nem Nướng & Rolls, and cà phê sữa đá from Long Coffee.
I really like My Baguettes. It's super-chill. And the nem nướng place is right next door, just beside Long. You've got hella options for boba and iced coffee in Houston, but Long Coffee is one of my favorites, and I'm usually there like once a week. And they're all within walking distance from each other, so it wasn't a a big fucking expedition. So I hit that triangle real quick and then drove back to Montrose, and then my friend and I cried for a bit and smoked for a bit and caught up and snacked on everything.
I'll order the shredded chicken bánh mì most days, but, honestly, I think that the croissant sandwich from My Baguettes, with egg and paté and the rest of the fillings, is easily a top-five sandwich in the city. Easily. But I always end up passing through at 3 p.m. or 4 p.m. and by then they're out of croissants and it's always the same routine. I'll show up and ask for a croissant and they'll say, "No, we don't fucking have anymore because you're too late." I'm just happy to be there though, so it all works out.
That night, my boyfriend and I debated about what to cook or pick up because it was pretty late by the time we started thinking about dinner, so we ended up frying eggs and making rice with some drizzled sesame oil. And, on the side, we had some kimchee from Korean Noodle House. It's this restaurant on Longpoint Drive, super-delicious, and once a week I'll go and pick up a big tub of kimchee, and that'll just be my happiness for the week. I think, even when we were in lockdown lockdown and I was staying home, and we were all really going through it, one thing that I'd do every week is pick up that tub of kimchee. It was this one solid thing I could count on, you know? It's just really fucking good.
Thursday, October 15
Went to vote with my BF — we did the drive-up at NRG Stadium, and it took maybe two minutes, super-organized and fluid — and then afterward picked up dim sum from Fung's Kitchen: stir-fried lobster with honey-black pepper, fried squid calamari in spicy salt, Chinese broccoli with oyster sauce, and beef flat rice noodles with gravy.
We're always kind of flirting with the question of whether we actually need to pick up dim sum, because it really is a lot of food, but of course we usually end up passing through. Dim sum always wins. And we'll end up heading to Ocean Palace or Fung's or this one other place by the 99 Ranch out in Sugarland. So we took that home, because I'm not quite sold on actually eating in restaurants just yet. I'd rather just pick it up and leave a massive tip.
For lunch, I ate egg noodles and stir-fried shrimp with my BF. They were essentially leftovers from earlier in the week. And then we had leftovers from the dim sum earlier, so this served as fridge clearing in a lot ways. I cook this way pretty often. But, like, what a fucking privilege that your problem is you have to create more room for the food you have, you know? (Which would be a good time to plug the Houston Food Bank and also Mutual Aid Hou.) I hate wasting food. I hate it.
Dinner was breakfast cheeseburgers and fries from M&M Grill, takeout. M&M Grill, they're really rad. They're Arabian-influenced American and Mexican food, but they also do Tex-Mex well, too, and their meat is halal. The breakfast burger is really just a cheeseburger with an egg on it. But it's a solid burger — and, frankly, I am just an egg person. There's a cookbook by Rachel Khong called All About Eggs, and when it was published, I was like, This is the best fucking day, because what is better than a cookbook that's literally just egg recipes?
Friday, October 16
Breakfast was French toast made with challah from Three Bros. Bakery; eggs basted with soy sauce; sausage cooked in onions; ate with BF.
Three Bros. is maybe ten minutes from my place; they're a local chain, and they have really good challah. So the French toast was pretty simple — I just cracked an egg with some milk and sugar, mixed all of it, and let the bread chill there for a minute before I fried it up. Then the eggs basted with soy sauce is pretty simple; it's fried egg with some soy sauce on it. Saying "basted" makes it sound like a whole fucking thing, but it isn't. I usually get Aloha soy sauce because I just really like it, but every now and then I'll opt for the usukuchi from Yamasa. Those are usually my two defaults. I've been using sweet soy sauce lately, too, but I've been using it sparingly because it's a lot, it can overpower a dish. Or maybe I've just got a sweet tooth.
I cook a lot of French toast though, or at least lately. I've never cooked as much French toast as I have these past nine months. But it's delicious so I'm like, "Okay, if the rest of this day still fucking sucks, I'll have made French toast. This can be a good thing I can count on." There's a Chinese restaurant near me called Hong Kong Food Street, where they drizzle the French toast with condensed milk. But I don't do that at my place because I know if I started, no good would come of it. None. I'd just never stop.
I'm recipe-testing potato korokke for work, so I munched on those solo. It's partly for a piece I'm working on, partly because I feel like my life's mission is just to get this recipe correct. I had it once at a stall beside the Shinjuku Gyoen a few years back, and I've been chasing the dragon ever since. But croquettes are a good way to practice deep-frying, honestly, because everything is already cooked. So you're just working on adjusting the color and crispiness to your desire. But, yeah, just trying to figure out how to make it do what I want it to do has been a challenge.
There's a super, super-solid potato korokke recipe over at Just One Cookbook, but I've been pulling from croquette recipe on Martha Stewart's site, too. So I've ended up with one that's like a variation of Nami's recipe from Just One Cookbook, and a variation of the Martha Stewart recipe, and I use a variation from Jo Cooks, just mixing and matching details. I'm trying to figure out how to take different components from all of them and make something that works for me. It's fine if I never get there.
I've started using lump crab meat instead of beef, which is what I originally used, and I'm liking how that's turning out. So I spent much of Friday trying to do that and procrastinating around the promo I have to do. This whole week, I've been signing a lot of books: There were 70 boxes of Memorial sitting at my place. In the weeks prior, I'd just sign the bookplates, and I think there are something like 11,000 signed copies out in the world right now. I don't dwell on the number. So a lot of this cooking was also me just trying not to think about the boxes. I had to do this recipe testing, and that's a certain amount of work, but it was also not opening 70 boxes (which, all jokes aside, is actually a lovely thing to get to do).
My mom stayed with me this evening; she was in the area. I had an Asahi, and she had some wine, and I made her doria, which is pretty similar to gratin — rice is the primary base of it. Just like a cream chicken dish over rice. What I'll do is make a creamy chicken stew with some rice on the side, layer the stew on the cooked rice, top it with a little bit of cheese, broil it for a bit, and add parsley. It's deeply comforting.
I also took some marinated onions out of the fridge (Our Korean Kitchen, by Rejina Pyo and Jordan Bourke, has this really great recipe that takes less than five minutes to prep, and it goes really good with grilled meats and I'll find myself making it and holding it and parceling it out), and also made miso soup and a really simple cucumber salad that an old roommate of mine taught me. Usually I make my own dashi, but I wasn't trying to do all of that this evening, so I made the powdered dashi. I started using a bunch of it since everyone's been inside, and it's less work and still pretty satisfying. We played with my puppy (I have a puppy — surprise) and caught up for a few hours.
Saturday, October 17
I cooked migas (a variation of Ford Fry's recipe) with lump crab meat and salsa de aguacate for breakfast with my mom. When she's over, I usually try to cook a bunch of things, which is to say that it isn't like fucking three-day-old curry.
I usually have tortilla chips in my pantry, and they're just chilling, waiting for something to happen. And then I had lump crab leftover from the croquettes, so I used that as a protein base and made salsa de aguacate. I moved apartments fairly recently, I guess a month and half ago now, and that experience was actually the seventh level of hell, but my one housewarming gift to myself was a Magic Bullet. I resisted getting it for a while because I'm an idiot, but then I got it and it makes life easier. So. I made the salsa with that. And then I also made coffee from Third Coast beans; they have a Laos blend, and it's super-good. I had it in Austin for the first time a few months back, so I just buy it whenever I see it now.
After my mom left, I signed about 20 boxes of books, and there's a show called Youn's Kitchen, that I had on in the background. It's really lovely. These K-drama actors — like, dumb famous in Korea — are essentially running a restaurant in Spain. This season I think it was Spain. So I watched that and answered emails and signed for a bit until my wrist started to freak out and then I went to get lunch solo.
Got a croissant sandwich from Nguyen Ngo (another top-five Houston sandwich) and coffee from Tapioca House, this boba shop across the way. I think they just might make my favorite coffee in Houston. Their iced coffee's super-dark, but also super-sweet, and they do it in such a way that's just absolutely delicious. So I got two coffees from them, and brought those and the food back to eat while watching Youn's Kitchen and then a little bit of Romance Is a Bonus Book, which I've already seen and love.
Dinner was shrimp tacos that my BF and I cooked. I usually have like two pounds of frozen shrimp in the freezer at all times, because we're on the Gulf and shrimp is not prohibitively expensive here. Every few weeks I'll buy a few pounds and cook some them the week of and then freeze the rest in Baggied portions, thawing them whenever I need them.
We made those with a red salsa, some Sriracha, and some cheese, and then we watched the Blackpink documentary, which was cool as hell, and then a few episodes of Greenleaf, which is basically a K-drama set in Memphis.
Sunday, October 18
Woke up pretty late, past breakfast time. I had the rest of the books to sign, because they had to be shipped by Monday, and I would simply have to walk into the ocean if they weren't finished, so I made banana-nut scones, and while they were in the oven, I started signing again and queued up some Ghibli movies in the background. Once the scones were done, I chewed on them with some coffee and alternated between signing and emails. I usually have the coffee concentrate from Lee's; it's a half-gallon or gallon, basically liquid gold.
I wasn't hungry until later that evening, so dinner was stir-fried eggs and tomatoes with crab (the last of the lump meat), stir-fried ground pork with basil and peppers, and rice that I cooked with my BF. I love crab, but it's a bit more expensive than shrimp. But I had a lot of crab; I bought too much for these croquettes and it goes bad quickly.
For the eggs, there's this recipe from somebody's mom on YouTube that is simply a stunner, and I spent like two years trying to replicate it, but now I can't find that video anymore. But lately I've been using the Chinese Cooking Demystified version, and then I stir-fried crab with it, and we also had the stir-fried pork.
I'm really fortunate in that, while the neighborhood where I grew up was hella white, the street we lived on and the street immediately adjacent to it were deeply diverse, and my parents' friends were deeply diverse. We ate a lot of Cuban food, a lot of Filipino food, a good amount of Japanese food; we ate quite a lot of Jamaican food, a lot of Nigerian food. A lot of that was just being in close proximity to friends and loved ones eating a lot of different stuff. The diversity of cuisines and the allowance for the diversity of cuisines in Houston is objectively astounding, but, among Houstonians, it's not terribly remarkable. It never struck me as something that was noteworthy. Then you get older, and then you get more context to see not everyone has fucking eight different cuisines lined up next to one another in every strip mall.
My mom is Jamaican, and my dad is from Florida. They met in Florida. Houston feels very much like home. But I've been really fortunate to be able to travel a little bit, and I've come around to thinking many places can seem like home. Being open to different places is definitely something I think about often. Just being around a bunch of different folks who are from a litany of places, the idea of being rooted to one place is definitely lovely and viable, but not essential for me or from my standpoint. Although I will say a lot of people who leave Houston and then they end up coming back because it's so much itself — I do wonder if that would be me, if I ever choose to leave full time. Maybe home is actually just a feeling, wherever you end up finding it.