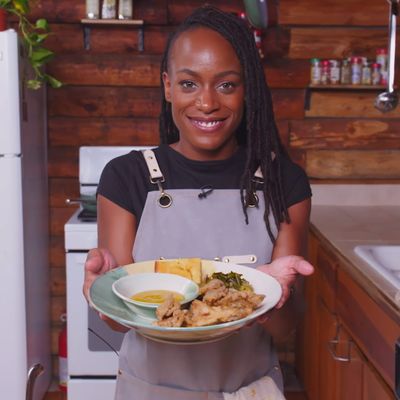 Chrissy Tracey, one of the new Test Kitchen hosts.
Photo: Bon Appétit/YouTube
Yesterday, Bon Appétit's YouTube channel flickered back on — like the old TV your parents would hit a couple times — for the first time since June. The Condé Nast magazine released three new videos (including a teaser-trailer introducing the magazine's new leadership), the first after a summer-long internal reckoning over issues of diversity, racism, inequity, and pay under former editor-in-chief Adam Rapoport. The series also now features a largely new and more diverse cast, as nearly every one of the Test Kitchen stars has left, starting with Priya Krishna, Rick Martinez, and Sohla El-Waylly in August.
Since then, Bon Appétit has hired a new editor-in-chief, Dawn Davis, who came to the magazine following a decorated career in the publishing world, and a new executive editor, Sonia Chopra, formerly of Eater. (The chef and restaurateur Marcus Samuelsson is also onboard in the role of "global brand adviser.")
Yesterday, the new team introduced the video channel's new hosts: DeVonn Francis, who founded the food service company Yardy; Tiana Gee, a Los Angeles private chef and caterer; Melissa Miranda, the chef and owner of Seattle Filipinx restaurant Musang; Samantha Seneviratne, author of The New Sugar and Spice; Chrissy Tracey, a vegan chef based out of Connecticut; Harold Villarosa, who runs the Filipino soul-food company Unkle Harolds; Rawlston Williams, chef behind New York's Caribbean-inspired spot the Food Sermon; and Claudette Zepeda, a former Top Chef contestant who ran the acclaimed San Diego restaurant El Jardin. It's no doubt an interesting group of people, including some who have made a real mark on New York's food world (Francis, Williams) and others who are lesser-known but now getting a big chance. One of the first three videos published yesterday features Tracey, the other features Chris Morocco. (Morocco is one of three returning hosts, the others being Andy Baraghani and Brad Leone.)
Whether or not the Test Kitchen will regain the fervent, obsessive audience it had before remains to be seen. The videos certainly lost many fans over the summer as a result of the former hosts exposing issues at the magazine. El-Waylly's comments about pay inequity — that "only white editors are paid for their video appearances" — sparked fan outrage (see: Justice for Sohla) and turned Test Kitchen stan accounts against the brand. Krishna, Martinez, and El-Waylly left simultaneously, because, in Krishna's words, CNE's promises for pay equity were just "lip service." Speaking with Vulture's E. Alex Jung, El-Waylly says she was offered a fair contract for video, including back pay, over the summer, but learned others weren't getting the same.
Asked about the compensation and pay structure for the new hosts, a Condé Nast rep responded that "all video talent are being paid according to our standardized video compensation rate card according to, and in many ways exceeding, SAG/AFTRA rates." Asked if she could share more specifics, the rep replied, "Industry standard rates are easy to Google."