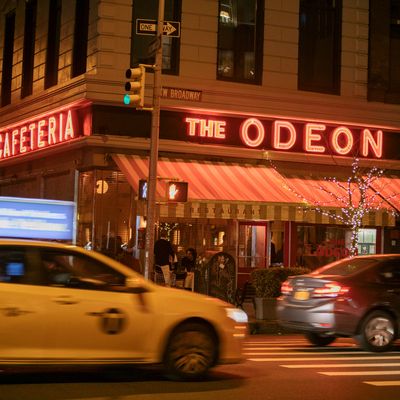 The Odeon, which first opened on October 14, 1980.
Photo: Rebecca Smeyne
"They're talking about their new Labradoodle puppies at the next table," someone said as we sat, reminiscing, over a ritualistic order of steak tartare and frites at the Odeon. "I don't recall us talking about Labradoodles back in the '80s." There were outdoor tables set up along the side of the famous façade, with its original "CAFETERIA" neon still glowing, and tables under a long white tent on the sidewalk where, on this evening, in the way of the best neighborhood joints during the time of COVID, families were dining with their children, along with couples here and there, more than a few with dogs at their feet.
We couldn't remember what we did talk about back in the '80s — when this restaurant first opened, exactly 40 years ago last week — although I did recall, through a haze of Cosmopolitans and straight-up martinis, that the Odeon was the first place I ever dined on seared tuna, or paid more than $10 for a cheeseburger. It was the first place that I ever tasted a tuna burger, for that matter, or a proper frisée salad, or heard that magical word lardon drawn out in an elongated, vaguely sensual way. It is the first (and last) place I ever drank the dreaded Cosmo, which a bartender friend helped invent there, and it was the first place I ever saw French fries served upright, in a cone of paper, just like on the boulevards of Paris.
"A friend of Keith's wanted him to move to Paris, so we went there," said Lynn Wagenknecht, when I called the other day to reminisce about the restaurant, which she opened with her then-husband Keith McNally, and has run herself for the last 30 years. "We wandered through the old Les Halles neighborhood. We went to all these warm, convivial places, which don't exist in Paris anymore, where middle-class people and upper-class people were eating this delicious, casual food together — steak au poivre, roasted chicken, bowls of mussels with lots of French fries — and we thought, Why don't we have these kinds of restaurants in New York City?"
More than anything else — more than Warhol and the Kardashians, and the waves of trendy clientele who've crowded into the famous Tribeca dining room over the years — this sense of stylish democracy was the original point of the Odeon, Wagenknecht says.
She'd met McNally at a hoity downtown place called One Fifth, where the future kingpin restaurateur had started as an oyster shucker and worked his way up to the front of the house. Having arrived in town a few years earlier from Illinois, Wagenknecht still had dreams of being an artist when they found the space together, an old working cafeteria on a lonely corner of Tribeca. They found the famous Art Deco clock, which still hangs near the bar, on a trip to New Orleans and brought it back to the city, packed in a cardboard box, on the train. (It was also in New Orleans where they got the idea to put carafes of water on every table, the way they do at restaurants down there.)
"None of us was thinking of this as a career," Wagenknecht says. "It was just sort of a fun idea." Their original chef never showed up, so they hired a talented young cook named Patrick Clark, the son of a chef, who'd grown up in Brooklyn and had worked at the River Café. When the crowds started arriving on the restaurant's first Friday evening, service was backed up for hours, but nobody seemed to care. "It had sophistication and it had French fries" is Lorne Michaels's famously pithy description of the Odeon's formula, which has been widely copied for four decades, and will likely endure for years to come.
It was McNally, and his older brother Brian, who got most of the credit, of course. ("It was a good story, these two brothers coming out of East London, opening these great restaurants," Wagenknecht says diplomatically.) After they split up, it was McNally who continued to dominate the headlines, spreading the gospel of casual-steak-frites sophistication far and wide with brassy, big-name destination restaurants like Balthazar, Pastis, and Minetta Tavern. Wagenknecht closed their nightclub operation, Nell's, early on, and has worked with her partners to cultivate a slightly less hectic, more serene, more intimate atmosphere at her restaurants, which also include Cafe Luxembourg uptown, and Cafe Cluny in the West Village.
Or so it seemed, sitting out under the glow of the famous Odeon sign, watching the neighbors walk by, greeting each other over their regular servings of grilled salmon and crocks of chewy, steamy onion soup. Wagenknecht has always considered that dreaded term Zeitgeist to be overrated ("I'm not a Zeitgeist person," she says; when I ask what Andy Warhol liked to eat, she says she can't remember.) Instead, she's always wanted her restaurants, which, unlike most of McNally's, are still open during the COVID crisis, to feel welcoming when you walk in the door. After 9/11, she says, it was the neighbors who came in night after night and kept the Odeon going, and that's what's happening now. "It's always been my philosophy to make my restaurants feel like a local refuge," she says. "It's better for the customer, who feels invested, and it's better for the people who work here, who feel invested, too."
If there's a blueprint for making your way through this latest crisis, this would seem to be a good one, although Wagenknecht says it's also been her philosophy, ever since the Odeon opened back in 1980, not to think about the future very much. They were lucky to buy the industrial building on the corner of West Broadway and Thomas Street back in the early '90s. The last of the building's original artist tenants still lives upstairs, and he still comes down sometimes for a meal at his neighborhood restaurant. She's watched children of old regulars grow up and go off to college; some even return to wait tables in the familiar old room, with its terrazzo tiles and original globe light fixtures, left over from the old cafeteria on West Broadway.
"There are ups and downs, and I'm always grateful, although also a little surprised, when they write that article, every ten years or so, that the Odeon's back, when we've always been here," the veteran restaurateur says, with just a hint of exasperation in her sunny midwestern voice. "My philosophy — and it's a very New York kind of philosophy — is you keep at it, you bend with the blows, and you just keep moving on."
This post has been edited to clarify Wagenknecht's quote regarding Les Halles.