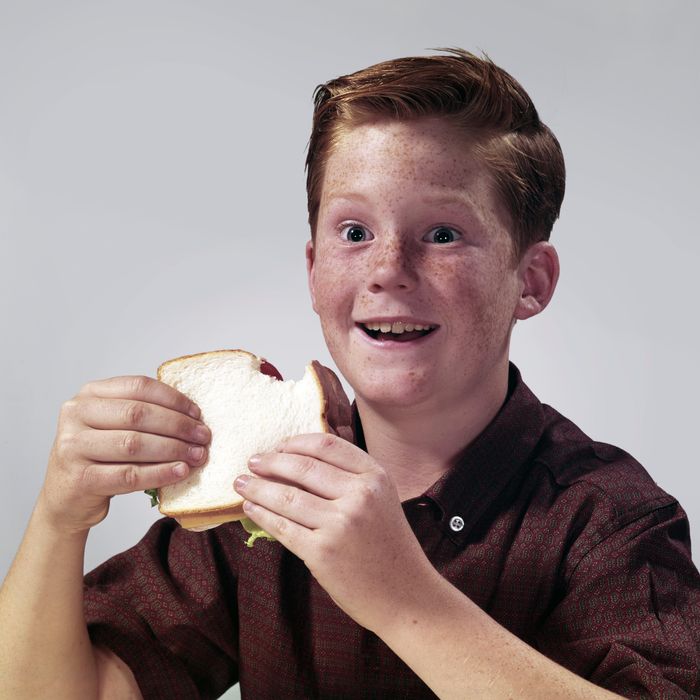 The white bread is crucial.
Photo: Tom Kelley Archive/Getty Images
"What dishes do you miss most of all?" an acquaintance asked the other day as we passed by on the street, she in her cloth mask patterned with a bright decoration of flowers and me in my overused, four-day-old N95, shaped, unappetizingly, like the beak of a giant duck. In truth, it's a question I've been getting a lot lately. Like cowboys pining for the open range in wintertime, it's assumed that we food esthetes and professional gluttons spend our days dreaming up elaborate recipes to cook in our grand quarantine kitchens during these unhappy times, yearning for vanished delicacies like a taste of venison terrine, say, or the crispy crunch of perfectly turned balloons of pommes soufflé.
But as this crisis grinds on, I'm finding that the opposite is true. I have an accomplished chef friend who's spent the great COVID calamity dreaming about pretzels, preferably the crisp little nuggets that are stuffed with peanut butter. One of my colleagues — another self-styled gourmet in the kitchen — says his main culinary focus over this bleak string of months has been nothing more involved than nicely scrambled eggs. Hot dogs are my brother's quarantine obsession (prepared the way his favorite road stand does them up in Maine, with steamed buns, a dusting of celery salt, and plenty of mayonnaise), while another well-traveled gourmand friend can't stop prattling about Costco's famous rotisserie chicken, which he recently told me in a loud, slightly desperate sounding voice "is better than any roast chicken you'll get in Paris."
With my once-glamorous eating life slowly fading into the fuzz of memory, I've been prone to similar heretical thoughts myself. Sure I enjoy outdoor dining as much as the next New Yorker, and I'll be back inside my favorite restaurants, new and old, as soon it's demonstrably safe to visit, but these days I'll take a homemade slice of rough and ready apple pie, with a glass of cold milk on the side, over a grandiose pastry creation any day of the week. When it comes the eternal joys of Chinese takeout, I've reconnected with the sweet crunch of General Tso's (especially with a carton or two of steamy white rice); and if I'm on the road, I'll make detours to the ever-crowded McDonald's drive-through window, where I'll furtively order that forgotten delicacy of my misspent youth: two double cheeseburgers and a small helping of fries.
But if I had to pick the one truly simple pleasure that has helped see me through these calamitous times, it would be the humble ham-and-cheese sandwich. I've been a ham-and-cheese devotee for decades, especially the fast-order, lunchtime variety, which the talented counter men would twirl up for me most afternoons around 1:30 p.m. at the Just Delicious Deli, located across Varick Street from the old New York magazine office. My bread of choice, then as now, is two soft slices of white, preferably grabbed from an open loaf of Arnold's. For cheese, the order is Swiss, as opposed to the processed, gummy American, which, when cold, tends to stick to the roof of your mouth. (I still have some standards.)
I'm not a fancy ham man, although the thin, textural shavings that pile up on the bread like drifts of paper under a good deli slicing machine are crucial. So is the out-of-season tomato, which will be cool and just a little wet, and the shavings of iceberg, cut confetti-style to maximize the pleasures of every bite.
More than anything right now, I like the familiar predictability of the deli ham-and-cheese: The softness of the white bread, the crunch of the lettuce, the tang of mustard as it mingles happily with the creamy off-brand mayonnaise. I like the sandwich's modestly unmessy, elemental size, and how it's always expertly wrapped in a portable, crinkly paper package with a kind of origami expertise that manages to keep it fresh for hours at a time.
I like how you can take the ham-and-cheese anywhere, and unlike overbloated sub sandwiches, it won't send you to the couch (or under the old cubicle) for an afternoon nap. I like how it's designed for a quick, pleasurably contemplative meal, which we all still need, even if we've left clamorous office life behind for now. I like how you get a little bit of everything you need out of a meal — a little protein, a little vegetable goodness, tons of mayonnaise — in every bite.
Over the last several months, I've grazed happily on ham and cheese sandwiches all around the neighborhood: at our local Lenwich, where Jose makes an excellent version for a couple of more bucks than the usual $7.50; at the Epicurean Gourmet, on University Place, where the counterman makes his version with generous amounts of Boar's Head ham; and at the Merci Market, on Fifth Avenue, where you can listen to piped-in flute sonatas by Vivaldi while Emelio suggests you add spicy German mustard to the usual ensemble to give it a little extra kick.
With the city opening up a little, I decided the other day to amble down to my former regular, across from the old office, to see how the ham-and-cheese experts at Just Delicious were holding up, but when I arrived a little after the lunchtime rush, around three o'clock, a metal grate was pulled down over the door and the place was shut tight. I peered in the windows to see fluorescent coolers and racks of old potato chips, but there was no sign of life inside, and it was difficult to know whether they were closed for the afternoon, or forever, and whether or not the sandwich masters, like other great chefs around the city, were on reduced hours, or in hibernation, or whether they'd ever be back again.