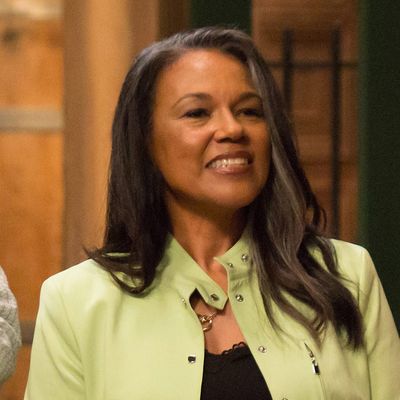 Toni Tipton-Martin on
Top Chef.
Photo: Paul Cheney/Bravo/NBCU Photo Bank/NBCUniversal via Getty Images
There's news of another major hire in food media. Toni Tipton-Martin, the award-winning cookbook author and chronicler of African-American culinary culture, has been named the new editor-in-chief of Cook's Country. The magazine and accompanying television show are published by America's Test Kitchen, which is also behind Cook's Illustrated.
Tipton-Martin is the author of the Jemima Code and most recently Jubilee, the James Beard Award–winning cookbook that collects two centuries worth of African-American recipes and stories behind them and their creators. (Both books are indispensable, and should be in the collection of any home cook interested in American cooking.) Tipton-Martin is also a veteran of the news media, and became the first African-American editor of a major American newspaper's food section, the Cleveland Plain Dealer, in 1991. It can't go without saying that this country's cuisine has been shaped by African-American cooks since the earliest days, and Tipton-Martin has shone a light on these essential and foundational but underrecognized contributions.
Speaking to the New York Times, she says her vision will be "identical to my approach at The Plain Dealer, which was to investigate the cooking of every single, solitary culture in the city until we hit everybody." Het appointment to Cook's Country follows Bon Appétit's hiring of Dawn Davis as its next editor-in-chief. A heavyweight from the world of publishing, Davis will be, when she starts, the third Black person currently leading one of Condé Nast's U.S. publications. (Lindsay Peoples Wagner and Whembley Sewell lead the Teen Vogue and Them brands.) Davis is the third Black person to lead one of Condé Nast's U.S. print publications.
This post has been updated to with more information about Dawn Davis and Condé Nast.