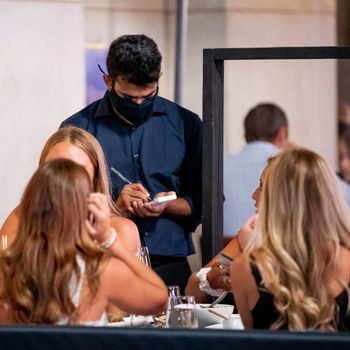 Last week, the New York City Council passed a bill allowing restaurants to add a COVID surcharge.
Photo: Roy Rochlin/Getty Images
Last week, the New York City Council announced that it had passed a new bill allowing restaurants to add a COVID surcharge of 10 percent. The law will stay in place until 90 days after indoor dining is brought back to full capacity, but like so much else done over the past six months, it's a gesture of help that does too little.
It shifts the onus onto customers, who have continuously asked to "save restaurants" from the beginning, including through well-intentioned efforts to get people to buy gift cards, order merch, or spend their money at places in hard-hit neighborhoods. Though the thing never acknowledged was: This is never going to be enough. There has been some aid: the flawed PPP loans, NYC's $3 million fund to help 100 restaurants that closed because of the pandemic, the CARES Act's enhanced unemployment benefits.
But with this bill, the City Council acknowledged that restaurateurs and bar owners need more help than they have gotten. (Clearly, this holds true for all small-business owners.) Many will tell you they've been forced into circumstances where they have no choice but to open; they'll lose everything if they don't, even if it is still not completely safe to do so. Will an additional 10 percent charge be able to, as councilmember and bill sponsor Joseph Borelli says in a statement, "give restaurants the freedom they need to increase revenue to help cover rapidly rising labor and compliance costs and keep them in business"? In the words of one restaurant owner who texted Grub, "It makes no sense."
Restaurateurs have always been free to raise their menu prices as much as they'd like, of course, and if they need to charge $11 for a salad instead of $10 to stay in business, most won't hesitate to raise the price — even though restaurant customers are, by and large, extremely price sensitive. In fact, some restaurateurs say that breaking out the 10 percent charge as its own fee will only serve to scare off customers, the New York Times reported on Friday. The owner of Little Italy's Da Nico Ristorante told the paper he's not going to charge his customers more, even if he can. Those owners that are going to add the surcharge say they'll only do so at lower percentages. Others worry about the ramifications for servers, including Saru Jayaraman of One Fair Wage, who argues to the Times that customers will presume the surcharge automatically goes to employees.
It seems pretty clear that people (who are able to) are willing to help the places — and, in some cases, the people behind them — they love: Look at the money ($38,000) that was raised in two days by Punjabi Deli, a downtown-Manhattan favorite, or for B&H employee Mahmoud "Mike" Tarabih. Merch Aid did collaborations with artists to raise money for local businesses; Nicolas Heller, better known as New York Nico, got people to line up outside of Saigon Vietnamese Sandwich Deli after he was sent a photo of a sign the owners put up asking people to spread the word that they were struggling. For every Punjabi Deli, there are many more places and people who are falling through the cracks: small takeout places or delis, lesser-known restaurants without the big followings, family-run spots whose owners may not have the necessary social-media savvy. Some restaurant GoFundMes were able to raise what seemed like good money, but, as Plate reported, it didn't necessarily translate into substantial help for the employees, whose bosses, in the case of the bigger groups, may be millionaires. It should not fall upon people to be doing this alone.
At the end of the day, the COVID surcharge is being introduced six months after the restaurant shutdown. It's coming nine months into a year that's been devastating for the industry and the people who work in it, many of whom remain unemployed. According to the New York State Department of Labor, NYC's leisure and hospitality industries lost 231,100 jobs year over year from August 2019 to August 2020. (Unemployment in the city improved over all, dropping to 16 percent.)
The damage has already been done, and a voluntary 10 percent surcharge is not going to keep restaurants in business.
All the numbers are dire. Is an extra 10 percent on a few $100 bills going to make a difference on their $8,000 rent when they can seat only half the tables that they are, in a word, paying their rent for? (And that's if the weather is good.)
Every month, the New York City Hospitality Alliance releases its figures on what percentage of restaurants have been able to pay their full rent, and every month the numbers get worse — in August, 87 percent of operators were unable to pay their full rent. (The New York City Hospitality Alliance surveyed 500 restaurant owners.) But calls for rent relief — a move that would actually help countless small-business owners, people who have sunk their time and life savings into places you've never heard of — have fallen on deaf ears; Governor Andrew Cuomo has shrugged them off like an elephant swatting at a fly. Is a COVID surcharge a substitute for substantial rent relief? Will it allow people to pay rent again? Is it a substitute for the help that should've been given to the people who have instead gotten none and are now staring down a future that is somehow even more bleak than the present? Economic loss is inevitable during a time like this, but it didn't have to be this bad — and it shouldn't be up to diners alone to try and fix it.