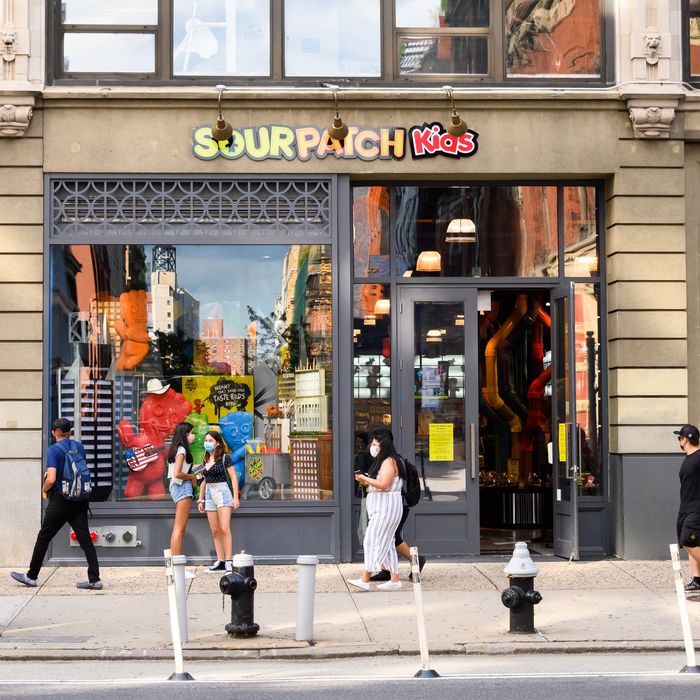 It's real.
Photo: Noam Galai/Getty Images
Plenty of businesses have thrived under the disaster capitalism of the coronavirus pandemic: food delivery apps, Lysol, whoever makes plexiglass dividers. "Invest now in patio heaters," a socially distanced outdoor Hinge date recently told me. But, of course, numerous businesses and industries have suffered catastrophic fallout as well, and it's safe to say "novelty Instagram-bait retail stores" are among this latter group. The tourists upon which these "experiences" depend are simply not here: Broadway and other major attractions remain closed, travel has essentially disappeared, and the New York Times reports that hotel occupancy sat at just 37 percent this July, versus upward of 90 percent in summers past. Furthermore, even though stores are open again, "exposed bulk bins of loose candy" are not an ideal COVID-era inventory strategy. And yet, even taking all of this into consideration, a Sour Patch Kids flagship store, officially known as Sour Patch Kids NYC, opened in Manhattan just last month, and its mere existence inspires so many questions — Why open now? Who is the audience for this? They still make Sour Patch Kids? — that I knew I had to go.
The stretch of Broadway in Noho where the store is located looks, these days, like an open-air abandoned mall. A massive Victoria's Secret store sits closed for good. A nearby outpost of the salad chain Dig has been stripped of both the "Inn" from its original name as well as its décor. Boarded-up sneaker stores are everywhere. Across the street, about a block away, the Museum of Ice Cream — the ne plus ultra of Instagram installations — remains shuttered, its ball pits and sprinkle tubs sit empty, pastel, and fallow.
As I entered the Sour Patch store, I noticed a family leaving with shopping bags in a hue that will be familiar to anyone who has ever been to Times Square. It's what I will call "M&M's store yellow," and I soon realized this would become a theme for my trip. M&M's World is the alpha and the omega of the candy flagship. The Sour Patch Kids store can merely exist in that shop's sugary shadow.
That said, I was heartened by the Sour Patch design. I am a lifelong sucker for any junk food campaign that's based on a factory mix-up (Uh-oh! Oreos, Cap'n Crunch's Oops! All Berries, the Twix packages that include two "left" bars), and the Sour Patch shop's brick-wall appliqué, with oversize Technicolor pipes snaking down from the ceiling, gave me hope that we might finally learn a little more about the candy's industrial origins. Would we get to see the vat of chemical goo that turned these innocent kids from the patch so sour? Alas, we would not. Instead of a Willy Wonka–style wonderland, the Sour Patch Kids store mostly looks like a reclaimed Zumiez.
It was oddly comforting to see plenty of notices posted both at the candy tubs and throughout the store about social distancing, mask-wearing, and handwashing. But I was disappointed by what the store lacked: Limited-edition flavors and one-off novelties — chocolate-covered Kids? Sour Patch Minions or Sour Patch Smurfs? — that are all but essential to the true candy flagship experience (M&M's World has something like 30-plus colors available, and you can get custom messages). Instead, at this here Sour Patch, you get your usual choice of red, orange, yellow, green, and blue, plus the watermelon flavor that doesn't even look like a kid. You can get a tin of red-only gummies, which I guess counts for something.
I will, however, note my personal favorite part of the store: a Swedish Fish corner, tucked meekly in the back. Pristine, untouched, and proud were the rows and racks of Swedish Fish–themed clothing and merch. It made me wonder how much more excited people might have been for an entire Swedish Fish store — a beautiful Scandinavian aquarium of mysteriously flavored candy that is maybe supposed to be lingonberry — which could easily look like someone designed an Ikea store after dropping acid.
Instead, we get Sour Patch Kids and the Sour Patch Kids dessert bar. In this open-concept kitchen, you can enjoy many Sour Patch Kids–centric delights, ranging from a cotton candy constellated with Sour Patch Kids Bitz to a Black Tap–style sour milkshake topped with a slice of rainbow cake, which will run you $17.99. (For reference, an actual Black Tap CrazyShake, featuring ice cream candy and lots of flavor options beyond "sour" is $15 at the original Soho location.) The dining area, which takes up a quarter of the store, was closed off, so I passed on dessert.
The last piece of the unsolvable puzzle that is Sour Patch Kids NYC is the photo-op station. Like the exclusive Sour Patch Kids edible cookie dough ($6.99 per scoop), these installations seemed half-baked. The main one is a yellow cab driven by a Sour Patch cabbie in front of an NYC skyline. The back seat, where guests sit, was made from a loose block of wood that wasn't screwed into the floor and toppled backward when my friend sat in it for a picture. It was a mess that also represented the larger problem with the Sour Patch Kids store experience as a whole, which is that the Sour Patch Kids, as characters, are not iconic enough to warrant the sort of excitement and identification that this type of attraction needs in order to thrive. To take it back to the M&M's store, the M&M's mascots as we know them are distinct characters with instantly understood personalities and traits: Yellow is dumb but kindhearted, red is a bossy smart-ass, and green is the one they hope you want to fuck. The Sour Patch Kids are just … kids? They're all sort of vaguely "mischievous," I suppose. Are people expected to line up in COVID-ravaged Manhattan to take pictures with the blue Sour Patch Kid dressed as the Statue of Liberty?
I love themed experiences. I love goofy branded shit. I even love sour candy. But in a city that already has Dylan's Candy Bar, the ramshackle majesty of Economy Candy, and real deal imported Cadbury at Myers of Keswick, not to mention every type of Hi-Chew and Japanese Kit Kat you can imagine at Sunrise Mart, a trip to the Sour Patch store feels a little like a punishment. I left with as many questions as I had when I arrived, plus one more that, admittedly, I hadn't quite expected to encounter: If a retail experience can inspire feelings of deep melancholy, does that make it art?