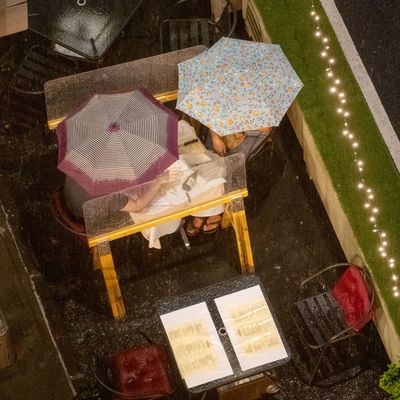 An aerial view of Cafe Luxembourg's outdoor seating in New York.
Photo: Alexi Rosenfeld/Getty Images
There is very little that is certain about the future, but there is one thing we know is true: Soon, it will be winter. In New York City, it will be cold. Many of the options that have helped keep restaurants above water through the summer will be off the table. The city's expanded outdoor-dining program is still set to expire on October 31. It is possible that it could be extended — "there's definitely openness on our part to going longer if we think it will contribute something," Mayor Bill de Blasio mused vaguely at a press conference last month — but public policy cannot change the basic fact of weather.
Indoor dining is also set to return on September 30, but capacity will be extremely limited: 25 percent to start, with plans to reassess on November 1. It could double, if infection rates don't rise, but for a lot of restaurants, even 50 percent capacity won't be enough to stay out of the red without some kind of outdoor option.
Clearly, the problem calls for radical solutions. New York City does not, at present, seem to have any, but our friendly neighbors in the Midwest seem to be working on it. Chicago has partnered with IDEO, a global design firm (also BMO Harris Bank and the Illinois Restaurant Association) to solicit proposals from the public for what safe winter dining could maybe look like. It's a contest, not a plan, but Samir Mayekar, deputy mayor for Neighborhood & Economic Development, told the Chicago Tribune that they're hoping to get corporate sponsors to help make any of it actually happen.
So what does the future of "outdoor" winter dining look like? By the time the contest closed, there were 643 pitches, all of which you can peruse on IDEO's website. Some of them are practical. Some of them are jokes. Many of them, including the current front-runner, are variations on pods: geodesic-dome-shaped pods, cylindrical pods, ventilated greenhouse pods, shipping-container pods. Pods, you may remember, did not go over especially well in San Francisco, when a fine-dining restaurant tried to institute them in an area with exceedingly high rates of homelessness and instead created a metaphor about class in America, but even critics were quick to note than given the country's general COVID-19 response, restaurants have been left with few choices, and in Chicago, in the winter, there will be even fewer. It could be sort of like those rental doghouses that were briefly on some street corners so you could leave your bichon frise by the minute while you went to buy groceries! We are all bichon frises now. Supposedly, they self-cleaned.
It is not all pods, though. Restaurants could repurpose old city buses, for example. What if parking structures were turned into multilevel food courts? Has anyone yet considered heated, glowing chairs?
At CityLab, design critic Alexandra Lange makes a much more basic — and more radical — proposal. "What if we spent Covid winter outside … and enjoyed it?" she writes. "Cities need to catch up to ski areas, which long ago figured out how to make après ski activities like outdoor bars and music venues as much of an attraction as the slopes," she argues. At the very least, we can rethink what we wear. What was warm enough to dash from one indoor space to another is not warm enough when outside is all there is. But we could change. "Dress in layers," Lange coaches. "Invest in silk and wool long underwear, get over your prejudice against parkas."
Even if restaurants aren't allowed to continue formal outdoor dining in the winter, there is no particular reason we could not, with proper preparation, learn to enjoy a casual takeout picnic in the cold. Would it not be bleakly romantic to feast upon a nice order of pelmeni with a friend huddled on a city bench, protected from windchill by an appropriately insulated hat? Festive to sip hot toddies from to-go cups atop rocks in Central Park? With a can-do spirit and good long underwear, could this not be fun? Normalizing alfresco winter dining could certainly help restaurants. The real winners, though, might be the manufacturers of coats.