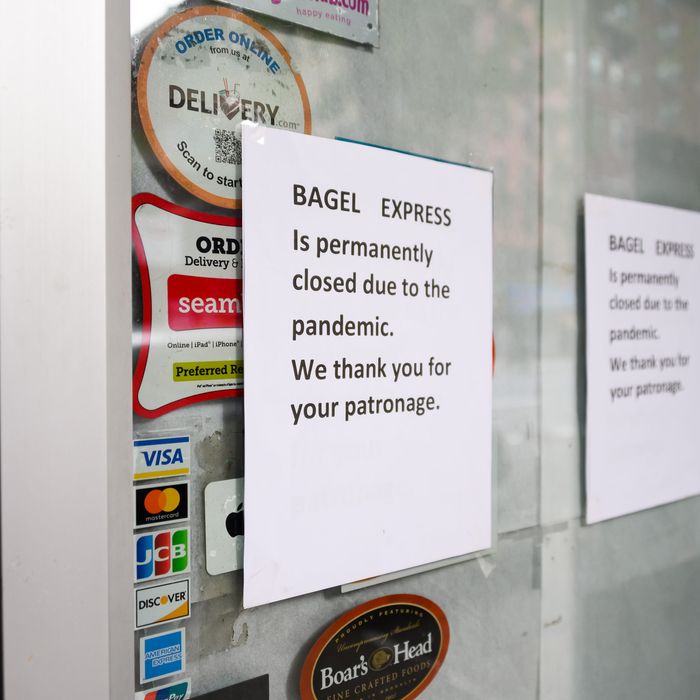 A midtown Manhattan closing.
Photo: Noam Galai/Getty Images
As you may have heard, restaurants are closing in droves. Almost one in six, or roughly 100,000 restaurants, have closed long-term or permanently, according to one survey by the National Restaurant Association, and the industry could lose as much as $240 billion by the end of the year. Back in March, states around the country ordered restaurants to close, and today marks the half-year point since New York City announced its own shutdown. The myriad closings of restaurants and limited service also mean 2.5 million industry jobs have been lost.
Restaurateurs fear things will only get worse during the winter. Cold weather will put an end to outdoor dining, which has not been a solution for businesses so much as a stopgap. The pandemic is far from over, and restaurants and bars in particular are places where transmission of the virus is much more likely. Transmission rates are now around one percent in New York City, which opens for indoor dining at limited capacity on September 30. The return of indoor dining has caused concern among experts and workers, with one telling Grub, "I don't trust customers or my employers to care about my humanity enough to even consider not partaking in indoor dining."
Operators feel stuck between a rock and a hard place, with one recently telling Grub she'd be happy to close if it wouldn't immiserate her and her employees. According to a CDC study, people who test positive for the coronavirus are twice as likely to have gone out to a restaurant. (Some observers, including journalist Kendra Pierre-Louis, point out that the CDC didn't distinguish between indoor and outdoor dining.) Linsey Marr, an environmental engineer at Virginia Tech, tells the Washington Post, "You're sitting there for a long time, everyone's talking, and that's just a recipe for spread." The paper notes that in Colorado and Louisiana, bars and restaurants account for roughly 20 percent of cases that were traced back to a known source. Bars in particular have been linked to outbreaks, and a former state epidemiologist named David Engelthaler tells the Post, "One thing that all bars have in common is that they create a lowering of inhibition, and I think more than anything, this will cause the spread of covid."