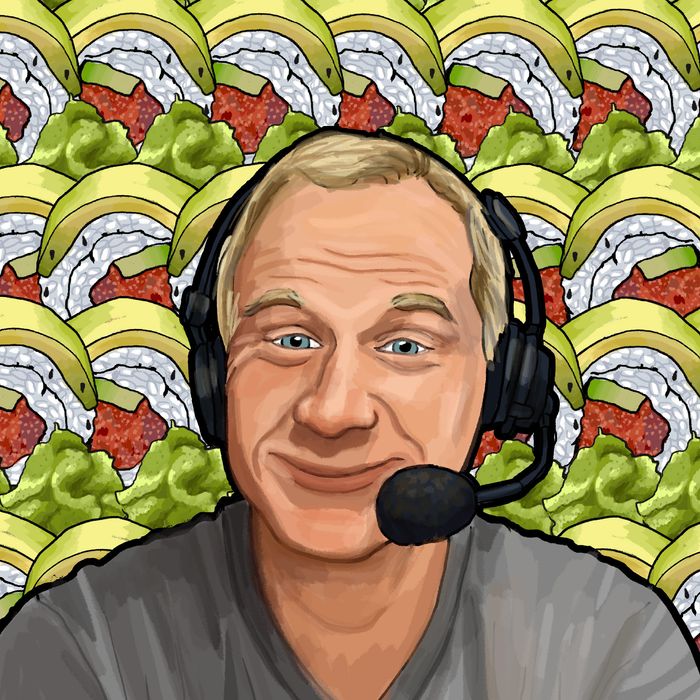 Patrick McEnroe broadcasting while dreaming of sushi.
Illustration: Margalit Cutler
For the last couple weeks, the ESPN broadcaster and former tennis pro Patrick McEnroe has been in quarantine in a tennis-tournament bubble. The U.S. Open typically draws massive crowds to Queens — just ask any New Yorker who has taken the 7 train in late August. This year, of course, there are no fans. "Obviously for the top, top players it's got to be weird, for Serena and Djokovic, every time they walk out there there's a huge crowd," McEnroe says. "But it's still a tennis match. It's not that different when you get between the lines." In the tennis bubble, he's keeping busy studying up on players he's less familiar with, and watching the greats practice. "I'm sitting in Arthur Ashe Stadium, which normally seats almost 24,000 people, there's maybe at the moment 50 people in here," he tells Grub. He's also been drinking plenty of La Croix while stuck inside his tennis bubble — "I am currently obsessed with sparkling water" — and eating some favorites, like sesame chicken and Coals grilled pizza.
Friday, August 28
My day begins with the 9 a.m. morning ESPN production meeting, where we go over the TV schedule and get our stat sheets on all the players and matches for the day. This week, I was covering the Western & Southern Open tournament, normally held in Cincinnati, which is being held this year at the Billie Jean King National Tennis Center, the site of the U.S. Open, which I'm also covering.
After the meeting, for breakfast I had an egg-white frittata with broccoli, mushrooms, onions … and some hot sauce. I like that Cholula. That's what they bring to us here, I'll take that. I wouldn't say I'm a connoisseur of hot sauce, but I have been adding it a little bit more. When I was young I wasn't into spicy foods at all. It's something I've gotten more into in my later years. Brad Gilbert, my comrade at ESPN, he's a heavy-duty hot-sauce guy. Maybe his influence rubbed off on me a little bit.
Then I prepared to go on air for pre-match commentary about an hour later with my colleagues Chis McKendry and former world No. 4 James Blake (whom I coached when I was captain of the U.S. Davis Cup Team). I try not to eat too much before going on air. I get a little tempted sometimes just to start pounding down sugar.
For lunch I had a Greek quinoa salad with grilled chicken, cucumber, tomato, feta, olives, and pepperoncini. And I am currently obsessed with sparkling water. La Croix is my favorite with all their flavors (passionfruit, key lime, mango, and tangerine in particular). They have an unbelievable supply they have in our commentary booths, various flavors of La Croix. I'm sort of the guy who started it, so now everybody drinks it.
When I go to the booth, the stage manager is not allowed to be in the booth with us but is in the outside area. They'll ask me, "What would you like to drink?" And I say, "Bring me a La Croix." And they say, "What flavor?" And I say, "Surprise me!" 'Cause I love all the flavors and that they're coming up with something different. I like the plain old lemon and lime, but they have a limoncello one that is new.
I finished my lunch break watching the women's semifinals from the ESPN production booth. The matches were former U.S. Open and Australian Open champion Naomi Osaka of Japan vs. Elise Mertens of Belgium, and two-time Australian Open champion Victoria Azarenka of Belarus vs. Johanna Konta of Great Britain. Then I prepared to go back on air to do live match commentary during the men's semifinals.
For dinner, I ate sesame chicken with peppers, onions, snow peas, sautéed bok choy and vegetable fried rice, paired with a beautiful bottle of 2018 Matthiasson Village Cabernet Sauvignon. Oh, man. I love sesame chicken with a really nice fried rice. That's definitely one of my favorites. I kind of like the little sweetness of it; I have a sweet tooth.
I do love my desserts. Ice cream is my favorite. Ben & Jerry's is usually on site here. But we don't have that this year, so I've got to try to make do without that. That would be my late-night treat if I'm doing a late match, I'm getting a little tired, I need that sugar buzz. I'm a big cookies and cream guy, and I love the basics, man. I love coffee. If I go for a flavor that has something mixed in I always go for plain vanilla, as well.
Saturday, August 29
Before my 9 a.m. production meeting I made a delicious (and healthy!) smoothie with strawberries, blueberries, raspberries, almond butter, almond milk, sliced almonds, and some Jarrow Formulas whey protein. I try not to pig out too much.
Following the meeting, I went down to the "hotel bubble" gym for a morning workout: 20-minute intervals of uphill walks/jog on the treadmill, followed by an upper-body workout with weights for my back and triceps.
I got ready to go on air this afternoon on ESPN2. First was some pre-match commentary before the men's final between Novak Djokovic and Milos Raonic, then some live match commentary. After losing the first set, in true Djokovic fashion he came back to win the match, making him the 2020 Western & Southern Open Men's Champion and the favorite to win the U.S. Open (which he has previously won three times).
For lunch, I had a pesto quinoa salad with walnuts, garlic, sun-dried tomato, and mozzarella … and of course some more La Croix sparkling water! The food is being catered by the tournament. Normally there is food everywhere and you can choose. This year because of the strict protocols we have to order our food through the catering three days in advance. They send you an email, and you have to answer what you want for breakfast, lunch, and dinner.
The pesto quinoa salad was tasty — I was surprised. I've really gotten into pesto, though. During quarantine, my wife made an unbelievable fresh pesto sauce a couple times. I never really liked pesto until I went to La Cinque Terre in Italy years ago, before my wife and I had kids. We were relatively newly married and her family has a lot of Italians in their background. We went on sort of a family trip there, and I just fell love in with the pesto sauce.
Growing up I was very basic meat and potatoes, you know my mom used to make a great Bolognese sauce. I feel like I've branched out a little bit in my adult years. Traveling around the world definitely helped. A lot of the time, when I was on the tour, we were in Asia. That's when I got into sushi, and some of the Chinese and Korean dishes I like. I love Korean barbecue — I used to go down to a couple of the Korean barbecue places down in the Village when my wife and I lived in the city. I'd be lying if I said I remembered the name. Hopefully they're staying in business with this craziness.
My Saturday evening began with an important pre-U.S. Open announcer meeting that lasted about two and a half hours. For afterwards, they were kind enough to bring in some good old-fashioned New York–style pizza and fresh garden salads for everyone. I've always loved pizza. When I was on tour, as soon as I'd come back to New York, the first I'd do is go get a slice. I'm not that particular. Over the years I've grown to like the really thin style, like you get in Italy. But a New York slice is still right up there.
Sunday, August 30
For breakfast this morning I made one of my favorites: Fage Greek 2 percent yogurt with fresh blueberries, almonds, and a touch of honey mixed in. Breakfast was followed by my morning production meeting, and then I got ready to go live on air for a special U.S. Open edition of SportsCenter. I was on with my colleagues Chris McKendry, Darren Cahill, and Brad Gilbert, breaking down the men's draw and discussing the first round matches.
Once SportsCenter was done, I had a fresh turkey wrap with cranberries, goat cheese, and baby spinach, which I got to enjoy while watching Serena Williams have a practice session on Arthur Ashe Stadium Court. It's pretty cool to watch these great players practice. Serena tends to focus on a couple little things, I've noticed, in her practices. It's amazing when you watch someone that good hone in on a couple things.
I had dinner in my "hotel bubble" room, a few slices of Coals thin-crust, grilled pizza with prosciutto and arugula, along with some roasted Brussels sprouts with walnuts and raisins (in recent years, Brussels sprouts have become one of my absolute favorite things to eat). It's really good, that's become one of my favorite staples up where I live. I was able to get that delivered to me last week at some point.
After dinner I recorded an episode of my podcast Holding Court (which I started earlier this year in quarantine, after testing positive for COVID-19). Normally I would be recording in my studio in the basement of my Westchester home, but my "hotel bubble" room works out just fine. I previewed the Open, most episodes feature me interviewing special guests/friends from the entertainment and sports worlds. My next guest this month will be tennis icon (and four-time U.S. Open Champion) Martina Navratilova; previous guests this summer have included Alec Baldwin, Ben Stiller, NBA greats Steve Nash and Dirk Nowitzki, tennis legend and six-time U.S. Open Champion (and my ESPN colleague) Chrissie Evert, and Billions creator and producer Brian Koppelman.
Once I finished taping my podcast episode, I did some U.S. Open prep work for the opening-day matches tomorrow. I then spent the rest of my night chilling with a glass of vino.
Monday, August 31
For breakfast I kept it simple, just a protein bar and coffee before heading to my 10 a.m. ESPN announcer meeting.
Then I did a late morning workout at the hotel bubble gym before heading back to the U.S. Open grounds to get ready to go on air around 1 p.m. for live match commentary with my brother John. But first, I had to pick my outfits for when I'm on TV: I decided on a casual look for the day with a blue button-down shirt, and then a more snazzy look for the evening when I'll be back to call the second match of the night on ESPN2. I opted for a pinstripe blazer, a white button-down shirt, and a blue silk tie with white daisies on it.
For lunch, around 1:30 p.m., I had a chicken Caesar salad while calling the afternoon match with John. It's the first men's singles match on Arthur Ashe of the entire tournament featuring Alexander Zverev of Germany vs. Kevin Anderson of South Africa (a U.S. Open finalist in 2017, losing to Rafael Nadal). Zverev won. I like the chicken Caesar, I also like that I know what I'm going to get here. That to me is fairly healthy, I go no croutons, the chicken is usually a pretty good quality chicken. The bonus is if I can warm up the chicken. Sometimes I go for a different dressing, like the balsamic vinaigrette. I don't always go for the Caesar. I just love salad, and I love grilled chicken, and I love Parmigiano.
After the match, I had a break before I got ready for Primetime that night. I was on air with Chrissie Evert at the famous "Fountain Plaza" to do the intro segment before the Opening Ceremony and the night matches. Later in the evening, Chrissie and I called the second match of the night on Arthur Ashe, Naomi Osaka vs. Misaki Doi. Osaka came out with the Breonna Taylor mask in the first round. It's amazing what she's done to put herself out there like that. It's definitely been a topic of discussion for us on air, and it's something we're continuing to watch. The tournament is going on, as is the NBA, and it's been nice to see someone like Naomi step up and be the leader in the tennis world. There's been a lot of incredible tennis people over the years — obviously Billie Jean and Arthur Ashe being the most obvious — who have spoken out about social issues and racial injustice. There's no doubt that Naomi took a major step, stepping into the forefront.
Before I went back on air, for dinner I had sesame chicken again with peppers, onions, snow peas, sautéed bok choy, and vegetable fried rice. The Osaka/Doi match started at 10:15 p.m. and finished just before midnight. Osaka pulled through and won it in the third set. But my night was not done … one more match was being played, so Chrissie and I finished the night doing commentary for American Ali Riske vs. Germany's Tatjana Maria. Luckily, Riske cruised through the second set to win the match, which ended a few minutes after midnight.
BEDTIME!
Tuesday, September 1
Before my 10 a.m. ESPN meeting, I made a power protein smoothie: spinach, frozen blueberries, bananas, raw almonds, peanut butter, flax seeds, chia seeds, half low fat organic milk/half almond milk, and ice. (I like it to be icy and thick.)
Had a late lunch at 3:50 p.m., a gluten-free chicken teriyaki wrap with cheddar cheese and fire-roasted peppers and onions. The chicken teriyaki wrap, I'm not going back to that. There's not going to be a second round. Normally I like chicken teriyaki if it's hot and with rice and there's broccoli and stuff. But the wrap was a mess. I wasn't down with that at all.
It was a light day for me. I had most of the day off, and then did the Venus Williams match at night. That was a pretty good match. She played a seeded player from the Czech Republic, Karolína Muchová, who is a very good player. It was the first time in 22 years that Venus Williams lost in the first round of the U.S. Open. She never has. It's amazing she's still playing at 40. She hasn't been a factor the last few years as far as winning one of these, but the fact that she's still out there playing, and she loves it, is pretty remarkable.
Serena is going to be 39 and she's still a factor to win this. It's just remarkable to consider how they started, and their dad said they were going to retire in their early 20s and do other things. The fact of the matter is they have done other things. I think in a way that's helped them have the longevity to want to keep playing tennis for this long.