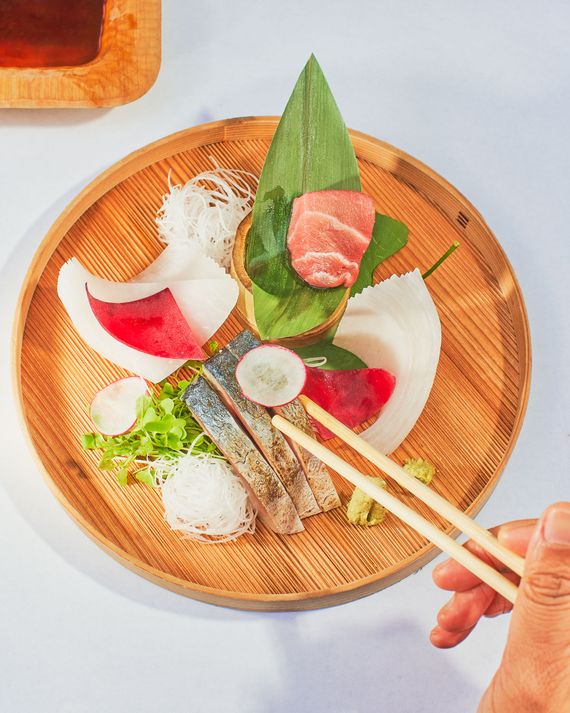 Sashimi at Odo.
Photo: Heami Lee/B)Heami Lee
Last week, Mayor de Blasio announced that outdoor dining in New York is a thing that knows no season. The city's Open Restaurants program is now, like death and taxes, one of life's certainties, or as certain as anything can be these days. It has yet to be seen just how lunch in the slush or hailstorm happy hours will pan out, but great minds everywhere are brainstorming sub-zero alfresco solutions. Until then, make the most of peak outdoor-dining weather by trying a new restaurant, sampling an iconic New York dish never before served en plein air, feasting on sidewalk sushi omakase, and taking a load off at a place that was previously standing room only. And if you do intend to brave the elements year-round, we've included a guide to dressing for the deep freeze.
1. Eat Sushi Omakase on the Sidewalk
How does the traditionally intimate, cloistered experience translate to an outdoor setting? Our restaurant critic Adam Platt finds out.
There are all sorts of good reasons not to order or, by some miracle, attempt to manufacture your own home-style sushi omakase experience while in the midst of a citywide pandemic emergency. "Everyone knows cold food is covered with germs," one of my daughters said when the idea was briefly raised, then shelved forever, in our little family pod, and who can argue with that? Like cheeseburgers, freshly baked naan bread, and a thousand other delicacies, top-class sushi tends to wilt and lose a little of its essence when sealed in a container and subjected to the rigors of the carryout experience. And there are the moral factors — the environmental concerns, the obscene cost in a time of economic crisis, and the summertime spectacle of the gilded 0.5 percent feasting on $800 Masa bento boxes out in the Hamptons while, back in the town, the restaurant business slowly withered and died.
But with outdoor dining still in bloom around the city, and some semblance of indoor dining scheduled to begin soon, news of the death of New York City restaurants seems, for a few days at least, to be just a little premature. Scrolling through various reservation apps, your humble critic was surprised to find a variety of sushi omakase dinners being offered on the sidewalks of the city, and several places were even fully booked. When I asked one of my connected sushi-crazed friends if he could help procure a table at the ever-trendy Shuko, below Union Square, he called back sounding the way he used to sound in the good old days, when assorted nabobs and sushi bros (and fat-faced critics) waited for weeks, and even months, for the pleasure of devouring overpriced omakase dinners in tiny, semi-ventilated rooms. "Sorry Platty, there's nothing I can do," he said. "They're fully committed for the evening."
Which is how I found myself perched a little uneasily at a makeshift, plastic-topped sushi bar that the proprietors of the East Village restaurant Sushi Dojo have set up among the shuttered shops and graffiti-strewn dining boxes on an increasingly crowded little stretch of sidewalk along First Avenue. There are bowls of Wagyu fried rice on the menu and gently sizzled soft-shell crabs for $10 apiece, although if you happen to have a little cash in your pocket (or a recently reopened expense account), I recommend one of the three omakase options, which arrive several pieces at a time. There were two kinds of uni in my modest selection and a tender slip of king salmon decorated on top with a slice of fried garden tomato, although the highlight was a log-shaped hand roll generously stuffed with tuna, which I enjoyed while an agitated gentleman walked by yelling "We gotta hang Cuomo for all he's done!" into his phone.
2. Patronize a Place With the Bad Luck to Open During a Pandemic But the Good Luck to Be Able to Serve Outside
Seven new outdoor-dining destinations.
The Carreau Club
68 34th St., Courtyard 5-6, nr. Third Ave., Sunset Park; no phone
Play pétanque and eat pan bagnat in an Industry City courtyard. The idea (and the sandwiches, including a mighty muffuletta) comes from M. Wells, where one of the owners used to be general manager and developed a passion for the lawn game, which resembles the Italian bocce only with different balls, more of a tossing than a bowling motion, and the requisite French flair.
Top Quality
10-29 44th Rd., Long Island City; 718-786-8271
Despite its meteoric development, Long Island City still retains blocks with low rooflines and unassuming façades. Behind one of them you will find this inventive new taqueria, where Texan chef Eduardo Sandoval puts yuzu kosho and Kewpie mayo in his grilled-corn esquites and figs and dates in his fried rice. (He used to cook at Tygershark and Mission Cantina.) There's seating out front, but most of the action — and space — is on the roomy back patio.
Outerspace
99 Scott Ave., nr. Randolph St., East Williamsburg; 718-386-3482
The industrial outskirts of East Williamsburg is as unlikely a tropical setting as the star-crossed Gitano's Holland Tunnel approach, but somehow a lush garden has sprung up outside the cultural center and concert venue 99 Scott Studio. Both the pizza and wine are naturally fermented, as contemporary tastes dictate, and the menu, courtesy of co-chefs from Cosme and Blanca, is big on seasonal produce with a Latin American slant.
Lhasa Tibetan Restaurant
177 First Ave., at 11th St.; 917-388-2230
Lhasa Fast Food might be more famous for its mysterious location — ensconced in the back of a Jackson Heights retail maze — than for its popular momos, noodle soups, and stir-fries. Its new East Village outpost is almost ostentatious by comparison: Not only does the place have its own storefront and awning; it's got a wood-ringed dining pen right on the side of the street, beneath the shade of a canopy tent festooned with fluttering prayer flags.
Kokomo
65 Kent Ave., at N. 10th St., Williamsburg; 347-799-1312
This Caribbean-inspired restaurant communicates its tropical-vacation theme via thatched umbrellas, lush greenery, and frozen punch (not to mention the song-title name). An off-the-beaten-path corner location accommodates nearly 80 seats over two sides, and the menu (from jerk chicken to jackfruit tacos) appeals to carnivore and vegan alike.
Public Village
23 Essex St., nr. Hester St.; 646-476-7501
The curbside setup might not be the most spacious, but with each of its four distanced stools facing a counter ledge, as in countless Chinese noodle-and-dumpling shops before it, it serves its crucial purpose: affording you the ability to commune privately with your bowl of scrambled-egg-and-tomato noodles, drunken-beef noodles, or Chengdu dan dan noodles, every strand and sauce and even strip of spicy beef jerky made in-house.
N 11th Street Cookout
86 N. 11th St., at Wythe Ave., Williamsburg; 917-410-0882
AstroTurf, umbrellas, amply spaced picnic tables, the Brooklyn night sky: These are the things pandemic dreams are made of. Should you grow hungry or thirsty, contactless cell-phone orders summon soft pretzels, frozen cocktails, burgers, and dogs.
3. Dress for Dinner Like a North Woods Mainer
Six tips from two cold-weather-gear gurus.
It's unlikely that anyone has ever asked Karen and Igor Sikorsky for their advice on what to wear when dining out in New York. The Sikorskys run a rustic 130-year-old fishing camp in North Central Maine that's 50 miles by dirt logging road from the nearest town (not to mention cell signal), and they dress the part: vintage Woolrich, Patagonia, Johnson Woolen Mills, Marmot, and L.L.Bean (they practically sleep in their duck boots). If we half-jokingly told you the look at the camp is Dad Fashion meets Deliverance, it's because—full disclosure—we're related to the Sikorskys, and that is the way our family expresses love and affection. That said, with the mayor's recent announcement that the city's outdoor dining program, like the USPS, will carry on through snow and rain and gloom of winter night, we thought who better to tell us what to wear when the temperature drops and all the tables next to the space heaters are spoken for? Here are a few of their tips.
Long Johns, Base Layers, and Union Suits
You probably wouldn't consider wearing a girdle or some Spanx to a place whose goal it is to feed you rich food and ply you with intoxicating drink. The very idea seems like cruel and unusual punishment. The same goes for a suit of form-fitting long underwear. The Sikorskys dispute this. The key to staying warm and comfortable outdoors, they say, is a carefully considered system of layering, which begins with a solid base. Igor Sikorsky swears by the comfort of his Duofold union suit (from $27 on Amazon), an ungainly looking thing with a "trap door" in the rear that we'd previously thought was worn only in old movies for comic effect by prospectors, bare-knuckle boxers, cowboys, and lumberjacks. And he may be on to something. According to a little light Googling, the union suit was invented in Utica in 1868 not for men but for women, who called these garments emancipation suits because they liberated them from the dreaded corset, which was even worse than Spanx if you can believe it. Karen Sikorsky takes a more modern two-piece approach. She recommends Smartwool's Merino Sport 250 line of tops and bottoms ($105 and $100), whose "gender-specific, body-mapped panels of lighter fabric and a 1/4 zip," says the Steamboat Springs-based company's website, "provide additional ways to dump excess heat while you keep moving closer to your goal"—which for our purposes might be tucking into a nice cassoulet or a steaming bowl of pho.
Fingerless Gloves
Blowing on your hands to keep them warm is not good form these days. Better to insulate them with a pair of Kinco Alyeska ragg-wool flip mitts ($25 at kitterytradingpost.com). Equipped with PVC dots on the palms for gripping power, these mitts work as well for carving up an order of steak-frites as they do for tying on a fly to catch a trout.
Something Called Pants, Plus Puffer Skirts and Shorts
You've been wearing sweatpants for six months. You could go another six. But you're going out to eat in public. Why not get reacquainted with pants? Our cold-weather-wear gurus recommend L.L.Bean's fleece-lined Mountain Towns ($65), and Salt Lake City-based clothing company Kühl's flannel-lined Hot Rydrs ($99). For women: The clothing company started by two Portland, Oregon, landscapers called Dovetail Workwear makes double-paneled thermo-insulated Britt Utility pants that fit like a (fingerless) glove. Also: Smartwool's nylon-shell, merino-wool-lined Smartloft skirts ($100 to $120) are wind-and-water resistant and, worn over a pair of merino-wool leggings, would not look out of place at an après-ski lodge or even, should it make an appearance this season, the Standard East Village's winter fondue yurt garden. We're on the fence, though, about Mountain Hardwear's down-filled Ghost Whisperer Shorts for men. These things are designed for mountaineer skiers who find that pants get in the way of their footwear, and they look like something the Michelin Man would wear to the beach. If the heat went out in your apartment, they'd be fine to wear over sweatpants to a Zoom meeting, but showing up at a curbside café in a pair of puffer shorts might be cause for the New York City Open Restaurants committee to adopt its first-ever dress code.
Neck Gaiters
Of course you need to wear a mask while dining outdoors in New York. And while neck gaiters are no substitute for N95s, the Sikorskys are bullish about the market for these overgrown turtlenecks when used as supplemental face coverings this season. "You can pull them over your mouth and nose between sips and bites with one hand," they say. They like the ones a headgear company called Skida makes in Vermont from a variety of plush materials and styles ($22 to $28), some of which you can apparently convert into hats.
Insulated Seat Cushions
Confidence may be the best accessory, but don't underestimate earmuffs, Hothands, and wooly socks (Wigwam, Smartwool, Sockwell, and Point6), say our experts. More familiar, perhaps, to Green Bay Packers fans than the average restaurantgoer is the Sikorsky-endorsed Therm-a-Rest Z-Seat Pad ($15 at REI). The aluminized foam cushion, according to the company, "adds warmth when resting on rocks, wet logs, and snowbanks," and we'd wager it would also do the trick for Bar Pitti's outdoor café chairs.
Throw Blankets
Some restaurants have mentioned that along with napkins, they plan to provide customers with blankets the way airlines used to do. Good intentions aside, that doesn't sound like a plan Dr. Anthony Fauci could get behind. Instead, do as the Sikorskys do and BYOB: Bring your own blanket. Their choice: the Woolrich Rough Rider Buffalo Blanket ($155), which comes in colors that might match your buffalo-plaid Johnson Woolen Mills jac-shirt. Bonus tip: Look online for old models that come with leather harnesses (or the harness alone), so that rather than carry a blanket around like Linus, you can arrive at the restaurant with it as neatly rolled up as a yoga mat.
4. Chomp on Something Never Before Served Alfresco
Eight iconic dishes that came outside during the pandemic.
Katz's Pastrami Sandwich
205 E. Houston St., at Ludlow St.; 212-254-2246
For 132 years, Katz's has been strictly an indoor-dining (make that indoor-fressing) type of place. Now, that's changed. In July, owner Jake Dell set up six tables along the Ludlow Street side of the restaurant. Nothing fancy. No host. No waiter. AvroKO did not consult on the design. Sure, you'll miss the clanking cacophony of the indoor feeding frenzy, but you still get to order inside at the counter with a ticket. And there's wistful pleasure tucking in under the fading painted sign on the old brick exterior that reads: katz's famous delicatessen known as the best since 1888.
Wu Wonton King's Peking Duck
165 E. Broadway, nr. Rutgers St.; 212-477-1111
Here's a phrase no one imagined before the pandemic: "Peking duck carved curbside." Now, you can find the dish all over Chinatown and beyond. We like the one at Wu's Wonton King on the Lower East Side, which moved its operation in July to the spacious tree-lined sidewalk that surrounds the corner restaurant, because it comes with all the fixings and steamed buns instead of pancakes.
La Grenouille's Grand Marnier Soufflé
3 E. 52nd St., nr. Fifth Ave.; 212-752-1495
Some say there is no outdoor dining in midtown these days. Also: Fine dining is finished. Over on 52nd Street, La Grenouille is providing curbside proof to the contrary with red umbrellas, white tablecloths, a jazz guitarist who would do the late Bucky Pizzarelli proud, and paper lanterns strung above the sidewalk. The antediluvian jackets-required rule didn't stand a chance in this age of the sweatpant, but the touchstones of the à la carte and prix fixe menus remain happily untweaked: whitefish quenelles, Dover sole, Grand Marnier soufflé.
Tanoreen's Lamb Shank
7523 Third Ave., at 76th St., Bay Ridge; 718-748-5600
Meze maven Rawia Bishara has commandeered an impressive amount of street space on the corner outside her destination Middle Eastern restaurant in Bay Ridge, and if you've ever tried parking in that take-no-prisoners neighborhood, you'll know this is a bit of a coup. Avail yourself of the once-in-a-lifetime occurrence and feast on her famous spiced lamb shank beneath the Brooklyn stars, provided you can spot them shining through the California haze.
Momofuku Ko's Shaved Frozen Foie Gras
8 Extra Pl., nr. Bowery; 212-203-8095
One of the weirdest streets in New York has got to be Extra Place, the dead-end alley behind the old CBGB, which runs north off First Street between Second Avenue and the Bowery. And one of the weirdest dishes ever invented has got to be David Chang's shaved frozen foie gras with pine-nut brittle and Riesling jelly. In August, Ko chef Sean Gray brought the weird dish out to the weird street when he started Ko's first-ever outdoor-dining service. Funny to think that in 2018, E.V. Grieve, in commenting on Momofuku's colonization of the once gritty and graffitied Extra Place, wrote with a twinge of irony, "Maybe Momofuku Ko will one day offer to serve its $195 tasting menu outdoors." Well, sir, that day has come. Only now the tasting menu is $110, and you can get the frozen foie à la carte.
Phayul's Tsak Sha La Kor
37-59 74th St., Jackson Heights; 718-433-9696
The Tibetan restaurant that started out in a second-floor snuggery with five tables and 20 seats above a jewelry store and a beauty parlor has taken its momos outside, where they can be leisurely savored at David Rockwell's street-seating installation. Get the potato momos, and on chilly nights, the tsak sha la kor–an invigorating bowl of herbaceous soup brimming with thin slices of radish and chewy bits of beef.
Keens' Mutton Chop
72 W. 36th St., nr. Sixth Ave.; 212-947-3636
A turn-of-the-last-century chophouse, dark and romantic and oozing charm at every turn, out on the street in broad daylight? Yes, it can be done, with seven tables, a picket fence of sorts, masked waiters in burgundy vests, and even the signature mutton chop, housemade (non-neon) mint jelly on the side.
Mapo BBQ's Kalbi
37-59 74th St., Murray Hill, Flushing; 718-886-8292
Pre-pandemic, you went to Mapo in Murray Hill, Queens, to watch your slab of marinated short ribs get cooked over smoldering chunks of hardwood charcoal dropped into the sunken grill in the middle of your table. That was, if not the whole point, a big part of the fun. There is, however, something to be said for having that well-marbled meat candy hauled out fully cooked to one of the grill-less tables it's recently set up outside the restaurant and tucking in while a gentle breeze wafts along this practically suburban eastern end of Flushing.
5. Spread Out at a Tiny Restaurant
The unexpected benefit that really small places with few if any indoor seats have gained, thanks to being allowed to build comparatively palatial outdoor dining spaces.
For operators, Covid-19-era outdoor dining has been a game of chance: Whether you stood to benefit from the Open Restaurants plan depended on many factors, not least the unlucky proximity of urban infrastructure like Citi Bike docks. But some of the biggest boons came to the smallest spaces. One such hole-in-the-wall is Mama's Too! (2750 Broadway), the Manhattan Valley slice joint that caused a stir among the pizza cognoscenti when it opened almost three years ago. Owner Frank Tuttolomondo kept the lights on and oven lit during the entire lockdown, at first ceasing slice sales to focus on whole-pie delivery and takeout, and when outdoor dining became a possibility, he signed up. This was a big deal, since the pizzeria's 100-square-foot counter area was so cramped pre-pandemic that he had removed its handful of stools. But even after the place became strictly stand-up, it never escaped Tuttolomondo's notice that, given their druthers, "people love sitting down." With the start of outdoor dining, he says, "we went from zero to ten tables and 20 seats," most of them situated in the sturdy enclosure he built from weather-resistant marine-grade plywood.
He soon realized that once customers weren't eating while standing, beer and wine sales rose. Outdoor dining also helped compensate for the weekend-destination-pizza business that Tuttolomondo says has vanished during the pandemic, and the tables have attracted regulars who had always ordered delivery to avoid the scrum at the door. He acknowledges he has had it easier than most. "We're lucky where we are," he says, regarding a setup that's much more expansive than he would have been entitled to under the scope of a standard pre-coronavirus sidewalk-café permit. "We're not at a bus stop or a hydrant. There's no restaurant on either side of us, and the nail salon didn't care." Though lots of customers arrive by bike these days, Tuttolomondo knows it was his neighborhood regulars who kept him going during the springtime lockdown, when his pizza was a rare beacon in the upper-Broadway culinary wilderness. "Some say it kept them in the city," he says.
*A version of this article appears in the September 28, 2020, issue of New York Magazine. Subscribe Now!