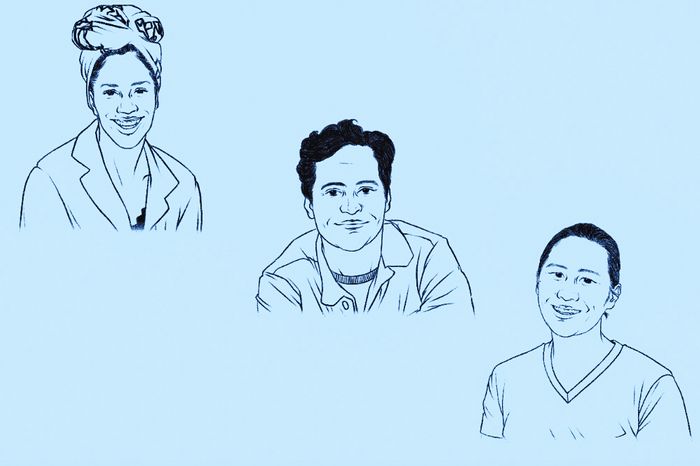 Illustration: Rachelle Baker
The Co-Branded Permanent Pop-up With Pop-Tarts
Brutus Bakeshop | 724 Sterling Pl., nr. Bedford Ave., Crown Heights; September
The Chef: Lani Halliday, a gluten-free baker who launched her own catering and events business in 2014 after jobs ranging from a post-cooking-school pastry externship at Castagna in Portland, Oregon, to gigs at BabyCakes and Ovenly.
The Menu: Miso-chocolate-chip cookies; guava-filled, Pop-Tarts-style pastries; seasonal pies; and Halliday's signature stencil and divorce cakes by special order.
Claim to Fame: At a photo shoot, Yoko Ono once declared Halliday's miso-chocolate-chip cookies to be the best cookies she ever had. "I was like, 'Okay, I'm good. My cookies have basically touched John Lennon's lips, because time works any way we believe that it works,' " says Halliday.
Why Now: Halliday had been bouncing around rented kitchen spaces, but increased exposure from a Maison Yaki pop-up and a surge of support for Black-owned businesses after the racial-justice protests this spring convinced her the time was right to create a retail home for Brutus. "People talk about overnight success, and that's not real," says Halliday. "It actually takes ten years." She's managing the risk by partnering with fellow chef Eric See, late of Brooklyn's the Awkward Scone and now debuting his new business, Ursula, to share a kitchen and bakery space in Crown Heights. Through industry contacts, they got "what people might call a sweetheart deal," as well as the flexibility to rent for nine months to a year instead of being locked into a long-term lease.
The Pasta Spot With Pandemic-Tested Meal Kits
Forsythia | 9 Stanton St., nr. Bowery; September
The Chef: Jacob Siwak did time at Olmsted in Prospect Heights, spent six months cooking in Rome and Bologna, and ran a tasting-menu supper club called Dinner Under the Stairs.
The Menu: Cacio e pepe supplì, spaghetti alla carbonara, porchetta, gelati, and whipped-cream-stuffed brioche. Also, three-course dinner kits: "They take about 15 minutes to prepare, and the fresh pasta is as simple to make as Kraft macaroni and cheese."
Why Now: Siwak was nearly midway through construction on a 28-seat space on the Lower East Side when the pandemic struck. After finding an interim kitchen in the East Village, he and his sous-chef and his baker launched a three-man operation where they prepared dinner kits to go and served food in the backyard once regulations permitted it. The pop-up allowed the trio to test the menu and start building a customer base. When they move into their permanent location, they'll have street seating and continue to emphasize takeout, which Siwak hopes will tide them over until indoor dining resumes.
The Fast-Casual Chinese Restaurant in a Neighborhood Without Office Tenants
Milu | 333 Park Ave. S., nr. 25th St.; September
Who: Chef Connie Chung and finance-world fugitive Vincent Chao, who met as colleagues at Daniel Humm's restaurant group, and their hospitality-­veteran partner Milan Sekulic.
Cooking Style: "My background is entirely in Western kitchens," says Chung, who grew up outside Chicago and oversaw culinary projects at Eleven Madison Park and the NoMad. "My approach was about taking the flavors of China with the application of more Western technique."
The Menu: Five main dishes, including Yunnan brisket and Sichuan-spiced cauliflower, packaged in formats designed to satisfy all appetites (rice bowls, family-style set menus, à la carte mains and sides to share). Plus wontons and soft serve.
Why Now: After pausing construction in March, the partners pondered their options. "We poured in a lot of our own resources," says Chao. "The Credit Suisse building is across the street, but it's not going to open anytime soon, and that's a huge source of office workers for us." So the focus shifted to "building a neighborhood restaurant: delivery, takeout, all those things." They also added retail pantry items like housemade sauces and are creating a native platform to reduce delivery commissions.
The In-House Canteen of a Megacomplex With Office Tenants
Penny Bridge at the JACX | 28-07 Jackson Ave., Long Island City; November
The Chef: Dan Kluger, who made his vegivore name and a case for kabocha-squash toast and snap-pea salads at ABC Kitchen before opening his own Greenwich Village restaurant, Loring Place.
The Menu: Crowd-pleaser comfort food inspired by diners, if not exactly Joe Jr.'s, including a highbrow smoked-turkey club (with avocado purée and tomato jam) and a bacon-wrapped, barbecue-sauced filet mignon based on Kluger's dad's meat-loaf recipe.
Why Now: Kluger signed on to the Tishman Speyer project three years ago; now that the towers house the corporate headquarters of Macy's, there should be some expense-account mouths to feed, plus 3,500 hungry residential tenants across the street. The chef hopes to extend outdoor-dining season with heat lamps and believes the massive space can handily satisfy social-distancing mandates. "I understand why people are closing," he says. "But I have to fight to the death one way or another."
The Midwestern Supper Club With a Frozen-Pizza Sideline
Emmett's II | 39 Grove St., nr. Bleecker St.; December
Who: Chicagoan Emmett Burke, whose South Village deep-dish pizzeria, Emmett's, won over skeptics of his native cuisine with spot-on Chicago dogs, thin-crust bar pies, and Italian-beef sandwiches.
The Menu: The classic American supper-club fare Burke remembers from his midwestern youth: steak, fish, pasta, vegetables, and baby back ribs, the last inspired by Chicago's Twin Anchors tavern. To survive the pandemic, Burke turned the original Emmett's dining room into a frozen-pizza production facility and launched national shipping on Goldbelly; he'll move that operation over to Emmett's II.
Why Now: Limited by the cramped Macdougal Street premises, Burke had long been on the hunt for new digs. But he waited until the right location came along, which happened last year when the Bavarian beer hall Lederhosen served its last Wiener schnitzel. Did he consider backing out of Grove Street because of the pandemic? "No," he says. "I'd already invested a lot of time and emotion and money. You try to bet on things returning to normal, and I think they will."
*This article appears in the August 31, 2020, issue of New York Magazine. Subscribe Now!